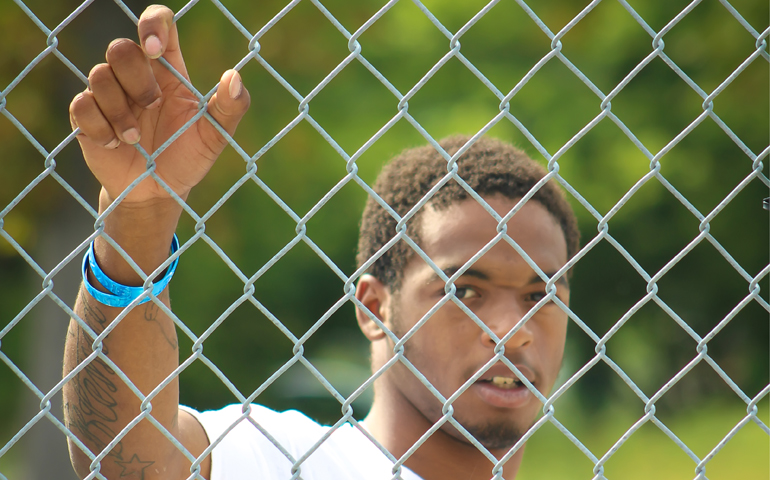 Willie, one of the youth of Precious Blood Ministry of Reconciliation (Juan Acuña)
Editor's note: "Reconciliation in Chicago" is NCRonline's newest blog series, a weekly blog from the Precious Blood Ministry of Reconciliation, a ministry of the Missionaries of the Precious Blood based in Chicago's Back of the Yards neighborhood. Each post will feature hopeful reflections from the ministry's staff and volunteers, as they share their stories about working with youth and families affected by violence and incarceration.
This is the conclusion of NCRonline's Reconciliation in Chicago blog series. You can read all previous entries at the feature series page Reconciliation in Chicago. Next week will see the return of blog series "Take and Read."
---
So much of our work is to bring people together. We stand in the midst of what are sometimes very difficult situations and encourage people to talk about what they carry within. Some have been harmed deeply; many have feelings of hopelessness. A good many of the families have been fractured or separated by violence and trauma. Even the title of our old newsletter Beyond Boundaries speaks to the mission to reach "beyond boundaries" and find new ways of "being" together.
There are visible boundaries that separate people; we all remember the Berlin Wall that separated a nation and families. There is the wall that is talked about being built to separate the United States from our neighbors in Mexico. This wall, already built in some places, separates not only nations, but families and communities; it separates the people of God.
There is a community of people on the border of Mexico and the United States where a wall actually separated the town. The town had been there for years, but then the U.S. government built the wall. Even though a wall separated them, they continued to celebrate Mass together. They could not reach across, except for the small holes in the wall that allowed them a limited sign of peace and the distribution of communion, but they celebrated Mass together. It is a great image for how the Eucharist reaches out and crosses many barriers and boundaries, bringing people who are divided by walls together.
Not all barriers or walls are as visible as the Berlin wall once was, and that border town wall is now. Some barriers are buried deep within us. A young man who gathers with us for our Making Choices group (for youth coming out of detention) struggles to "lower the walls" that he has built up to protect himself from those that would harm him. In the safe place of the Precious Blood Center, he begins to talk about the severe abuse he received from the hands of his own mother. His wall is built securely. It is held up by the fear of revealing himself to those around him. It is sustained and supported by the feeling of not being good enough, of being disposable, and not having any worth. Little by little, brick by brick, he finds the safety to begin to dismantle his wall.
I was talking to a young man in Cook County Jail, who I met years ago at the juvenile detention center. He was fighting a case that threatened to take his freedom for a long time. He spoke of how he got to this point in his life. He spoke about all the pain and the hurt that he had caused others and how now he was getting what he deserved. He spoke of wanting to live differently but not knowing how. I simply listened. When his time was up, he slowly got up and walked back to his cell. He still carried his burden; he still faced countless years of incarceration; but his was a story that was told and, more importantly, heard. He, for a moment at least, did not live in isolation.
Ours is a spirituality of creating safe places where people can gather and speak openly, honestly, and listen to one another's stories. It is about trying to reach across boundaries and borders that tend to get in the way of being a community. Don't get me wrong, I understand why people build walls; I understand that kind of fear -- I've got a few walls myself. But if we are faithful to our call, then we must work hard to gently and carefully, brick by brick, tear down the walls of separation. As a people, we must move beyond boundaries.
[Precious Blood Fr. David Kelly is executive director of Precious Blood Ministry of Reconciliation.]
A version of this blog previously appeared on the website of Precious Blood Ministry of Reconciliation. NCRonline presents the blog in collaboration with Precious Blood Ministry of Reconciliation.