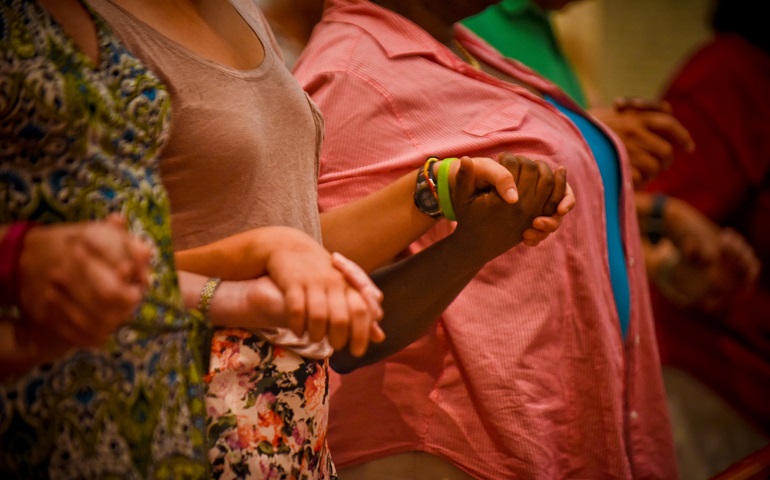 Congregants hold hands and pray for peace during Mass at All Saints Church in Milwaukee Aug. 18. (CNS/Catholic Herald/Juan C. Medina)
During the month of November, many Christians — especially Catholics — commemorate and pray for the dead. On All Souls' Day, in fact, we pray for all the dead — a practice often symbolized by making available a parish Book of the Dead to anyone who wishes to inscribe a name.
Unfortunately, not all our commemorations of the dead appear so broad and inclusive. This past July, within a couple of weeks, two snipers shot 18 police officers and two civilians in Dallas and Baton Rouge, La. Eight police officers died. At Sunday liturgies, parishes prayed for the officers wounded or killed. We all wanted to demonstrate our care and concern, not only for them but for all law enforcement officers who consistently put their lives at risk to protect the public.
Yet, in the same week as the Dallas shootings, two African-American men were filmed being shot and killed by police. During the same month, a not insignificant number of African-Americans and Latinos died as a result of urban gang violence, including some children caught in the crossfire. In a lot of parishes, no one prayed for any of these folks.
Rather than wade into the complex issues of police shootings and police safety, I simply want to raise the issue of what we might call liturgical representation. In other words, for whom do we pray in our formal prayers each week at Mass? Do people from certain kinds of groups — especially groups rooted in race, ethnicity, gender or sexual orientation — get omitted or forgotten? Whose lives and experiences get referenced in liturgical preaching? Who gets left out?
Because this kind of liturgical representation deals with the words we choose to use in public, it may sound like a matter of "political correctness," that is, a kind of minimum standard of speech designed to avoid giving offense. But liturgical representation is not about avoiding giving offense. It has more to do with whether the symbols we employ in public prayer help us envision ourselves as what we are — a universal communion of diverse believers — or as an exclusive enclave of "certain kinds of people."
Symbols — including symbolic words — point to a greater reality, and they speak not only on the level of ideas but also emotionally and ethically. They may even embody paradoxes, hitting many notes at once. Because liturgy is the work of the people, liturgical symbols point not only to God but also to us as church. Thus, when a young adult sees that all liturgical ministers are older adults, she likely rejoices that her parents belong to a faith community that involves them, but she probably also concludes (with disinterest or disappointment) that such a faith community holds little place for young people like her.
Because the words we use in liturgical prayer are formal and public, they function as symbols. Praying for someone or something identifies them as part of what concerns the people of God as we commune with God and one another. Our prayers populate the imaginative world for which we are responsible. They signal where we ought to feel compassion.
Conversely, not praying for someone or something (especially something on the public's mind) either compartmentalizes that person or issue as having nothing to do with our Christian faith, or it sidelines such a person or issue as not worthy of our concern.
Either way, we are not directed toward compassion or empathy. Of course, we cannot pray for everything and everyone all the time. Still, if, over time, the worries and concerns of an entire group of people remain invisible at liturgy while another group's worries and concerns remain center stage, the message comes through quite clearly.
But aren't other group identities supposed to subside at liturgy? Aren't we just Christians? St. Paul said, "There is neither Jew nor Greek, there is neither slave nor free person, there is not male and female; for you are all one in Christ Jesus" (Galatians 3:27-28). We are all one in Christ — other parts of our identity we leave at the door.
Except that, in a world of sin, we do not leave them at the door. Even in church, wealthy people receive more attention from pastoral leaders than poor people do. Half-empty English Masses dominate the Sunday morning lineup of many parishes while one packed Spanish Mass takes place at some odd hour in the afternoon. In other words, the very distinctions that advantage some and disadvantage others out in the world often persist within our parishes. Whether or not we perceive them may depend on where we stand in the pecking order.
As a result, liturgical representation that privileges some and omits others has real ecclesial consequences. When general intercessions (or homilies) consistently treat only the concerns of middle-class white people, everyone else is more likely to feel like an outsider and to hide silently or to leave for another church (or, increasingly, no church at all). Vatican II's promotion of full, conscious, and active participation suffers. We lose crucial gifts and charisms. The parish loses some of its luster as the symbol of a truly universal — that is, catholic — community. It begins to feel less like a diverse communion of the baptized and more like an exclusive enclave for members only.
[Brett Hoover is assistant professor of pastoral theology at Loyola Marymount University in Los Angeles. He is the author of Comfort: An Atlas of the Body and Soul (Riverhead, 2011) and The Shared Parish: Latinos, Anglos, and the Future of U.S. Catholicism (NYU Press, 2014).]
A version of this story previously appeared in NCR's sister publication Celebration.