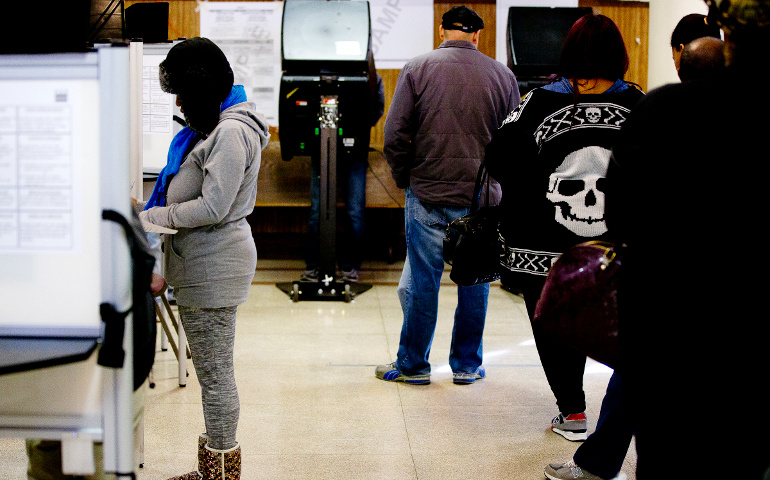 People wait in line to vote in the John Bailey Room at St. Francis Xavier Church in Washington Nov. 8. (CNS/Tyler Orsburn)
As voters go to the polls, it looks like white Catholics will be voting for Republican nominee Donald Trump over Democratic candidate Hillary Clinton, but not in as large a percentage as they voted for 2012 Republican presidential candidate Mitt Romney.
The latest ABC-Washington Post poll shows 54 percent of white Catholics voting for Trump, with 38 percent voting for Clinton. Four years ago, almost 60 percent of white Catholics voted for Romney. Trumps decline among white Catholics is especially noticeable among white Catholic women.
White Catholics have been on a political rollercoaster over the past eight months with support for Trump going up and down (see chart below). His high point was in May when 62 percent of Catholics said they would vote for him, and his low was in August when his support dropped to 45 percent. Only in August did a majority of white Catholics support Clinton.
The volatility of white Catholic voters has contributed to the ups and downs we have seen in the polls this year. Hispanic Catholics, on the other hand, have been steady for Clinton and in the latest poll are giving her almost 80 percent of their vote.
We now wait for the exit polls to see how Catholics actually vote.
[Jesuit Fr. Thomas Reese is a senior analyst for NCR and author of Inside the Vatican: The Politics and Organization of the Catholic Church. His email address is treesesj@ncronline.org.]