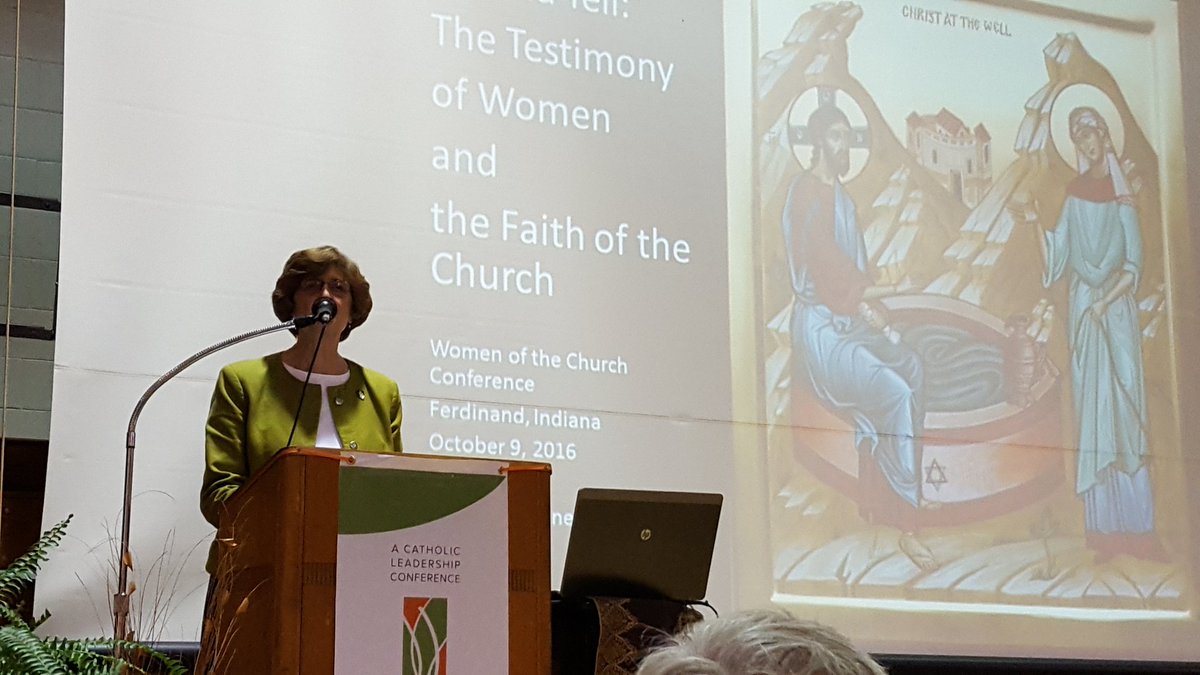 Mary Catherine Hilkert: "The baptized are not to be passive hearers of the gospel but called to be active preachers."
Women's leadership in the church was the underlying theme at Oct. 7-9 "Women of the Church"conference in southern Indiana. But that doesn't mean speakers were talking about women's ordination. In fact, the sacrament of baptism got more attention than Holy Orders.
"Pope Francis' call for a more incisive role of women in the church requires not a new theology of womanhood but rather a fuller exploration of the call of all Christians to missionary discipleship, which in term requires more attention to our theology of baptism and the way the charisms of the Spirit are the basis for all of the church's ministries," said Sister Mary Catherine Hilkert, OP, professor of theology.
In the closing keynote address, "Go and Tell: The Testimony of Women and the Faith of the Church," Hilkert raised up examples of women's leadership, such as Mary Magdalene, Catherine of Siena and contemporary women who work for racial, social and economic justice.
But the idea of "feminine genius," Hilkert said, was "too limiting of a category to capture the diverse and surprising manifestations of the Spirit granted to all the baptized."
Kathleen Sprows Cummings, director of the Cushwa Center for the Study of American Catholicism at Notre Dame and a historian specializing in the history of women and religion, also spoke about how leadership in the church shouldn't be linked only to ordination, but rather flow more organically from the sacrament of baptism.
Her keynote, "Catholic Women and Leadership: Witness from the Past, Wisdom for the Future," held up models of women's leadership in three canonized saints: Mother Theodore Guerin, Mother Katharine Drexel and Mother Elizabeth Ann Seton.
Cummings noted that while Pope Francis has declared the possibility of women's ordination to be closed, he also has opened a window with his emphasis on missionary discipleship. "He has effectively jumpstarted a conversation that has been stalled for too long," she said. "By not talking about women's ordination, we haven't talked about much else."
The possibility of women deacons and women's preaching were discussed in breakout sessions and informal conversations at the conference, as were intercultural leadership, specifically Hispanic female leadership, and leadership in health care and lay ecclesial ministry.
The three-day conference, hosted by the Sisters of St. Benedict of Ferdinand, Indiana, in partnership with St. Meinrad Seminary and School of Theology, was planned in response to Pope Francis' call for "a more incisive female presence" in his 2013 apostolic exhortation Evangelii Gaudium ("The Joy of the Gospel"). It was held Oct. 7-9 at the Immaculate Conception Monastery in Ferdinand, Indiana.