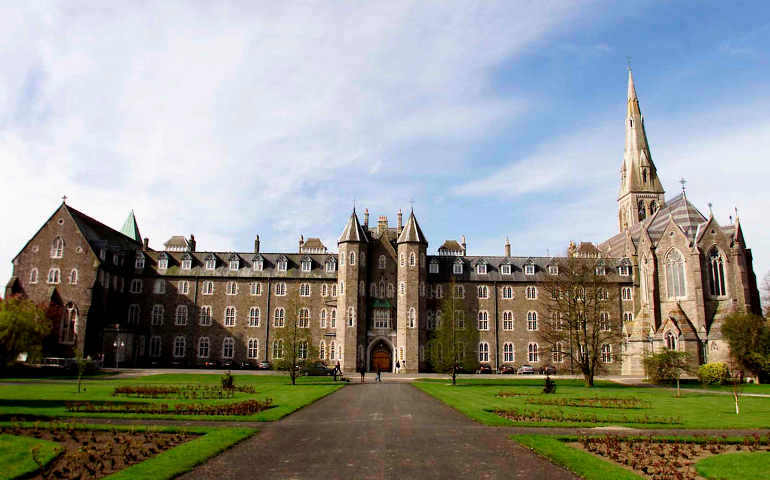 St. Patrick's College, Maynooth, a seminary near Dublin (CNS photo)
All roads lead to Rome.
And one in particular -- actually a sky path from Kennedy Airport in New York to the Leonardo da Vinci Airport at Fiumicino -- brought me here exactly 30 years ago this week.
It was Aug. 30, 1986.
(And but for a year in Switzerland with a Franciscan-Dominican non-governmental organization at the United Nations and six-month sabbatical in the United States, here I have been ever since.)
The date is easy to remember because on the previous day, when we 36 young American seminarians actually left our native land for the Eternal City, it was the liturgical feast of the Beheading of John the Baptist.
We would sometimes wonder as we went through unexpected moments of ups and downs during those first months here if the date hadn't been some sort of an omen.
Then later it would become apparent to all of us that, indeed, many people did sometimes lose their heads (at least figuratively speaking) in this ancient city of saints and sinners. We also learned in time that Rome is a place where some lose their faith.
In our own rarified world, living at the Pontifical North American College and attending one of the pontifical universities throughout the city, we would see some in our group cling more tenaciously to the sacred cows they mistook for Catholic belief.
But most others would painfully -- yet redeemably -- succumb to the helpless and often lonely experience of seeing pious idols crumble before us. And this would open up the possibility to either embark on a more profound journey of Christian faith marked by personal responsibility and careful discernment, or seek refuge in a clear-cut, rule-based ecclesial institution where one pretends everything is simply black and white.
Pope Francis prompted me to recall all this by some important remarks he made on seminary formation while speaking privately last month in Poland with a group of fellow Jesuits.
"The church today needs to grow in the ability of spiritual discernment," he told some thirty confreres July 30.
"Some priestly formation programs run the risk of educating in the light of overly clear and distinct ideas, and therefore to act within limits and criteria that are rigidly defined ... and that set aside concrete situations," he said.
"In life not all is black on white or white on black. No! The shades of grey prevail in life. We must teach [seminarians] to discern in this grey area," Francis concluded.
You can read Joshua J. McElwee's more extensive report on the pope's words to the Polish Jesuits.
I'd merely like to point out a couple of questions they raised for me in light of my own experience of having lived in Rome, and especially its ecclesiastical environment, over the past three decades. In doing so I will give at least passing consideration to a couple of other recent events involving seminarian formation here.
The first thought concerns the current method or system of preparing members of the Christian faithful to be presbyters (that is, ordained priests). The second has to do with the suitability of carrying out that preparation (priestly formation) in Rome.
Recently, Archbishop Diarmuid Martin of Dublin made headlines throughout the universal church when he declared that he was removing his seminarians from his country's national seminary, St Patrick's College at Maynooth, and sending them to Pontifical Irish Seminary in Rome.
He said he was doing so out of concern for "strange goings-on" at Maynooth apparently linked to anonymous allegations of inappropriate gay-related behavior and gossiping, including some students' use of the gay dating app Grindr.
The other bishops in Ireland were stunned and almost all of them vowed to keep their students at the national seminary.
That did not stop Maynooth's governing board from immediately applying a laughable Band-Aid fix to the supposed problem. Seminarians will now be required to eat their evening meals in the chaperoned company of their superiors at St Patrick's, rather than going out, and they must also attend a 9 p.m. communal recitation of the rosary.
The Maynooth fixers must think that seminarians are capable of acting on their sexual desires only in the evening and any such actions can be thwarted by carefully monitoring these young men and keeping them locked up in the seminary.
Actually they don't, but I suspect Martin has embarrassed them by his abrupt and dramatic move and they feel forced to do something.
I suspect Dublin's archbishop, who has spent most of his priestly life in a Vatican office, is not thrilled to send his seminarians to Rome. Rather, he likely sees it as the only way to prompt a more important and urgent discussion on the nature of seminary formation.
He has already begun to speak of the possibility of creating an apprenticeship model of preparing future priests where candidates would live in parishes or other pastoral settings -- rather than in seminaries, which are still modeled on a monastic schedule and enclosure -- while taking their courses in nearby universities.
Martin will have made a crucial and important contribution to the church if this type of model were to be studied more carefully and would lead to a full-scale reform of the current seminary system (even leaving aside other crucial questions like all-male priesthood and mandatory celibacy). There are many ways it could be developed.
But it will be a battle. Too many people have vested interests to bolster the status quo. Traditional seminaries would have to redefine their mission (as some have already begun to do) or close down, even if they were still deemed necessary as a one- or two-year-long discernment or spiritual formation centers similar to novitiate programs in religious orders.
And what about sending seminarians to be prepared in Rome?
It would not seem opportune if the idea -- as Pope Francis makes clear -- is to prevent them from being given "overly clear and distinct ideas" and "limits and criteria that are rigidly defined" that "set aside concrete situations" in which they will be ministering. Seminarians should be prepared in and for the culture and place where they will be ministering. Studies abroad might better be undertaken some years after ordination and service at home.
That's why it is even more alarming St. John Vianney College Seminary in St. Paul, Minn., will be sending 15 of its students to reside at the Pontifical Irish College for study abroad. St. John Vianney is the pre-theology seminary for the St. Paul-Minneapolis archdiocese but it educates seminarians from 19 U.S. diocese.
Previously, these college seminarians had the option of doing a semester in Rome, but with lay students at the Bernardi Campus of the University of St Thomas where they normally study. The move seems to be aimed at keeping the pre-theology candidates for future priestly ministry separated from other baptized faithful who are not discerning the call. This has usually been a moved at "protecting" a fledgling vocation, but has also served to form attitudes of belonging to separated, clerical caste.
Simply put, this is the model that was confirmed by John Paul II in his 1992 post-synodal apostolic exhortation, Dabo Pastores Vobis, and continued by Benedict XVI.
But Archbishop Diarmuid Martin, intentionally or not, may have struck the first blow to this inadequate and outdated jalopy, which is failing to produce effective priests for the church's changing needs and mission. Ironically, perhaps, he's jumpstarted the effort on a road that, once again, leads to Rome.
[Robert Mickens is editor-in-chief of Global Pulse. Since 1986, he has lived in Rome, where he studied theology at the Pontifical Gregorian University before working 11 years at Vatican Radio and then another decade as correspondent for The Tablet of London.]
Editor's note: We can send you an email alert every time Robert Mickens' column, A Roman Observer, is posted. Go to this page and follow directions: Email alert sign-up.