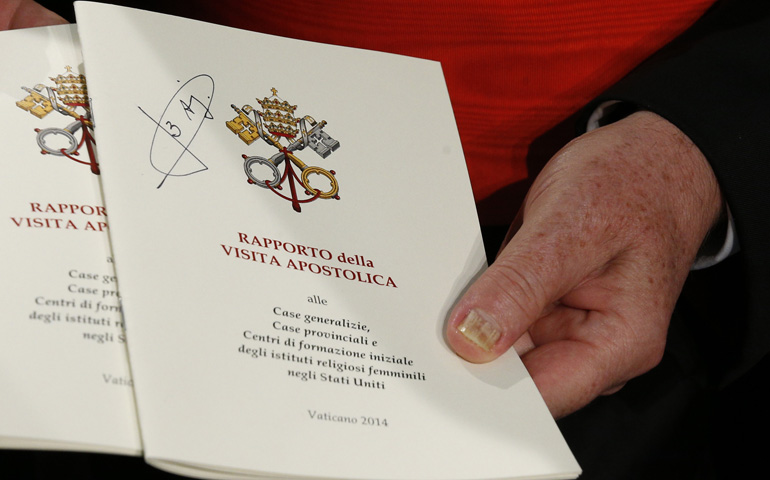 The final report of a Vatican-ordered investigation of U.S. communities of women religious (CNS/Paul Haring)
Well, I'll admit it, the Vatican's apostolic visitation report has been on my mind. For over two years, my community's leadership diverted precious time, energy and resources away from sorely needed ministry to the marginalized to address a searching Vatican inquiry that we had neither chosen nor had a part in shaping.
Over these past stressful years, my feelings veered widely from anxiety, to sorrow, to anger, to pain. I was regularly sustained, however, by various sister leaders around the U.S. who, although also deeply affected, seemed imbued with an impressive calm.
So when I heard the congregation for religious would live stream a press conference to report on their findings, I knew I wanted to hear what U.S. sister leaders thought about it all first, if I could.
Fortunately, just a week earlier, on the auspicious Dec. 8 Mary feast, a group of sister leaders and scholars held a public book launch in Chicago for Power of Sisterhood: Women Religious Tell the Story of the Apostolic Visitation. (Note: The book deals only with the apostolic visitation. It does not address the doctrinal assessment of the Leadership Conference of Women Religious also announced in 2009.)
As luck would have it, one of my housemates had a copy. This book is a quite amazing mélange of empirical data, empowering sisterly solidarity and piercing, poetic theological reflection. Most of all, it is a story of transformation, of making lemonade from the bitterest of lemons, ultimately witnessing that truly, "all things work together unto good for those who love God" (Romans 8:28).
The empirical segment details the impact of the visitation on women's congregations, how various communities responded, and if sisters' attitudes changed over time. I was impressed that 143 of 328 presidents or major superiors in LCWR completed valid surveys for a response rate of 44 percent. An invitation was extended to members of the Council of Major Superiors of Women Religious, but they declined to participate.
Aside from the demeaning decision to publicly launch an apostolic visitation with no prior notice or consultation, the lengthy Vatican questionnaire was the most controversial aspect of the inquiry. Most found it unnecessarily intrusive. At first, each community was required to submit detailed financial reports of assets, liabilities and cash flow along with lists of all the properties they owned. Rome also wanted to know each sister's age, her address, and her ministry. (This is especially puzzling since the Vatican seems to have had difficulty keeping track of whole orders of sisters, let alone individuals. Some communities were completely overlooked in mailings about the apostolic visitation.)
These requirements would be hastily withdrawn after canon lawyers (who volunteered their services pro bono) advised congregations that every response could eventually be used against them and they need not disclose detailed financial and personal data.
It is worth pointing out that all communities did cooperate with the visitation via personal meetings with visitation director Mother Mary Clare Millea and were open to on-site visits if required. A significant number did not supply all the questionnaire information Rome sought. Of the 143 responding communities, 38 percent chose to send a letter but not complete the questionnaire, and 45 percent responded to some, but not all, the questions. The assistance of canon lawyers was named by 85 percent of respondents as "generally or very positive, supportive, helpful, significant, important or critical."
One of the most poignant sections of this informative narrative is the anonymous reflections by sister leaders agonizing about how to exercise their fiduciary responsibility and still remain in relationship with church leadership:
"We feel in the core of our bodies the wrenching tension as we took legal action to protect our congregations' assets from potential control by Rome, secured canonists to assist us in the delicate process of remaining within the bounds of canon law while preserving our freedom to be true, and undertook these negotiations in disbelief that our relationship with some official authorities in a church we love had come to this."
Unsought meetings with on-site apostolic visitors gave rise to this bittersweet reflection: "Sharing who we are and what we do was one of the best experiences of my life; it made me happy all over again to be a member of this community. Yet, to sit before another person, pour out my heart and soul, and receive no response was the hardest thing I have ever done."
The authors found unforeseen positive outcomes, including "a growing sense of our unity with one another, the deepening sense of partnership with the laity" and "our modeling an approach to Rome that represented a balance between hierarchical authority and inner authority."
One sister leader saw a turning point for women in the church: "This peaceful, non-violent stand [resisting] institutional violence against women was a turning point in the relationship of the church and women, when the women risked everything ... It would be wonderful to write in the history books that this was the beginning of true equity in the church, true inclusion of women as equal partners."
Another wrote: "What can we, many of us educators, teach the world about this experience? We believe God created women and men equal in God's sight. We believe baptism is the door to a discipleship of equals -- in work, and in decision-making and leadership."
Many engaged in theological reflection to find meaning in painful experiences of betrayal in a church to which they had given their lives. This is the most beautiful part of the book.
Reflecting on the life of Caroline Gerhardinger, the founder of the School Sisters of Notre Dame, Addie Lorraine Walker writes: "[Caroline's] life was one of struggling with bishops and cardinals who resented her as a woman and didn't believe that a woman could be knowledgeable in theology, spirituality or Scripture. Yet she founded an order that extends itself into today ... on six continents"
A past president of LCWR, Sr. Mary Ann Zollman of the Sisters of Charity of the Blessed Virgin Mary, points to a precious theological motif: "For us women religious, our entire individual and collective story has been one of setting our hearts on God. Spanning centuries, decades, and lifetimes our intentional centering in God has been making space in the womb of our lives for God to do God's work in us. ... Awake to the Spirit of God laboring in us, we understand our sisterhood as a relationship of love with all that is."
The final report of the apostolic visitation was positive, even laudatory of the long and loving ministry of U.S. sisters. But until the unjust attack on the Leadership Conference of Women Religious is fully resolved, we sisters remain caught in ambiguity. LCWR President Sr. Sharon Holland is hopeful of resolution soon. When and if that happens, it will be because sister leaders like Mary Ann Zollman, Pat Farrell and so many others understand themselves as called to a "relationship of love with all that is" -- even those who falsely accuse and malign them.
During this season of celebrating God-with-us, I offer below a prayer poem in gratitude for my religious sisters and for all who daily birth divine love into a needy world:
Incarnation
Comfort, be comforted my people
for God's glad ecstasy
is new made flesh
by human yes.
Through earth's long mourning
God waits again.
near at hand
to birth the earth
afresh
in celestial, millennial
unfolding
of Christ's
transforming yes.
Yet,
all depends
on still small voice:
"Be it done in me ...
as you would have it be."
Then God's glad life
now gifts.
uplifts,
heals, enfolds
newborn Christmas soul
in swaddling
delight.
Come beloved Jesus ...
herald now
God's just and kindly reign.
Teach us how
we learn
to live
inside our God
again.
[A Sister of St. Joseph, Sr. Christine Schenk served urban families for 18 years as a nurse midwife before co-founding FutureChurch, where she served for 23 years.]
Editor's note: We can send you an email alert every time Christine Schenk's column, Simply Spirit, is posted. Go to this page and follow directions: Email alert sign-up.