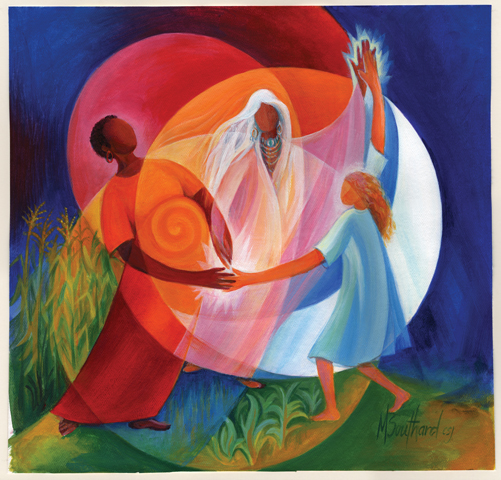 "Women's Wisdom Dancing," St. Joseph Sr. Mary Southard, www.marysouthardart.org
Traditionally the third week of January (January 18-25) is devoted to prayers for Christian unity. For over 100 years the World Prayer for Christian Unity has invited Christian denominations of every stripe to pray for closer union.
Not long ago, I found myself longing for the day when our prayers will finally lead to Eucharistic table sharing. Here's the story:
"Emily," a respected nun friend and nonagenarian, passed away rather quickly after a sudden fall. She asked a close friend -- who also happens to be a Lutheran minister -- to give the homily at her funeral. So it was, that "Larry," -- vested in alb and stole and seated not far from the altar -- unabashedly shared his trepidation at being asked to preach and eulogize a Catholic sister at her funeral Mass.
Turns out Larry had been Emily's supervisor when she trained to become a hospital chaplain after a long teaching career. "I had the good sense to just stay out of her way," Larry told us. "Later, I asked her to be my spiritual director. She introduced me to contemplative prayer and to Thomas Merton. It changed my life," he recalled. "She always knew just what book to give me." Larry then reflected on Emily's life in light of the scriptural passages she herself had chosen. It was a wonderful homily.
You guessed it. When Communion time came, Larry was offered neither cup nor host. This was exquisitely painful since it had become exceedingly clear that Larry was a true brother in Christ, beloved by our deceased sister, and now beloved by everyone in the congregation.
Ok, I'll come clean. I couldn't stand it. The church's altar was located in the midst of the assembly and had no rail. I contemplated sharing my Communion host with Larry. But fearful of embarrassing him, I first asked a spiritual director friend seated nearby what she thought. "Well, he can always say no," she wisely replied.
It was all I needed. Larry graciously accepted my proffered host and I returned to my seat filled with "that peace the world cannot give" (John 14:27). Emily, I felt, would have emphatically approved. (She was a pretty emphatic sort of person, actually.) Arriving home, I found messages from friends thanking me for doing the needful.
So I was happy to learn that Pope Francis had something to say about a similar matter at a Nov. 15 prayer service at a Lutheran church in Rome. In a question and answer exchange, a Lutheran woman expressed her pain that although she and her Catholic husband share in the "joys and sorrows" of life, they cannot share communion.
While stressing that it was not his place to give Protestants permission to receive Catholic communion, Francis reflected on the common baptism of believers: "One Baptism one Lord, one faith," he said, citing his own experiences of Protestant friends who believe in the "real presence" of Christ in the Eucharist. Significantly, he suggested that this is a personal question and not only an institutional one, before counseling the woman to "Speak with the Lord and go ahead … I don't dare say more."
I am heartened that Pope Francis affirmed that finding a way to respond to pastorally puzzling situations is something with which all believers must wrestle, not only institutional offices, as important as these are.
Occasionally we must step up to the plate and exercise the Spirit-given wisdom some situations require. We need structured rules, of course. But we must also remember Jesus' wise counsel that the rules are made for people, not people for the rules (Mark 2:27).
A spiritually mature person knows that the rules don't work in every situation. Francis invited this faithful Lutheran woman to exercise a certain spiritual maturity. By extension, he invited all of us to go and do likewise when the situation calls for it.
It didn't take long for conservative voices to accuse Francis of "confusing the faithful" but in fact both Pope John Paul II and Pope Benedict routinely gave Communion to a Protestant pastor, Brother Roger Schutz who founded the ecumenical community at Taize.
It is gratifying to know there has been significant progress in Lutheran-Catholic dialogue. Officials from both churches look forward to jointly celebrating the 500th anniversary of the Reformation on October 31, 2017. The Vatican and the Lutheran World Federation have produced guidelines for celebrations that stress common commitment, thanksgiving, repentance and keeping the focus on Jesus.
Great news during this week of Christian unity.
But in a world that is getting ever smaller, we must pray for more than Christian unity. Don't we also need an international week of prayer for interreligious dialogue? We need greater understanding among all of God's children, whether Christian, Muslim, Jewish, Buddhist, Jain, Hindu, Taoist, atheist, or "nones."
This is happening now, albeit informally, among our young. See this brief "Dialogue Among Young Adults" video from the U.S. Catholic Bishops' website in which two Georgetown women, one Hindu and one Catholic, share how such dialogue enriched and deepened their faith.
Our children are already living and working with people from diverse religious. This will only increase as our world gets smaller and our cities more diverse.
God is bigger than all of our religions. Yet we still need our own faith traditions as together we seek that big and wide "God Beyond All Names" who asks only that we love and bring love to all the dark and suffering places.
[A Sister of St. Joseph, Sr. Christine Schenk served urban families for 18 years as a nurse midwife before co-founding FutureChurch, where she served for 23 years. She holds master's degrees in nursing and theology.]
Editor's note: We can send you an email alert every time Christine Schenk's column, Simply Spirit, is posted. Go to this page and follow directions: Email alert sign-up.