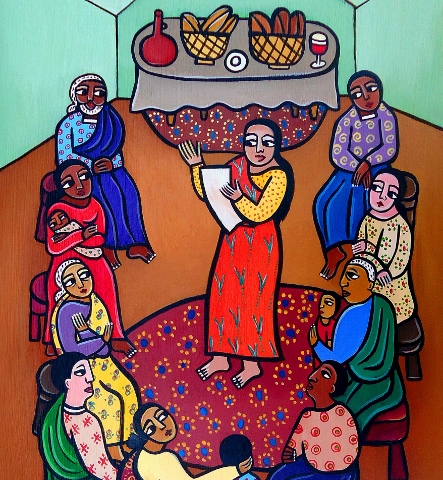 A Georgetown University promotional video explains Living Learning Communities.
Ok, here's my take on Pope Francis' new commission on the female diaconate:
It's good.
And here are some reasons why.
For the first time in history, we have a gender-balanced papal commission. When has that ever happened before?
While Vatican spokesperson Jesuit Fr. Federico Lombardi said Francis' commission idea was a "spontaneous" response to a question at an international meeting of Catholic sisters, I'm not buying it. First, no nun would ever spring a surprise question on the pope, especially in a public forum. Second, papal questions were solicited from the sisters months ahead of time. Francis had already considered his response very carefully before he replied publicly.
As commissions go, the timeline between announcement and selection of commission members was quite short. Names were quickly solicited from Catholic sisters in the International Union of Superiors General and Cardinal Gerhard Müller at the Congregation for the Doctrine of the Faith. Then Francis, "after intense prayer and mature reflection" appointed a "Commission for the Study of the Diaconate of Women"​ to explore the history of the female diaconate "in the earliest times of the church."
To me, this says Francis is serious about the need to resolve the historical issue, and he wants it done quickly.
What is puzzling is that the heavy lifting on the history of the female diaconate was completed decades ago and Francis probably knows it. Notice he didn't ask the doctrinal congregation itself to set up a new commission. Instead, he said he would "ask them to refer him to some studies on this issue."
It is well-known that Müller opposes ordaining women deacons. Müller says the diaconate is irrevocably linked to the priesthood. If the sacrament of holy orders can't be given to women priests, then it can't be given to women deacons either.
The problem with this position is that in the history of the early church -- the one that Francis is so eager to look at -- priestly and diaconal ordinations were not linked, because ordination meant something quite different in the fourth century than it does today.
For example, in some third- and fourth-century communities, deacons were the administrators of church properties and their authority was second only to that of the bishop.
Ordination was given to members of a Christian community for a particular function in that very community. It wasn't an irrevocable power that could be exercised anywhere else. But in the 12th century, ordination rules changed. Now only ministries relating to service at the altar were authorized and only the orders of priest, deacon and subdeacon were recognized. Priests and deacons could also minister to communities outside the ones in which they were ordained.
Significantly for the questions at hand, Professor Gary Macy tells us, "All of the other earlier orders were no longer considered to be orders at all."
A highly influential late-12th-century Western canonist, Huguccio of Bologna, wrote that even if a woman were to be ordained, it would not "take" because she was biologically female. What is more, because she was biologically female, a woman could never have been truly ordained in the first place. Therefore, all past female ordinations were not ordinations at all, at least according to the new understanding of ordination.
This is essentially the argument that Müller and Fr. Karl-Heinz Menke, a member of the commission, are pursuing today. They are anachronistically projecting backward an understanding of sacramental ordination that didn't exist in the early church.
Given that male ordinations in previous centuries also entailed a different understanding of the meaning of orders, one could argue that male ordinations in the early church didn't "take" either, a point that seems to have escaped our esteemed churchmen.
There is ample evidence that women were sacramentally ordained to the diaconate in the early church -- as sacramental ordination was understood at the time.
So it remains to be seen how this new commission will play out.
Francis did not publicly ask for recommendations about restoring the female diaconate. If he really wants to know the history, the history is already there and the highly competent people on the commission will fill him in. (For ongoing media updates and commentary on the new commission, follow this link.)
Whether this will convince our pope to ordain female deacons today is unclear, but I'm all for it. There is a great need for expanded pastoral care in the developing world, where so many sisters and dedicated laity serve thousands of Catholics suffering from a sacramental famine caused by too few priests.
In the global North, Catholic women and men long to see gender balance on our altars and to hear the Gospel preached through a feminine lens. Women deacons could help meet this critical need.
I cannot conclude this column without addressing the question that Müller and other churchmen seem to be so afraid will arise if we restore our long history of ordaining women deacons.
OMG, we could have women priests!
Our church hierarchy can't have it both ways. If the diaconate and priesthood are not irrevocably linked, as is evident in the early church, there is a strong precedent for ordaining women deacons to serve the church today.
If the hierarchy continues the church's 12th-century precedent of refusing ordination to anyone with a uterus, while irrevocably linking bishop, priest and deacon, this teaching is doomed to fail.
Recently, Fr. Hans Küng reported that Francis "set no restrictions" in his reply to Küng's request to discuss "the dogma of papal infallibility." If it's OK to discuss infallibility, then surely we can also discuss the nondogmatic teaching banning women from the priesthood.
That said, I agree with Phyllis Zagano that this is a completely different kettle of fish than ordaining female deacons.
For one thing, the women priest discussion involves different ecclesial issues that are, in fact, linked to infallibility. In my view, and that of theologians I respect, churchmen inappropriately invoked infallibility in a misguided attempt to not only squelch discussion of women's priestly ordination, but also to squelch discussion of other urgent issues in the church, such as responsible family planning and homosexual love.
What makes church teaching authoritative and what exactly constitutes the "infallibility of the ordinary and universal magisterium" are very big questions indeed, ones that will require time to mature. Thanks to Hans Küng and Pope Francis, it now looks as if these conversations can be held without fear of reprisal.
In the meantime, reinstating the female diaconate is a no brainer.
[St. Joseph Sr. Christine Schenk served urban families for 18 years as a nurse midwife before co-founding FutureChurch, where she served for 23 years. She holds master's degrees in nursing and theology.]
Editor's note: We can send you an email alert every time Christine Schenk's column, Simply Spirit, is posted. Go to this page and follow directions: Email alert sign-up.