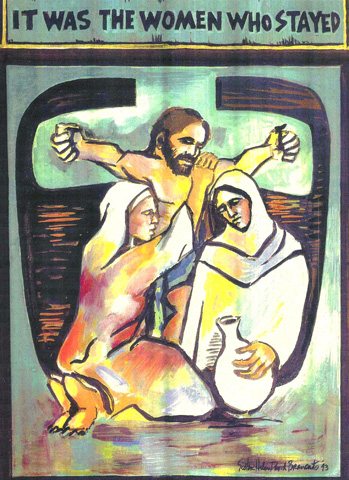 (Sr. Helen Brancato)
Yesterday was the feast of the Annunciation. While I can't pretend to understand the mystical encounter narrated in Luke's Gospel, Sojourner Truth's take on the story always brings a smile:
Then that little man in black there, he says women can't have as much rights as men, 'cause Christ wasn't a woman! Where did your Christ come from? Where did your Christ come from? From God and a woman! Man had nothing to do with Him.
A bit irreverent perhaps, but as Luke's Gospel tells it, quite true. At the March 8 Voices of Faith program from the Vatican (now available via webcast), British theologian Tina Beattie pointedly noted that the faithfulness of women both opens and closes our Gospel stories. Yesterday's feast marks the beginning of Jesus' earthly sojourn. On Palm Sunday, we commence a weeklong journey remembering Jesus' passion, death and resurrection.
And truly, as Sr. Helen Brancato's painting (above) eloquently reminds us, "it was the women who stayed."
Yet Jesus' female disciples are all but invisible to most Christians. Often no more painfully so than during Holy Week, when preachers commonly emphasize that Jesus was "abandoned by everyone." Everyone, that is, but the women, whose presence must have meant a great deal to Jesus, if to no one else.
One of Jesus' female disciples is the unnamed anointing woman about whom Jesus says: "Wherever this gospel is proclaimed in the whole world, what she has done will be spoken of, in memory of her" (Matthew 26:13). Yet we rarely tell the story "in memory of her" because the lectionary allows for a shortened Palm Sunday reading, thereby deleting from history the insightful woman who seems to have understood Jesus' impending passion the best. While her brothers accuse her of wasting expensive ointment, she evokes Samuel's prophetic anointing of David as king in Israel. Her symbolic ritual must have been very consoling to Jesus, who was facing a horrendous death before entering his own kingdom.
All four Gospels show Mary of Magdala leading the group of women who at no small risk to themselves accompanied Jesus through passion, crucifixion, death, burial and resurrection. I used to think the women stayed because it was less politically risky for them compared to their brothers who fled to Galilee. Not so. Turns out that the Romans had no compunction about crucifying women and even children to terrorize subjugated people.
Sadly, Mary's apostolic commissioning to "go to my brothers" and announce the good news (John 20:17) is never proclaimed on a Sunday.
Even viewed through the androcentric lens of the Gospel texts, Jesus' behavior toward women is remarkable. He welcomed women into his closest discipleship:
"Soon afterwards he went on through cities and villages, proclaiming and bringing the good news of the kingdom of God. The twelve were with him, as well as some women who had been cured of evil spirits and infirmities: Mary, called Magdalene, from whom seven demons had gone out, and Joanna, the wife of Herod's steward Chuza, and Susanna, and many others, who provided for them out of their resources" (Luke 8:1-5).
Luke's Gospel tells us that Mary of Magdala, Johanna, Susanna "and many others" were members of Jesus' Galilean entourage and financially supported his mission. Since it was not customary for men to speak to women outside their kinship circles in public, much less travel around the countryside with them, Jesus' inclusion of women would have been shocking to Greco-Roman and elite Jewish sensibilities.
That being said, social expectations for rural freeborn or freedwomen were probably quite different than those for higher-status women from urban households. Small agrarian villages like Nazareth had to rely on the hard, skillful work of both women and men simply to survive. A more pragmatic, egalitarian social ethos probably prevailed in the rural towns and villages of Galilee that gave birth to the Jesus movement.
A common misreading of Luke's Gospel attributes the "seven demons" that Jesus expelled from Mary of Magdala to grave sinfulness. There is no biblical evidence whatsoever of Pope Gregory's sixth-century characterization of her as a prostitute rather than the first witness to the Resurrection. To first-century ears, Jesus' expulsion of seven devils would simply have meant she had been cured of a very serious or chronic illness. Illness and misfortune were commonly attributed to the work of malign spirits, and being afflicted with such a "demon" did not necessarily imply moral failure or sin.
Jesus' success as a healer and exorcist was strong affirmation of divine power at work in him to overcome evil and usher in God's new reign of justice and right relationship.
Jesus welcomed women into his itinerant discipleship to learn about the new "reign of God" alongside their brothers. His prophetic inclusion of married and single women and his special compassion for widows and the landless poor were part and parcel of his fidelity to Israel's God who, throughout history, upheld the lowly.
Upholding the lowly and criticizing his own religious leadership for their complicity in economic and political oppression ultimately led to Jesus' execution. He simply could not stop himself from denouncing injustice, especially when sanctioned by the silence of purportedly religious guides. He bitterly chastises them for "straining out a gnat but swallowing a camel" as they tithe cheap herbs but neglect "the weightier matters of the law: justice and mercy and faith" (Matthew 23:23).
Justice and mercy and faith. How much easier it is to seek cheap grace in rote religious observance rather than embrace the far heavier demands of justice, forgiveness and accompaniment of the destitute and despairing.
Holy Week is a sacred time of remembrance.
It is also a time to ask if I will stay with Jesus, embodied in the suffering of God's marginalized, demeaned people, whether in my own environs or in the wider world.
Mostly, I'd rather take off for the beautiful (and safer) shores of Galilee.
But since my sisters stayed, I'm thinking maybe I will, too.
FutureChurch has resources for celebrating and remembering Jesus' female disciples during Holy Week, the Easter season and Pentecost.
[A Sister of St. Joseph, Sr. Christine Schenk served urban families for 18 years as a nurse midwife before co-founding FutureChurch, where she served for 23 years. She holds master's degrees in nursing and theology.]
Editor's note: We can send you an email alert every time Christine Schenk's column, Simply Spirit, is posted. Go to this page and follow directions: Email alert sign-up.