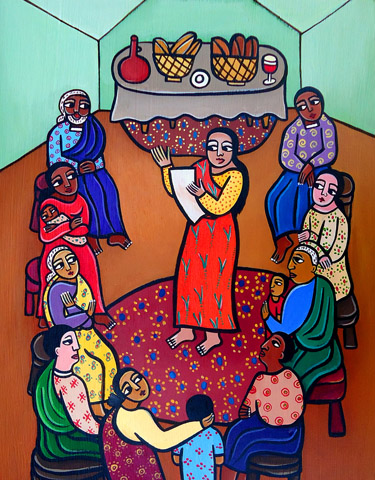 (Laura James)
I love Advent. It's such a hopeful and consoling season for those who long to see God's values fully realized "on Earth as in heaven," as Jesus prayed.
This is the season of the prophet Isaiah, whose proclamations permeate our liturgies and whose writings inspired both Jesus and St. Paul. We renew our belief in a God who brings "glad tidings to the poor, liberty to captives and makes justice and praise spring up before all the nations" (Isaiah 61).
Above all, we bask in a very special brand of prophetic hope that stretches back over 2,500 years.
Recently, I was delighted to discover that female prophets and scribes helped shape the Isaiah tradition so important to early Christianity. Episcopal priest Wilda Gafney's book Daughters of Miriam uncovers the all-but-unknown fact that in ancient Israel, prophetic schools and scribal guilds were composed of both women and men. These gender-balanced groups created the prophetic writings attributed to Isaiah and many other prophetic figures. Gafney's doctoral study of ancient prophecy and its technical vocabulary is credited with beginning a new chapter in gender and biblical studies.
Since the New Testament cites or alludes to the Book of Isaiah more than 300 times, it is not an exaggeration to say that the foundational motifs of Christianity emerge from the prophetic ministries of both women and men. For example, St. Paul quotes Isaiah more than any other Old Testament source, and Jesus reads Isaiah 61 as he inaugurates his own mission: "The Spirit of the Lord is upon me, because he has anointed me to bring good news to the poor. He has sent me to proclaim release to the captives and recovery of sight to the blind, to let the oppressed go free, to proclaim the year of the Lord's favor" (Luke 4:17-22).
So how is it that we never knew about the prophetic women in our Judeo-Christian tradition until now? Unfortunately, the names of nearly all female prophets in both the Hebrew and Christian traditions have been lost to us. Scholars believe women were far more widespread in all ancient societies than surviving writings indicate. Only four named women are identified as prophets in the Hebrew Scriptures: Miriam, Deborah, Huldah, and No'adiah. However, unnamed female prophets probably numbered in the tens of thousands.
As in English, the masculine plural in biblical Hebrew can signify only men or both men and women, making it difficult to discern the presence of women in the biblical record. This is compounded by the androcentric bias that plagues all historical writings, and their interpretations, even to the present day. A good example is found in Ezra 2:55 and Nehemiah 7:57, which describe a scribal guild returning to Israel after the Babylonian exile. The texts name guild members as the descendents/disciples of one Hassophereth (literally, the female scribe) who lived in the time of Solomon. Only priests ranked higher than scribes in Solomon's hierarchy.
This female scribe was the second-highest-ranking person in Solomon's court. Her guild, which was probably composed of both men and women, would continue for at least the next 500 years. Yet she would be confined to oblivion because interpreters inexplicably transliterated Hassophereth phonetically, as a proper name, rather than attending to the gender-specific nature of the participle sopereth. Gafney notes: "Sopereth is the feminine singular qal participle of s-ph-r: 'to write,' literally, 'she who writes' or 'female scribe.' " Gafney attributes this to gender bias after evaluating 270 other feminine singular qal participles in the Hebrew bible that were translated appropriately and not transliterated.*
So what is a prophet? At its simplest, biblical prophets are those women and men who proclaim messages from God for the good of God's people. All had in common the ability to preach with power in times of religious crisis. Their proclamations were often preceded by the prophetic formula: "So says YHWH." Such phrases resonate still today in the Catholic Mass, when at the conclusion of each Scripture reading the lector or priest proclaims, "This is the Word of the Lord."
The prophet's principal concern was not the future, but the present historical situation and its challenge to the faith of God's people.
The historical Isaiah of Jerusalem saw clearly the impending destruction of Israel and was concerned to help his people simultaneously prepare and persevere despite virtual annihilation. First Isaiah (1-39) tells us that he conceived two children with an unnamed female prophet (Isaiah 8:1). The children were given prophetic names, "Swiftly savaged, rapidly ravaged" and "A remnant will return," as portents of what would befall Israel. The female prophet and her children became part of a remnant community along with Isaiah and his disciples. From this, a "school of Isaiah" would emerge that ministered to the exiled and finally returned people of Israel for at least the next two centuries.
Second Isaiah (40-55) was created during the latter part of the Babylonian exile (circa 539), most probably by a group of male and female prophets, scribes and editors from the school of Isaiah. Third Isaiah was created after Cyrus, the king of Persia, defeated the Babylonians and permitted the exiled Hebrews to return to their homeland.
Both Second and Third Isaiah are notable for their use of maternal imagery for God and for Jerusalem. Second Isaiah likens God to a woman in labor, a nursing mother and a mother comforting her children (Isaiah 42:14; Isaiah 45:10, 49:15; Isaiah 66:13). In Isaiah 51, Sarah is named alongside Abraham as a progenitor of Israel. Third Isaiah emphasizes a gentle God of maternal care. In Isaiah 66, we read: "Rejoice with Jerusalem, and be glad for her, all you who love her ... that you may nurse and be satisfied from her consoling breast ... As a mother comforts her child, so I will comfort you.
The take-home message the Isaiah prophets brought to their suffering people was that God would never abandon them but, like a mother, would accompany and console even in the midst of persecution and exile.
Small wonder then that Jesus' Jewish community so loved to read from Isaiah at synagogue prayer. Jesus himself would follow in the footsteps of a long line of Hebrew prophets, both female and male, embodying a new "Word of the Lord," pointing to the holiness and compassion of God in his challenge to unjust religious and civil structures.
Given the importance of prophetic writings to Jesus and to Israel, it is easy to see why prophecy was paramount in the early Jesus movement. Prophetic female leaders played important roles alongside their brothers in guiding and building those early communities. The church historian, Eusebius, credits Philip's four prophetic daughters (Acts 21:9,10) for the apostolic origins of the provincial churches of Asia Minor. According to St. Paul, prophets are second only to apostles in the exercise of spiritual leadership. He carefully instructs the female prophets at Corinth to cover their heads while prophesying, probably to differentiate their ministry from non-Christian cults (1 Corinthians 11,12). He did not tell them to stop preaching and prophesying the word of God at worship.
It is good news for our contemporary church to recognize the gender balance at the very heart of our Catholic tradition. God's Holy Spirit, at work throughout history in both women and men, brings forth liberation, compassion and justice to a waiting world.
As Jesus' disciples, we too are called to witness with our lives what his mother Mary, in the line of Miriam, first proclaimed: "God's mercy is from generation to generation ... who has scattered the proud in the thoughts of their hearts ... and lifted up the lowly ... according to the promise [God] made to our ancestors, to Abraham and Sarah to their descendants forever" (Luke 1:46-55).
This Advent, let us follow Isaiah and Mary in raising up the lowly and making "justice and praise spring up before all the nations."
Author's note: This column contains excerpts from a special "Your Daughters and Sons Shall Prophesy" essay I wrote for the Restoring the Women of Advent packet available at futurechurch.org. The packet's creative educational and worship resources are designed to enhance your faith community's observance of Advent and the Christmas season.
*This column has been updated to more accurately reflect Hebrew grammar.
[A Sister of St. Joseph, Sr. Christine Schenk served urban families for 18 years as a nurse midwife before co-founding FutureChurch, where she served for 23 years.]
Editor's note: We can send you an email alert every time Christine Schenk's column, Simply Spirit, is posted. Go to this page and follow directions: Email alert sign-up.