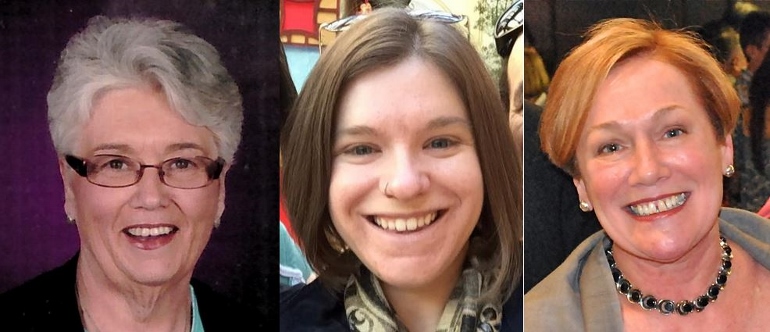 Connie Walsh, Natalie Terry and Cynthia "Sam" M. Bowns. (Photos courtesy of FutureChurch)
I'll admit it took me awhile to warm up to the idea of a female diaconate.
This is because 23 years ago, I was among the first in my home diocese to become a lay ecclesial minister. I feel strongly about the immense gift this ministry is to our parishes. Lay ecclesial ministers, and particularly female lay ministers are the too-often-invisible glue holding parishes together.
And most priests agree with me. According to a 2015 study by the Center for Applied Research in the Apostolate*, 75 percent of priests said parish life would be aided by an increase in full time lay ministers and that the church needs to move faster in empowering lay persons in ministry.
Today there are over 39,500 lay ministers -- 31,600 of whom are women -- serving the U.S. church. This blessed gift from the Spirit seems to be here to stay -- another 22,000 people are enrolled in ministry training programs, and 60 percent (13,200) are women.
Gifted ecclesial women are serving the church in diverse ministries such as religious education, sacramental preparation and formation, liturgical/music ministries, hospital/hospice chaplaincy and parish administration.
But sadly, their ministry often goes unseen by most Catholics. These women rarely serve in visible liturgical roles and are not permitted to give a homily at Sunday Mass. Our Catholic communities are deprived of the power and richness of the Gospel preached through a female lens. And we are the less for it.
But opening the diaconate to women would change all of that.
Now some, and perhaps many, among this huge cadre of experienced and spiritually gifted women are experiencing a call to become deacons.
Three of them shared their profound "stories of call" at a recent teleconference sponsored by FutureChurch.
Connie Walsh says she has always felt a particular call to the permanent diaconate rather than to priesthood or religious life. Walsh served for eight years on the Commission of Women for the Archdiocese of St. Paul and Minneapolis and taught a domestic violence curriculum at St. Paul Seminary.
A retired manager of advocacy for United Family Medicine in St. Paul Minn., Walsh relates, "As I matured in my faith, I experienced a gentle nudge -- and sometimes not so gentle -- to risk and do more. This brought me to places I never dreamed possible -- to serve people with addictions, people experiencing domestic violence and to take mission trips to Guatemala."
Walsh's desire to become a deacon became clear after undertaking the spiritual exercises of St. Ignatius of Loyola. She followed the advice of a Jesuit priest who told her to "pray and listen to the people of God." Walsh did so and found the need is great. "There are ministries and persons who are better served by the distinctive gifts of women."
"After praying and listening to the people of God," she said, "I humbly ask to be considered as a female deacon."
Natalie Terry is the director of the Ignatian Spiritual Life Center and Children's Faith Formation at St. Agnes Catholic Church in San Francisco and is currently writing her thesis for a Licentiate in Sacred Theology in the area of sacramental theology.
At age 16, a youth minister in her Albany parish asked her if she would ever be a priest if she could. "Without a blink of an eye, I answered yes to him. ... At that point I had never imagined a woman at the altar wearing vestments. After that question I started imagining it."
Terry went on to study theology in graduate school and eventually entered the Master's of Divinity program at the Jesuit School of Theology at Berkeley. In college, the question of "why can't women be ordained?" kept coming up in her. "I couldn't find a good reason. ... And the theologians and priests I studied with also shared the same sentiment -- and then I started to say, well, something is wrong with this picture."
Terry relates that her experience at college was "wildly painful" as she walked three years alongside Jesuits on their way to ordination when she could not receive the sacrament herself.
"My logic told me I should walk away from it, but God told me no. ... I kept begging God to show me how as a woman I was to enter into this call when the church is continually telling me the door was closed."
Eventually, Terry says she concluded, "God is a God of open doors," and that priestly ordination is about service: "The pain and beauty of ministerial formation gave me some space and courage to shed desire for some of the pieces of priesthood that are coupled with power and prestige." But she believes:
[T]he whole thing needs to change first -- priesthood is in desperate need of renewal, and it is in this place that I experience a call to diaconate. . . . The [female diaconate] is a place for the church to start its renewal. The church must recognize in this that women too are called to be "in persona Christi" -- It seems to me the [female] diaconate is a moment for our whole church to do this.
Cynthia "Sam" M. Bowns is a married mother of three who recognized her desire to serve as a deacon while accompanying her husband, Loren, through his diaconal formation program. Bowns holds a Master's of Divinity and a certificate in spiritual formation from Chicago's Catholic Theological Union. Her pastor and mentor frequently sent people to her for counsel and encouraged her to pursue this course of study.
"Spiritual accompaniment became my trademark," Bowns says, noting that many longtime parishioners simply assumed that she had been ordained with her husband: "There came a time when I quit correcting them. If they could see me as a deacon and were comfortable with that idea, perhaps it was the Spirit of God planting yet another seed in me."
When, on his deathbed, Bowns' pastor asked his best friend and fellow priest to pass her the chrism so she could anoint him as well, she felt deeply validated: "He left me with an affirmation that I have never forgotten. Never. He himself obviously envisioned me in the role I so desired ... I have a definite vocation as wife, mother, grandmother and have no wish to give those up, but I would love to be ordained a deacon."
FutureChurch has created a dedicated website catholicwomendeacons.org to encourage others to share their own diaconal call and to provide education, discernment and advocacy tools asking church leaders to open the discussion. The organization is also sponsoring a retreat for women called to the permanent diaconate Sept. 16-18.
Perhaps Natalie Terry says it best:
It's become more painful for me to be told behind closed doors by priests that women should be in full ministerial leadership in the church than to be told women shouldn't be in ministerial leadership at all.

Today, I call on bishops and priests who have encountered women in their ministry who have been called, to speak up.

We're speaking up -- now it's time for our bishops to speak up on our behalf.
*An earlier version of this story listed the incorrect name for Center for Applied Research in the Apostolate.
[A Sister of St. Joseph, Sr. Christine Schenk served urban families for 18 years as a nurse midwife before co-founding FutureChurch, where she served for 23 years. She holds master's degrees in nursing and theology.]
Editor's note: We can send you an email alert every time Christine Schenk's column, Simply Spirit, is posted. Go to this page and follow directions: Email alert sign-up.