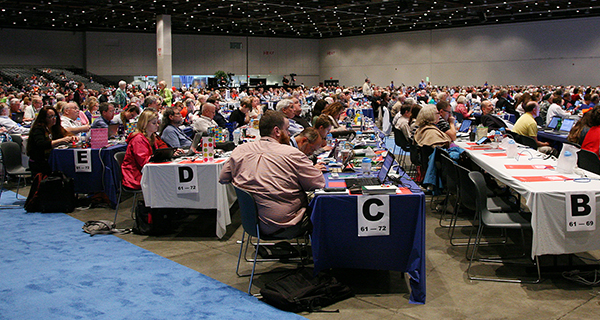 The 221st General Assembly meeting of the Presbyterian Church (USA) in Detroit in June 2014 (RNS/PCUSA/Danny Bolin)
Like other mainline Protestant churches, the Presbyterian Church (USA), of which my congregation is a member, has experienced shrinkage and divisive controversy in recent decades.
But one thing has remained constant, and that is that we have a representative form of church governance. People in the pews have a voice and a vote.
I'm not suggesting that the Catholic church adopt this polity and deconstruct its considerably more hierarchical system. Rather, I just want to describe our system to you who are Catholic to see if you find anything attractive about it, anything you might want to advocate be implemented for Catholicism.
I was thinking about all this recently as I was looking over the Presbyterian church's website about our upcoming General Assembly, which will meet for a week starting June 18 in Portland, Ore. This will be our 222nd General Assembly (national governing body). We've been at this a while.
But let's back up a bit.
Each congregation of the Presbyterian Church (USA) has a board of elders, called the session, and, usually, a board of deacons. Both are elective offices, though those ordained to those positions take exactly the same ordination vows that our pastors take (with one exception having to do with presiding over the two sacraments).
How do people get elected? They are nominated by a nominating committee, the members of which are elected by a congregational vote. That committee then finds people to serve as elders and deacons — names then brought back to the congregation for a vote.
Each congregation also is a member of a regional governing body called a presbytery. It is made up of an equal number of lay members (or ruling elders, as we call them) and pastors (teaching elders). Presbyteries meet regularly to do such things as approve seminary students for ordination and offer programming help for member churches.
Presbyteries also are the bodies that can propose changes to our Book of Order. It, together with a book full of historical statements of faith, makes up our official constitution. Think of the Book of Order as Robert's Rules of Order (on steroids) for the church.
Presbyteries, in turn, are members of a geographically wider body called a synod, a level of governance increasingly called into question for the ways in which it sometimes overlaps the responsibilities of presbyteries and the General Assembly.
Throughout this system, people have a voice. Well, as much of a voice as they want to try to have heard. Like any political system, it sometimes falls prey to apathy and to cliques that seek to maintain power just for the thrill of having power.
I'm sure this revelation about power within religious institutions comes as no shock to Catholics who've been paying any attention to church governance.
Does our Presbyterian system work? Imperfectly, yes. The more individual church members take responsibility for being well-informed and active, the better the whole system functions, from bottom to top.
My late parents once served as commissioners to a General Assembly back in the 1950s. I have been to parts of two different General Assemblies but never as a voting commissioner. But I do know from the experience of others that the job requires a deep dive into church polity and business with lots of preparation before the opening gavel.
And I know that inside any General Assembly, there is a sense of doing vital business by making decisions about church positions on this or that public issue — positions that many people in the pews often never bother to learn about or that they disagree with. (You can surf around on the 2016 General Assembly website to get a feel for some of the business facing this year's gathering.)
All that said, I prefer representative democracy over a hierarchical, authoritarian church governance system — and will until I experience God as sole (and soul) authority in the church triumphant.
[Bill Tammeus, a Presbyterian elder and former award-winning Faith columnist for The Kansas City Star, writes the daily "Faith Matters" blog for the Star's website and a column for The Presbyterian Outlook. His latest book is Jesus, Pope Francis and a Protestant Walk into a Bar: Lessons for the Christian Church. E-mail him at wtammeus@gmail.com.]