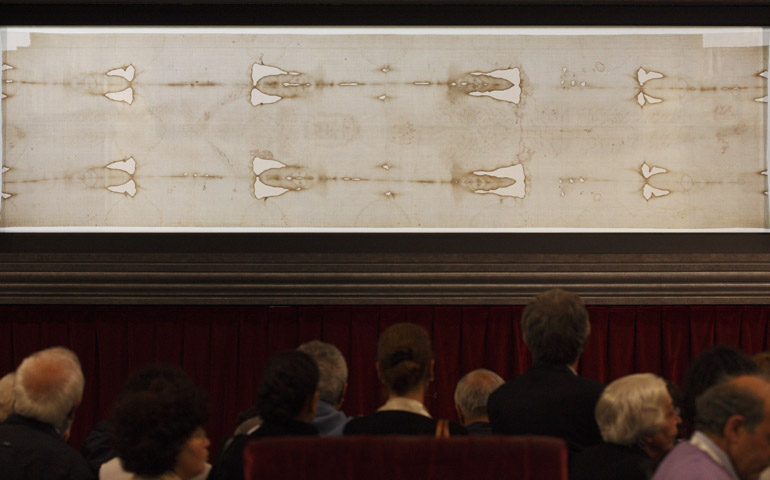 People view the Shroud of Turin at the Cathedral of St. John the Baptist in Turin, Italy, in 2010. (CNS/Paul Haring)
The Shroud of Turin, which Pope Francis plans to visit and venerate in June, has intrigued me for decades.
Is it, as some believe, the original burial cloth of Jesus Christ? Is it, instead, a medieval fake, as one carbon-dating test concluded (a test that was quickly challenged and, by many, dismissed)? Or is it something else -- perhaps the burial cloth of a crucified man, though not Jesus?
I have no idea. But I find the role of relics in Catholicism fascinating. And although we Protestants pay much less attention to relics than do many Catholics, we still have an attraction to alleged pieces of the True Cross and other historical remnants. (Mark Twain once said he'd seen enough nails from the True Cross to fill a keg.)
A relic that might be close to the top of the list for Protestants would be the original copy of the 95 theses that Martin Luther nailed to the wooden door of the Wittenberg Cathedral on Oct. 31, 1517. But when you start looking into the matter, you discover one of the problems with relics, which is that sometimes there isn't much historical evidence for the stories around them.
For instance, no original copy of Luther's theses has ever been found, and many historians now conclude that he never nailed the document to the cathedral door at all. Rather, he simply snail-mailed a letter to church authorities on that All Saints' Day eve and included in the envelope the 95 theses he wanted to be the subject of what was called a disputation.
I have seen the bones of Catholic saints in a church in Louisville, Ky. I've been to the Holy Land twice and have visited many holy sites. I have seen the alleged exact spot in the Church of the Nativity in Bethlehem where Jesus is said to have been born. I have seen two different tombs in Jerusalem in which Jesus was buried (or not). I've walked down steep steps into Lazarus' tomb.
But the truth is that nobody really knows exactly where these things happened. And in fact, the Christian faith -- though rooted in real historical events and a real historical human being -- does not depend on whether the actual tomb of Jesus is in the Church of the Holy Sepulcher or the Garden Tomb. It doesn't matter whether Jesus was born where a mirrored star rests on the floor of the grotto in the church in Bethlehem or instead in Nazareth, as 19th-century French theologian and religious historian Ernest Renan believed.
What the whole of Christianity depends on is not whether the Shroud of Turin is the real burial cloth of Jesus but whether Jesus, in fact, was resurrected.
And yet there's something about the human condition that makes it easier for us if we can hold onto something solid, something verifiably original and authentic.
So our hearts long for the Shroud of Turin eventually to be validated as the true burial cloth of Jesus. And we want to know that this or that particular cup is the one Jesus used at the Last Supper. And that someone saved the ax George Washington used to chop down the cherry tree and, while they were at it, also preserved his wooden teeth. (Good luck with both of those myths.)
I'm happy for Pope Francis to visit the Shroud of Turin just as I'm happy for Protestant tourists to stop at the front doors of the Wittenberg Cathedral. (The original wooden doors were destroyed in a fire and have been replaced with bronze doors.)
I just hope the pontiff's trip won't lead people to imagine that it ultimately matters whether what he sees there is Jesus' burial cloth. That would focus on a dead man. By stark contrast, Christianity is about the living Christ and our commitment to follow where his Spirit leads.
[Bill Tammeus, a Presbyterian elder and award-winning former faith columnist for The Kansas City Star, writes the daily "Faith Matters" blog for the Star's website and a monthly column for The Presbyterian Outlook. His latest book is Woodstock: A Story of Middle Americans. Email him at wtammeus@gmail.com.]
Editor's note: We can send you an email alert every time Bill Tammeus' column, "A small c catholic," is posted to NCRonline.org. Go to this page and follow directions: Email alert sign-up.