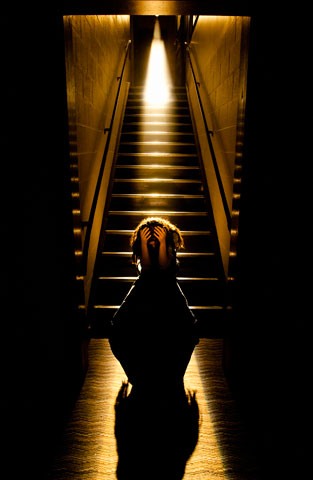 (Newscom/Design Pics/Ron Nickel)
One of the most significant ramifications of the Crucifixion is that Christ died not in the course of committing violence, but instead of committing violence.
I'm among the first to decry the violence of weapons and war.
But, of course, there are ways of committing violence other than with weapons. There is the violence of anger, of self-pity, of pride. There's the violence of, say, adultery.
In fact, my first inkling of the concept of the Mystical Body came to me when I got sober in 1987 and did a moral inventory around my life in the bars. That was when it first dawned on me that when I had slept with a married man, that had affected his wife whether or not she ever "knew." It affected the guy's kids, if he had kids, whether or not they ever "knew." It affected the guy, and in some way everyone he came in contact with.
Later would come the gut-wrenching knowledge of the terrible violence, the sorrow, the tear to the human fabric of abortion. Later would come years of bearing the wound of my own three abortions in silence. Later, I would see how the violence I'd inflicted upon my unborn children and myself spilled over into all my human relationships: in a tendency to dominate on the one hand, and to be overly dependent on the other; a tendency toward romantic obsession, a form of lust.
That's why to be brought to our knees by our sicknesses, our sin, is such a great gift. No one is more fervent, or more grateful, than the criminal who's been welcomed back to the banquet table. No one is more willing to walk through the world unarmed.
"They" might kill you -- they killed Christ -- but in being forgiven, and in forgiving ourselves, we're freed from the bondage of fear. We're free to live out the rest of our days in love. We're free to answer Christ's call to be peacemakers.
To travel about unarmed is folly in the eyes of the world. But "My kingdom is not of this world," said Christ, who himself walked unarmed among criminals of every sort.
If I really want to be a peacemaker, I have to come back again and again to the terrible violence I've committed myself. I'm called to a constant examination of conscience, to penance, to sacrifice.
That's one reason why, for years, I've been going once a month with some fellow sober drunks to a Los Angeles-area jail.
One night especially stands out. As usual, we could bring in nothing but ID and our car keys. As usual, we had to wait for an escort to our assigned pod. As usual, we walked down labyrinthine halls, through a few steel-reinforced sally ports, and past several inmates who'd been instructed to stand head to wall with their hands clasped behind them. As usual, the air was thick with the smell of bad food, unwashed bodies, and fear.
Still, pill call wasn't so loud this particular evening that we literally had to shout, which is often the case. The inmates were attentive, which, since many of them were mentally ill and/or highly medicated, was also exceptional.
We told our stories. The men had a chance to ask questions.
One hollow-eyed guy with dreadlocks and a missing front tooth said, "I killed someone in a drunk driving accident. I just got 35 years."
Another jittery kid offered, "I don't think I'm an addict. I just make really bad decisions when I'm high."
As usual, the inmates gave us way more than we gave them. As usual, those of us who get to leave and those who were staying inside bonded in that unique way that only those who have survived the shipwreck of alcoholism can.
At the moment, we weren't allowed to shake hands or hold hands or in any way touch the inmates lest we try to pass contraband. So when the closing prayer rolled around, we apologized and told them they could join in any other way they liked. Then the three of us who had come in from the outside held hands with each other and formed a tiny circle.
"Our Father, who art in heaven," we began.
I'd expected the inmates to stand alone and apart from each other, as they often did, or at the most to form their own circle beside us. Instead, without exchanging a word, they silently, instinctively came together, joined hands and, like a fleet of guardian angels, formed their own larger circle with us in the middle.
Outside the circle were armed guards, bulletproof glass, metal doors, semi-automatic weapons, barbed wire, helicopters, guard dogs, security cameras. But the real security, the real power, lay inside.
"Lead us not into temptation," we prayed -- we and the criminals -- "but deliver us from evil."
Surrounded by cross-dressers, sex offenders, deviants, junkies, whores and thieves, I've never felt so safe in my life.
[Heather King is a Los-Angeles based writer and speaker with several memoirs, including, most recently, Loaded: Money and the Spirituality of Enough. You can read all of the Soul Seeing columns online at NCRonline.org/blogs/soul-seeing.]
A version of this story appeared in the June 3-15, 2016 print issue under the headline: The gift of being brought to our knees and forgiven for our sins.