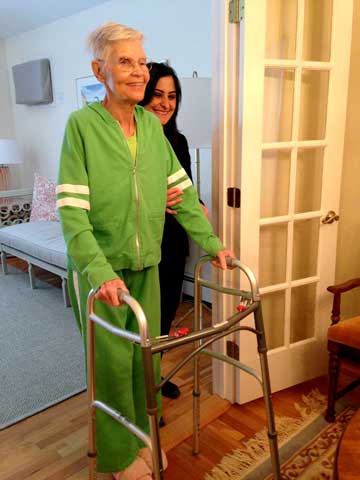 Vickie with Maka (Jessica Hinderliter)
Vickie lies on a hospital bed in our family room, in front of the fireplace, next to a window holding a fractured moon. She fell and broke her hip three weeks ago, had surgery, and is now recovering at home. She also has Alzheimer's and doesn't know what happened.
I stand at one side of the bed and stroke her temple. Maria leans over the rail on the other side, holding Vickie's hand, caressing her skin. Vickie's eyelids blink into sleep.
"Bella Durmiente," Maria whispers. "Dios le mira." Sleeping beauty, God watches over you.
Maria is one of three alternating caregivers who help me help Vickie be comfortable and learn to walk again. Maria has three children, aged 15 to 24. She prays for them and prays for Vickie and prays for everybody. Maria comes from the Dominican Republic. Her face glows with a compassion born of suffering. She has auburn hair held back in a ponytail. Loose strands on top look ready to break away and dance in the air. Maria is one of those people you are certain is alive.
She and Vickie and I watched the movie "The Impossible" tonight, the one with Naomi Watts about the family vacationing in Thailand who get swept away by a tsunami and only after trials and searching find themselves together again.
"With God nothing is impossible," Maria said after the movie. "Wherever we go, I tell you, God goes, too."
Maria's example reminds me that Jesus sent those who got his message to go out of their homes and into other houses to proclaim the kingdom of heaven and heal the sick (Luke 9:2). St. Francis of Assisi later said the mission of every Christian is to preach the Gospel, "sometimes even with words." Caregivers like Maria don't need words. Their lives are a sermon.
Maka is another caregiver who (along with God) watches over Vickie on weekend nights so I can get some sleep. Maka comes from Georgia, next to the Ukraine. She is a mother of two and like Maria sometimes balances two or three jobs. Maka has the dark good looks of a Dostoevsky heroine. She is made of fire. Her parents are educators and she trained as a nurse in Georgia. The pay was less than $100 a month, so Maka and her husband came to the United States.
"As a kid, I always care for old people. As 9-year-old I changed my grandparents' diapers. When grandparents were in hospital, I care for them and other people in hospital too. I have to do it now. Thank God, I enjoy it."
It's not always easy to be a caregiver and bring a hint of heaven -- peace, love, wholeness and assurance -- into other people's homes. Sometimes the old and ill grow mean, or their spouses or adult children turn the simplicity of caring into drama. Their fears prevent them from knowing that when you help someone, your left hand must not think about what the right is doing (Matthew 6:3).
"I don't like to show people their mistakes," Maka says. "I do so they know nothing happened. I forgive. I think if I am good for even difficult people, maybe God will bring somebody good to care for me when I am old or if my parents need somebody like me, God will send them. I care for people because it is natural."
Norma is an earth mother from Guatemala who comes on weekdays from nine to five. She thinks she is too heavy but she is light on her feet and her laughter lightens whatever burdens anyone around her feels. She has a 24-year-old daughter who is an early childhood teacher.
Norma's grandmother taught her always to live "la frente en alto" -- do good things and do them well. She talks with Vickie as though Vickie understands everything she says. I think Vickie does. Most of all, Norma makes sure we eat and eat well. "Delicious and nutritious" is her motto. Her love reminds me that man does not live by bread alone. He also needs oatmeal, berries and beans, preferably red.
The three kings brought gifts of incense, frankincense and myrrh into the first house of Jesus, a stable. Our three queens bring hugs, fresh sheets and crushed pills in applesauce, an even richer brew. Caregivers work so hard at hard jobs we take for granted to take care of their own families, and they love this country despite its narrow-minded nativism. I don't understand why the Wolf of Wall Street can make millions selling numbers over the phone a few hours a day while these heroic women and men work day and night for little, and yet they care for our sick and fulfill every other work of mercy in the Book.
The apostle James (2:5) answers with a question: "Has not God chosen those who are poor in the eyes of the world to be rich in faith and to inherit the kingdom of heaven he promised those who love him?"
Thank you, ladies, from Vickie and me.
[Michael Leach lives in Fairfield County, Conn., and is grateful for Visiting Angels, a nationwide network of home care agencies from whence many caregivers like Maria, Maka and Norma come.]
A version of this story appeared in the Feb 27-Mar 12, 2015 print issue under the headline: The kingdom of heaven comes to our house.