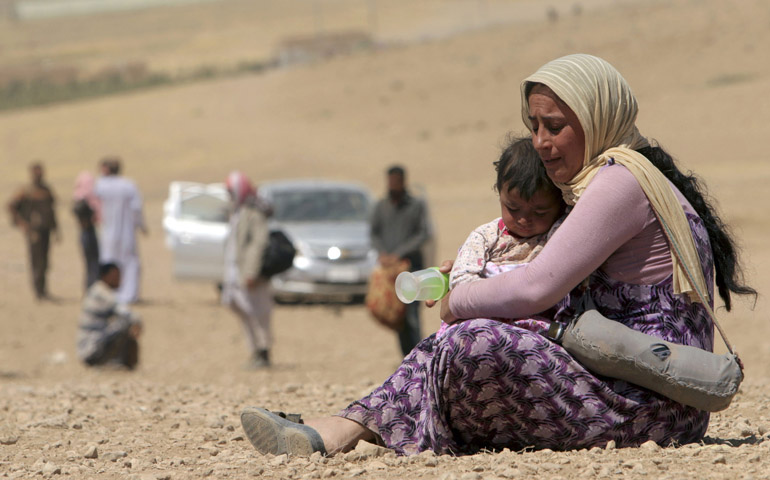 A displaced woman and child flee violence from forces loyal to the Islamic State in Sinjar, Iraq, Aug. 10. (CNS/Reuters/Rodi Said)
The power of the 24-hour news cycle is that sometimes we hear a story so often that we stop hearing it at all. Unless it comes leaping off the screen at us. Unless it breaks through the headlines for some reason, appears again after its few seconds on Twitter and comes alive outside itself. In us.
I have just had that experience. Out of nowhere, a story that had become dimmed appeared in front of me: I got a letter from a Yazidi woman.
I had met Ummaya in a women's interfaith peace program in New York City in 2003. The Global Peace Initiative of Women brought Iraqi women to the United States to meet with American women from across the country. The hope was, of course, that we would make personal connections between us that would advance interfaith understanding and build bridges between two countries locked in a senseless war. More than that: Women, we thought, might be able to reach across the ethnic boundaries there, too, soften the anger, and forge new bonds in a country seriously divided and dangerously entrenched.
Now, 12 totally silent years later, I was holding a letter to us from one of the women in that first meeting whose face I could barely remember but whose voice came through loud and clear. It made real that day so many years ago in New York. It read in basic and sometimes inverted English and took careful interpretation. She wrote:
Cases of rape and marry the wrong person ... has been our girl's destiny when Daash [ISIS] has taken them prisoners. Today 300 of them returned after the girls fled from air strikes ... Tragic stories of these women that are suffering psychological and neurological damage. Is it possible to address this situation in America or send medical aid to them? ...
We want your help and we want solidarity on International Women's Day.
Like everyone else in the United States who hears snippets of TV news programs as they go their busy ways, Yazidi, like ISIS, became a new word for us. Out of nowhere, we discovered a part of the world we had not heard about in geography class. And no wonder. Our world concentrates on big things: big countries, big weapons, big banks, big splash.
The Yazidi, on the other hand, are a small ethnic group sequestered away in a corner of Iraq. They are little known. And they have been even less heard about. Until recently, that is. When an ISIS attack led them to flee to caves in the Iraqi hills for safety, they got discovered.
And yet, in a world of moon shots and Mars rovers, a world in which we count stars and fish, we know only that there are now between 70,000 and 500,000 Yazidi left out of an original million or more.
The Yazidi are faithful to a religion that goes back as far as Zoroastrianism and that, over the years, added elements of Judaism, Christianity and Islam, as well. ISIS intends to "purify" the Yazidi of their non-Islamic elements. Targeted by ISIS for no other reason than that they are "nonbelievers," many wander like lost sheep somewhere between Iraq and Germany. Otherwise, the Yazidi men fall to attack and the girls are kidnapped for enslavement to rape and child marriage. And, as usual, in any war, the Yazidi women are left behind to bear it alone and without resources.
These are the little people of any war, of all wars. They don't make the headlines much. They don't get interviewed often. They are seldom seen on public daises. They have few, if any, advocates.
They stand in shocked silence, watching their men die, their boys flee, their girls raped, sold, or used as camp slaves. But not the woman who showed up in my mail. Her position is plain and to the point: She writes her heart out to all of us with dignity -- and with an agenda that is strong, clear and personal. She doesn't ask for guns or planes or troops. She asks for human compassion and responsibility:
Mrs. Obama ... Is it possible to address this situation in America or send medical aid to them?
And then she writes to the one person she is really sure will care in America:
Dear Opreah [Oprah],
I invite you to declare a higher voice of solidarity with them and to call your government to liberate the rest. We have boys and young men in the grips of Daash (ISIS). Our girls are abducted. Where the government of the United States has a high-tech war in the liberation of hostages ... we want your help.
And then she writes to the one person she knows can solve this:
Mr. Obama, ISIS is not of this magnitude, (not too large for you to control?) which has allied countries in the world to fight it. They just do not have the personnel outside for [you] to need years to fight them."
And to the rest of us, she says:
I invite you to campaign in America, and [make] this part of your work and goals to mobilize US opinion to put pressure on the government to adopt a humane attitude to Yezidi prisoners who suffer death every day to be freed.
Signed,
Ummaya Al Esmael
Princess of the Yezidi Religion and Minority Rights Activist
Human Rights Watch agrees with Ummaya Al Esmael and alerts us all to this crime against humanity.
From where I stand, it seems to me that the casualties of war must be as important as the targets of war. In an era when it is no longer possible to tell combatants from noncombatants, we must put as much effort into taking care of the people who should never have been harmed at all as we do dislodging those who need to be subdued.
These voices crying out in the dark are the people we claim to be defending. In which case, integrity demands that we do. Otherwise, it won't just be the boats full of Jews being denied entrance into the United States in May 1939 that mars our history. It may be these cries, too, that signal to the world that the Statue of Liberty has turned out her lamp.
[Benedictine Sr. Joan Chittister is a frequent NCR contributor.]
Editor's note: We can send you an email alert every time Joan Chittister's column, From Where I Stand, is posted to NCRonline.org. Go to this page and follow directions: Email alert sign-up.