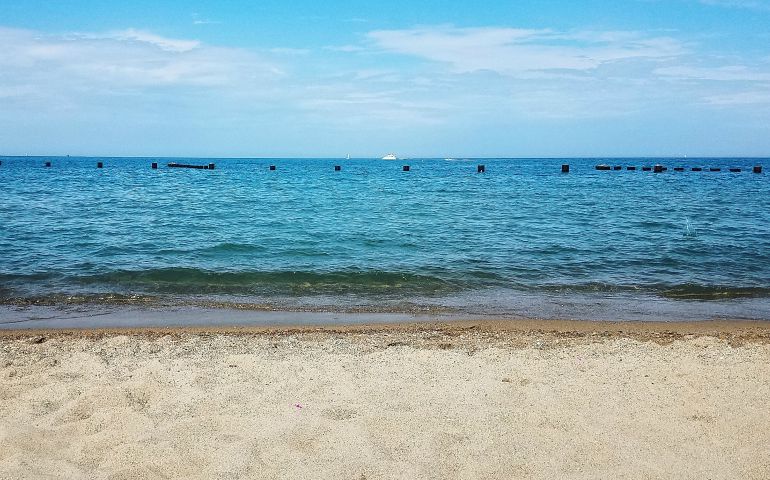 North Avenue Beach in Chicago, at Lake Michigan (Mark Piper)
I find it stupefying and absolutely fascinating that the things that inspire us most, that have changed the course of history and can potentially change our life's trajectory are immaterial, have no physicality and thus are weightless: ideas, souls, gifts of the Spirit or charisms. For that matter, integers are also weightless and immaterial. When you see integers — manifest in a student loan balance, for example — they, too, can affect one's life trajectory and spur you to take action.
This weightless thought popped into my mind as my wife and I were on North Avenue Beach on the shores of Lake Michigan in Chicago. With a 2-and-a-half-year old, and another child on the way in August, I've got the perfect "dad bod," so perhaps my mind was trying to off-set my excess weight by pondering that which has no weight, a heavy thought.
With Pentecost recently celebrated, I've been thinking about charisms, particularly gifts of the Holy Spirit given to the faithful for the common good and the benefit of the church. Religious congregations, through their founders, have a charism, a unique gift of the Spirit that orders the life, outlook and ministry of a congregation. Like any of the seven biblical gifts of the Spirit, these charisms are weightless. Sure, service, presence, hospitality, mercy, care for creation, these can all be manifest in each of us or through other materials things, but the gifts themselves cannot be quantified in ounces or liters.
The church uses the phrase "spiritual gift" when speaking of charisms. Gifts are unique in that they can be both material, think of birthday presents for children, and immaterial, think of time or affection. But regardless of type, for something to be a gift, it must be given freely (see: the life of Jesus Christ). And these spiritual gifts have borne much fruit, even for those of us who are not vowed or consecrated members of a secular or religious institute.
I suspect many of us in the church have experienced charisms and not even known it. If you've been educated by or been part of a Franciscan or Dominican parish, you'll get a flavor of what makes a Franciscan a Franciscan or a Dominican a Dominican, and at the bottom of this is their charism, their gift and concern in the world. Of course in America, the life of the church has been shaped by faithful of every rank immersed in the health care, social service, educational, and charitable ministries of women religious. As my wife and I walked from the Cenacle Retreat Center (Cenacle Sisters, founded by St. Therese Couderc) to the beach, we stopped by the National Shrine of St. Frances Xavier Cabrini (who founded the Missionary Sisters of the Sacred Heart of Jesus), and we remarked on the similarities and difference of Mother Cabrini and Mother Frances Xavier Warde, (Sisters of Mercy), a member of the first congregation of women religious to come to Chicago over 170 years ago.
Sure, there are people like our parents, historical figures and saints, our colleagues and our supervisors who also play a part in our life's trajectory, and they have a physical nature much like Cabrini, Warde or St. Therese Couderc who were mentioned above. But it was the gift, the charism, they were endowed with that was unique, purposeful; and that is what impelled their followers to engage in prayer, service and the works of mercy in their own way within the Gospel.
If you ask religious sisters or brothers why they joined their particular order (Mercy, Franciscan, Augustinian, Precious Blood, etc.), invariably you'll hear that the "mission" or "charism" of the founder and cheerful nature of the community is what drew them in. And from the charisms flow works of love, and works of love attract others, and then you are able to build up relationships, agencies, even institutions that feed, clothe, teach or heal tens of thousands of people for decades. And it all began with a gift, an inspiration that cost and weighed nothing.
With there being fewer women and men religious now, I also wonder what the future of those charisms might be in 10 or 20 years. Apart from their direct vocation ministries for new members, some orders are able to transmit their charisms to co-ministers, associates or parishioners of parishes they still staff. Some young adults who go to Catholic high schools or colleges sponsored by a congregation may not meet a priest, brother or sister or even adequately know the history. There are some young adults who join year-of-service organizations like Jesuit Volunteer Corps, Mercy Volunteer Corps, or Cap Corps. Those young adults are exposed to a part of a charism, but as mutually beneficial as these years are, relatively few go on to enter religious life, though I suspect many undergo significant discernment. And so, before I could come up with an answer on what will happen to charisms, the wind shifted, the shoreline cooled, and we left the beach.
Given the title, if you had hoped this article would have identified a pious diet to lose weight — my apologies. While there is plenty of research, and from that, articles written on health benefits of religion and meditation, there is far less — that I am aware of — relating to those weightless religious charisms that have inspired the faithful of every rank and have been the underpinnings of ministries, decisions and lifestyles that have truly changed lives and the world. With the unofficial start to summer having come and gone, worry not about how beach-ready your body is but rather how you might readily find a place of rest and inspiration in the mystical body of Christ through learning of a charism. After all, if you're going to hit the beach, you might as well bring a good book with you, lest your mind drift like the sand thinking of the future of the church — the future of us.
[Mark Piper, a Packers fan in an unholy land, works in the nonprofit sector. He resides in Chicago with his family and holds a master's in public policy from DePaul University and a bachelor's from Saint Xavier University; he is an alumus of Amate House, an AmeriCorps-approved year of service organization sponsored by the Chicago Archdiocese.]
Editor's note: We can send you an email alert every time a Young Voices column is posted to NCRonline.org. Go to this page and follow directions: Email alert sign-up.