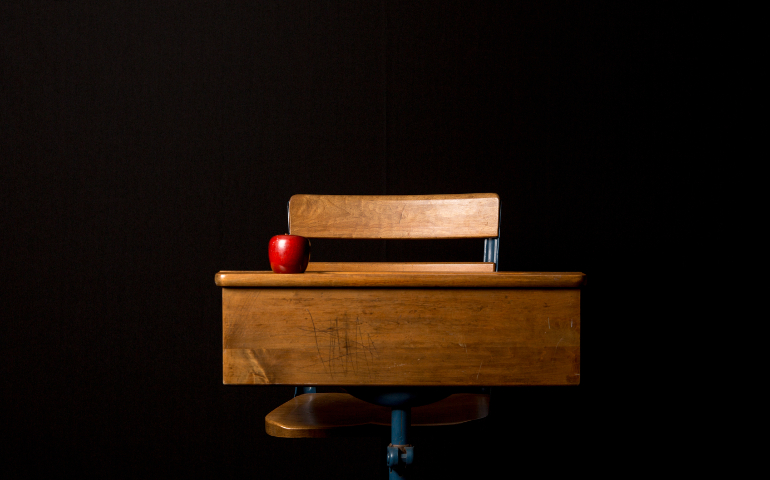 (Unsplash/JJ Thompson)
Every several years, I seem to find myself in some teaching capacity. It is always unnerving, mainly because I have never felt especially called to or skilled in this field. My life has been immeasurably improved by countless educators, and I have tremendous respect for their profession, but whenever I try my hand at it, I cannot help but feel like a wannabe emperor who is well aware his clothes are a fraud.
Whether teaching English, reading, and guitar classes in South Africa and Peru or volunteering as a tutor in Milwaukee, each tour of duty tends to follow a familiar trajectory. Delusions of Ron Clark grandeur are followed by apprehension and bluffing to hide said anxiety. My students laugh at me. In spite of my limitations, they learn something. Also in spite of my limitations, I learn something, which unquestionably amounts to far more than the students gain from me.
The lessons my students have taught me are many and varied: take what you do seriously without taking yourself seriously; be adaptable; recognize that success has a different barometer for every person.
Perhaps the greatest lesson, though, is that kids are sort of the same everywhere.
I do not mean that every child is not a unique individual with her or his own strengths, weaknesses, hopes, and aspirations. Nor do I mean that the students with whom I have worked did not come from distinct cultural, ethnic, and religious backgrounds that were integral to their identities.
I simply mean that there is something about being an adolescent that holds true whether you are in Cape Town, Cusco, or Chicago. It is a bored-beyond-belief, struggling-to-tolerate-this-moron-teacher attitude that rears its head in even the most well-behaved students. There is also surreptitious texting and a love for Justin Bieber.
This is all very encouraging to me. Entering another culture can be remarkably unsettling, so much so that any shred of common ground is welcome. Seeing teenagers in other countries or communities go through some of the things I did when I was their age — desperately wanting to fit in, having their first crushes, feeling unfairly targeted by a peer — offers more than an inroad to connect with them in the classroom. It is a reminder that for all the differences in people throughout the globe, there are fundamental experiences that are part of the human adventure, regardless of the place you call home.
I seem destined to unearth this treasure again and again. Recently, I began tutoring an Iraqi boy — let's call him Sam — whose family arrived in the United States as refugees several years ago. True to form, I approached this opportunity expecting worlds to collide in an inspiring, Lifetime movie fashion.
And it has been affecting and eye-opening. Sam has told me about his Muslim faith, and I have answered questions about my Catholicism. He has taught me basic phrases in Arabic and shared stories about going to school in Baghdad and Egypt.
But as in times past, it has also served as a flashback to being 14 years old. It turns out Sam and I share a pastime of ding dong ditching, though he retired from this habit far earlier in life than I did. We also both butchered our way through centuries-old theatre projects at school — he in "Romeo and Juliet," me in "Oresteia." And we agree that English homework can be a real time suck, especially when you could be Instagramming or playing with a Rubik's Cube.
Contemporary discourse about immigrants and refugees is, to put it mildly, emotionally-charged. There is probably good reason for this. Our society is asking questions that get at the very heart of our collective identity. How do we respond to people in need? How broadly can our empathy sweep? What does our right to self-protection mean?
The fact that I spend time with a refugee family each week is a pretty good indicator of where I fall in this debate. I could give all kinds of reasons as to why — the rigorous process refugees already go through to be resettled in the United States; the historic role our nation has played in the countries most affected by the refugee crisis; our global character; compassion; Matthew 25.
That said, I was never particularly convinced by the argument that refugees are "just like us." It sounded nice, but it was hard for me to imagine how I could relate to someone who has fled persecution or violence.
My time with Sam and his family tells me I was wrong.
It is kind of like the trumpet player in the marching band and the quarterback of the varsity football team discovering they both love "Monty Python and the Holy Grail." First comes a relatively surface-level commonality, then another, until the penny drops and you realize that at the end of the day, we really are all similar, both in areas large, like our desire to live lives of meaning, and small, like what we prefer to play at recess and what we thought of "Diary of a Wimpy Kid."
So yes, #RefugeesWelcome — because it is the right thing to do and because refugees are people in need, but also because they are friends in waiting who, like us, are simply trying to find fulfillment and maybe ring the occasional doorbell for a laugh.
[Brian Harper is a communications specialist for the Midwest Jesuits. His writing has been featured in America magazine, the Milwaukee Journal Sentinel, National Catholic Reporter, and various other publications. You can find his work at brianharper.net.]
Editor's note: We can send you an email alert every time a Young Voices column is posted to NCRonline.org. Go to this page and follow directions: Email alert sign-up.