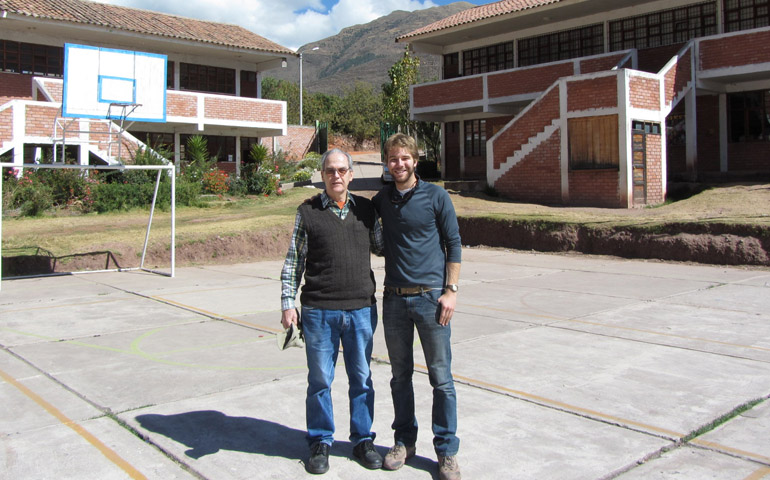 Jesuit Fr. Robert Dolan with the author in 2012, in Andahuaylillas, Peru (Mateo Pimentel)
"Look, there's a bird."
So ended my discussion with Jesuit Fr. Robert Dolan. At the time, I was serving in a small town near Cusco, Peru, with the Jesuit Volunteer Corps. "Padre" Dolan -- a Jesuit priest who hailed from Cincinnati, who lived nearly 50 of his 71 years in Peru, and who was known for bouts of occasional distraction -- was my in-country coordinator.
I had already spent time with him when I stayed with his Jesuit community in Lima. Several months later, he decided to visit Andahuaylillas, the village where my fellow volunteers and I lived and worked in educational and pastoral ministries.
Right off the bat, Padre Dolan, who died Dec. 17, struck me as a delightful, albeit peculiar, man. Subsequent encounters reinforced this impression.
Some of this was simply the result of communication breakdown. The fact that I was still acclimating to Spanish, coupled with 50 years of infrequent excuses for him to speak English, often left me unsure exactly what he was talking about.
Our language barriers only explained part of the issue. Padre Dolan had an imagination and curiosity that did not suffer the same boundaries the rest of ours do. Almost every conversation with him was a long, winding adventure unto itself.
"Who's that?" he once asked cheerfully as he drove the two of us through Lima's busy streets. I glanced over to see him pointing to a face depicted on another car's bumper sticker. "A serial killer?"
Before I could respond, he had moved on to his next thought.
"Did I ever tell you about the time I was the perfect profile of a drug trafficker?"
He had not, but Padre Dolan launched into a story of visiting his siblings throughout the United States over the course of a few weeks. Because he had a series of one-way tickets and a single piece of luggage, almost every journey began with authorities pulling him out of line to check for contraband.
Encounters like these showed Padre Dolan's quirkiness, but as time went on, I learned more of the drama that accompanied his life's humor.
He was sent to Peru as a Jesuit novice in the early 1960s and stayed for the majority of his life, moving to and from metropolitan sites and isolated, backwater villages. This was not only the will of his Jesuit superiors. As noted by Jesuit Fr. John Foley, who also lived in Peru and gave the eulogy at Padre Dolan's funeral, he had an unparalleled desire to serve wherever the need was greatest.
This was perhaps most vividly on display in the 1980s, when Padre Dolan's work on the coasts and Peruvian mountains brought him into contact with the Shining Path, a brutal terrorist organization that indiscriminately murdered people throughout the country.
The Shining Path threatened Padre Dolan's life on numerous occasions, but these moments ironically seemed to heighten his goofy, good nature. When he told me about one of his run-ins with the Shining Path, he grinned as he recalled his response to the extremists entering his home: He sat down at his kitchen table and began to plan a university lesson he was scheduled to teach.
"I feel sorry for you," he sadly smiled as he shook his head at the militants. "You're going to fail."
This refusal to bow to despair was apparent again in his final years. Padre Dolan came back to the United States for a health sabbatical in 2014, a year after my own return due to a heart condition. I had taken my medical problems hard and was eager to meet with him, maybe hoping to commiserate over our shared loss of a place we loved.
When I visited him in Chicago, I was surprised to find him as breezy as ever. He told me about a recent interaction with another friend, who sympathetically expressed pity for Padre Dolan's bad fortune.
"Cut it out," he said, interrupting his friend. "I'm as happy as I've ever been."
Padre Dolan embodied St. Paul's charge to be "content in any and every situation" better than anyone I have ever known. He did this in Peru, upon his return to the United States, and in what soon followed.
Shortly after our reunion in Chicago, Padre Dolan was hit by a car while he was out for a walk. He suffered head injuries and eventually moved to St. Camillus, a Jesuit retirement facility in Wauwatosa, Wis. I was able to see him again during this period, and though he was confused and struggled to communicate, his twinkling exuberance remained intact.
I do not know whether Padre Dolan needed to work hard to stay optimistic throughout the various trials of his life. Happiness simply seemed to be his natural disposition. Given the diversity and magnitude of the challenges he faced, however, his joy must have been some act of defiance. On more occasions than most of us will ever have, he walked close to the valley of the shadow of death. Nevertheless, he maintained a certain, inextinguishable light through it all.
Padre Dolan once told my fellow volunteers and me, "The only thing you'll leave with the people you serve is the quality of person you are."
Padre Dolan's quality as a person was born out the entire time I knew him. His friendship and pastoral care surely meant many things to many people, but, for me, his life was ultimately proof that even during troubled, complicated and painful times, there is always good reason to keep hopeful, faithful and laughing.
Dios te bendiga, Padre Dolan. Gracias.
[Brian Harper is a communications specialist for the Midwest Jesuits. His writing has been featured in America magazine, the Milwaukee Journal Sentinel, the National Catholic Reporter, and various other publications. You can find his work at brianharper.net.]
Editor's note: We can send you an email alert every time a Young Voices column is posted to NCRonline.org. Go to this page and follow directions: Email alert sign-up.