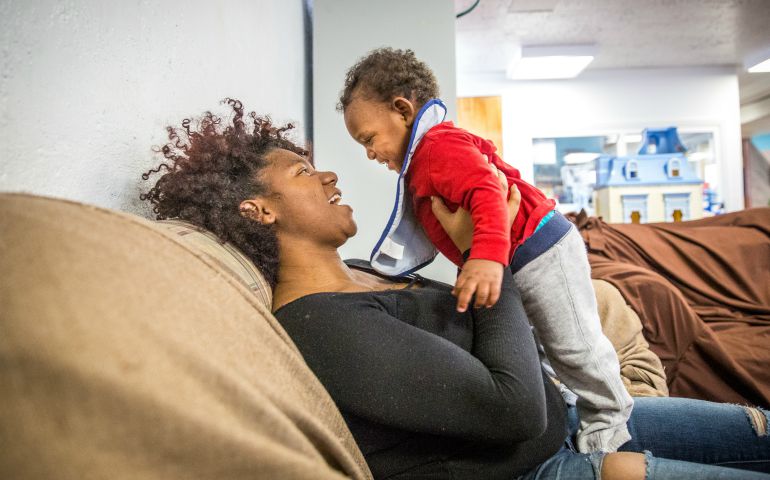 A woman plays with her 1-year-old son in late February at Our Lady's Inn maternity home in St. Louis. (CNS photo/Lisa Johnston, St. Louis Review)
Hulu's miniseries, "The Handmaid's Tale" made its debut in a whirlwind of commentary about its parallels with our current political situation. (See: The New York Times, New Republic, The Verge.) The show, based on Margaret Atwood's 1985 novel of the same name, is a dystopian fantasy chronicling how its protagonist, Offred, survives the viciously authoritarian theocracy into which the United States has been transformed.
Much of the commentary has involved the hyper-misogynistic practices of the Sons of Jacob, the fictional para-military religious sect that overthrows the U.S. government and institutes the Republic of Gilead. Relying on opportunistic readings of obscure Scripture passages, the fundamentalists prohibit women from reading, owning property, holding a job, and performing other basic acts of self-determination. Offred is a "handmaid" — a woman who, because a fertility crisis and plummeting birthrates, has been assigned to bear a child for a high-ranking couple who cannot conceive.
The world of "The Handmaid's Tale" is terrifying, and viewers have been quick to see it as a warning. Like the Sons of Jacob, they argue, theocratic forces at work in America are trying to restrict women's agency by curtailing their access to birth control, abortion and reproductive healthcare. In a vivid statement, a group of women recently wore red "handmaid" costumes to protest the defunding of Planned Parenthood on the U.S. Senate floor.
People who see "The Handmaid's Tale" as a warning about the oppression of women tend to focus on the severe restrictions of individual freedom that affect all the women of the Republic of Gilead. Fair enough — but there is another way that the Gilead oppresses women, one that has received less attention.
Women in Gilead are sorted into a strict caste system organized by a combination of reproductive capabilities and class position. "Wives" are high-status marital partners of wealthy men; "handmaids" are the designated breeders; "Marthas are domestic servants — and so on and so forth. "Un-women," who are useful in none of these roles, are sent to work in radioactive wastelands
This stratified reproduction caste system degrades and dehumanizes them, and, regardless of the terrors of a possible future theocracy, this is the dystopia we are already living in.
"Stratified reproduction" is a term first coined by sociologist Shellee Colen. It refers to a state of affairs in which childbearing/parenting is encouraged and rewarded for some, discouraged and punished for others — a state of affairs that currently exists in the United States.
Upper-class and professional women currently enjoy a degree of control over their own childbearing to a degree unimaginable to earlier generations. Not only can they delay childbearing until the optimal point in their careers, but, with new reproductive technologies, they can extend the window of fertility much longer. At highly successful corporations, employers are increasingly shouldering the costs for these technologies as a way to attract talent: In 2014, Apple and Facebook made the news by being among the first company to offer egg-freezing as part of its benefits package. Forward-thinking companies also compete with each other to offer the best childcare and family leave benefits — Amazon offers up to 20 weeks of paid parental leave, while Goldman Sachs provides on-site nurseries at several of its offices around the globe.
Well-educated, accomplished women have a two-fold value within global capitalism: As human assets in their own right, and as the nurturers of the next generation of high-value workers. Thus, every effort is made for them to navigate the two spheres of management and motherhood — to increase company profits and to ensure that their own children stay on the high-achieving, upper middle-class track.
These women face plenty of sexism, both in the office and the home, but since they have succeeded in the American meritocracy, their pregnancies and parenting are vastly more supported than most other women's.
Working-class women, for example, receive none of the generous postpartum leave their higher-ranking counterparts do. (Recently, Starbucks made headlines by giving corporate employees three times as much family leave as its baristas.) As part-time work and unstable scheduling become the new norm, some women are left trying to cobble together childcare flexible and affordable enough to accommodate their shifting schedules and low wages. And while rhetoric about motherhood's being the most valuable job in the world flies thick and fast in American politics, it never extends to poor women of color. As Alejandra Marchevsky and Jeanne Theoharis demonstrate in Not Working: Latina Immigrants, Low Wage Jobs, and The Failure of Welfare Reform, the explicit goal of the 1996 welfare reform legislation was to force mothers on welfare to leave their homes for a job, no matter how low-paying or disruptive to family life. In other words, it was to make poor women less available to their own children and more available to corporations.
From the viewpoint of a capitalist society in which automation is increasingly eliminating the need for low-status workers, the reproduction of poor women is basically useless. The poor are drones, fit only for disposing cheap, disposable labor, and to be discouraged as far as possible from having children. This attitude has been enacted in concrete policies — it was not until recently that California prohibited sterilizing female prisoners without their consent. Meanwhile, the Gates Foundation has openly and consistently promoted long-acting contraceptives as a solution to poverty in developing countries, as if poverty were caused by the existence of African children rather than by the inequitable distribution of global resources.
When poor women do have the temerity to have children, any real or imagined failures of parenting are taken not as a function of a lack of resources and support, but proof of depravity, unfitness to parent, and need for punishment. In 2014, a mother who let her children play alone at a park while she worked at McDonald's was arrested, as was another who left her children in the car while she interviewed for a job.
Capitalism renders women both uniquely exploitable and uniquely disposable, and, untrammeled, gives rise to a society in which access to and experiences of parenting vary wildly by class and race. The religious misogyny of "The Handmaid's Tale" is a real phenomenon, and one that everyone, especially Christians, should be wary of. But we should also stand against the class misogyny that separates women into valued mothers and disposable un-women — a misogyny that, because it is not enforced by any single organization, too often remains hidden in plain sight.
[Clare Coffey lives in the Philadelphia area. She teaches kindergarten at a small Catholic school.]
Editor's note: We can send you an email alert every time a Young Voices column is posted to NCRonline.org. Go to this page and follow directions: Email alert sign-up.