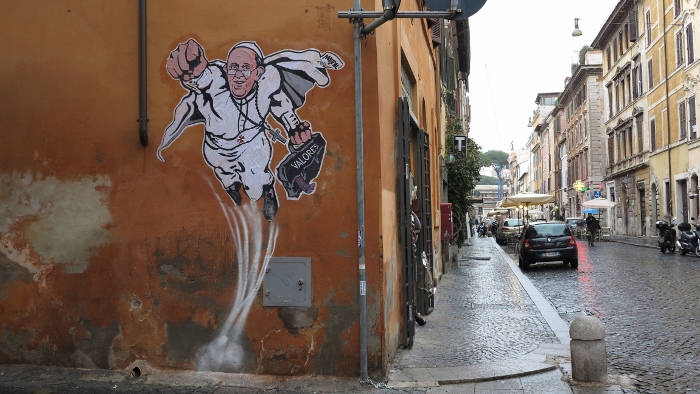 A large drawing of Pope Francis depicting him as a superhero is seen on a wall near the Vatican Jan. 29, 2014. The Argentine pope is shown taking off into the air with his right fist clenched in a classic Superman style. (CNS photo/Robert Duncan)
It's pretty obvious: we all love Pope Francis. He had us at hello. Or in his case, "Buona sera." Go figure: He is a modern pope whose compassion, charisma, direct tenderness and concern for the poor all contribute to his mega-star status.
But I can't help but wonder why I am so enamored by him. On one hand, I understand that he's fully human. I like how he makes me feel like I can trust him. I recognize behavior that resonates with humility. I really do believe that the accessibility to power and privilege isn't going to his head. On the other, is he beyond human because he doesn't let the most ridiculous idiosyncrasies of humanity annoy him as much as they annoy me? How does he continue to embody mercy as Jesuit Fr. James Keenan describes it: the willingness to enter into another person's chaos? He seems so poised, calm, unfettered and still so powerfully directive. Although I still don't agree with him on the lack of female participation in leadership, I appreciate his decisiveness when managing Vatican politics.
There was a painted image of Pope Francis created a few years ago that has stuck with me.
Maupal, or Mauro Pallotta, a Rome-based graffiti artist, put an image of Pope Francis as a superhero with a cape for his pellegrina (the short shoulder cape reaching to the elbow). Pallotta had been reading a Superman comic strip while watching a video on the pontiff in 2014.
Similarly, my life these past few months has been inspired by most recent DC comic graphic novelist, Gene Yang. Yang had been a high school educator for 17 years, written a number of graphic novels, including first-ever National Book Award finalist, American Born Chinese, and is a devoted Catholic.
We were on retreat with sophomore students last spring when Yang shared a reflection of superheroes with them that led to a deeper understanding of themselves, God and others. The retreat was so successful that our adult community reflected on the qualities of this relatively new and fascinating American genre of superheroes and supervillains.
The following points were taken directly from Yang's "preached retreat:"
Your power comes from what makes you different. What makes you different may be in relationship to your culture, or the gifts you have been blessed with, your training and education, tragedy or other difficult life changes, or perhaps your weaknesses or failures.
Use your powers to serve others. From the depth of who you are and what you bring to others, we are all called to serve one another. Our stance is not to withhold; our stance is to be open and share.
Find way to renew your power. Superheroes have been known to regain energy, vision, or insight in a variety of ways: through solitude (Superman's Fortress of Solitude; Batman keeps items from previous adventures); friends and family (Justice League's Hall of Justice); and God (The Green Lantern recites an oath and re-energizes by charging his ring in a Power Battery).
I think of Pope Francis as our latest superhero.
His power comes from what makes him different. Francis is born in Buenos Aires, Argentina, to Italian immigrants. First generation. Straddling two cultures, in a place where Spanish, not Italian, is the dominant language. Living amid the simplicity of the Americas as opposed to the ornate overtones of Western Europe. Francis suffered the loss of one of his lungs. He has experienced the need for healing while recognizing his own dependence on the gift and breath of the Spirit active in his life.
I think of his tenderness and his compassion. My asthma is treated yet my own limitations can sometimes keep me at a distance from others or from participating fully. Francis understands from his own deep experience and shows empathy towards others. Mercy comes not as a challenge, but as a way of life for him.
Pope Francis uses his powers to serve others. His managerial style is refreshing. From the outside looking in, it seems as though Francis and other recently elected or appointed Vatican officials truly take their service to others seriously. The "other" becomes a rallying cry for how he runs the institution that has been entrusted to him. He has been able to repeatedly encourage his brother clergy to re-focus, re-prioritize, re-evaluate who is at the center of God's kingdom. His actions scream out his own preference for the poor as he makes room for children, orphans and those on the margins. I wonder what word he uses most frequently. I bet you it's a variation of "the poor."
Francis finds ways to renew the Catholic spirit, faith and power that prioritize and centralize human dignity and the common good. In October 2013, Pope Francis gave a revealing interview to an Italian Jesuit publication called La Civiltà Cattolica. He explained that religious dialogue must be broader in scope, not simply focused on such issues as homosexuality and abortion. "We have to find a new balance; otherwise, even the moral edifice of the church is likely to fall like a house of cards, losing the freshness and fragrance of the Gospel," the pope said. "The proposal of the Gospel must be more simple, profound, radiant. It is from this proposition that the moral consequences then flow."
From The Joy of the Gospel to the most recent papal encyclical, Laudato Sí, Pope Francis continues to speak from a rooted and solid place of an experience of the Good News in order to address the world's rapid divesting from relationships and responsibility.
What do you think, Gene Yang? Can you write a graphic novel on Pope Francis and how he embodies a modern day faith-filled, hope-stirring superhero? Maybe you and Maupal should partner up and document this wonderful breathtaking adventure we are experiencing with the man in white.
Thank you, Pope Francis, for instilling simplicity of life, love, and relationships. Pope Francis superhero T-shirts for everyone!
[Jocelyn A. Sideco is a retreat leader, spiritual director and innovative minister who specializes in mission-centered ministry. She teaches bioethics, feminist theology, Christian sexuality, and Christian Scriptures at Bishop O'Dowd High School in Oakland, Calif. Visit her online ecumenical ministry, In Good Company, at contemplativecompanions.org. Her email address is jocelyn@ingoodcompany.net.co.]
Editor's note: We can send you an email alert every time a Young Voices column is posted to NCRonline.org. Go to this page and follow directions: Email alert sign-up.