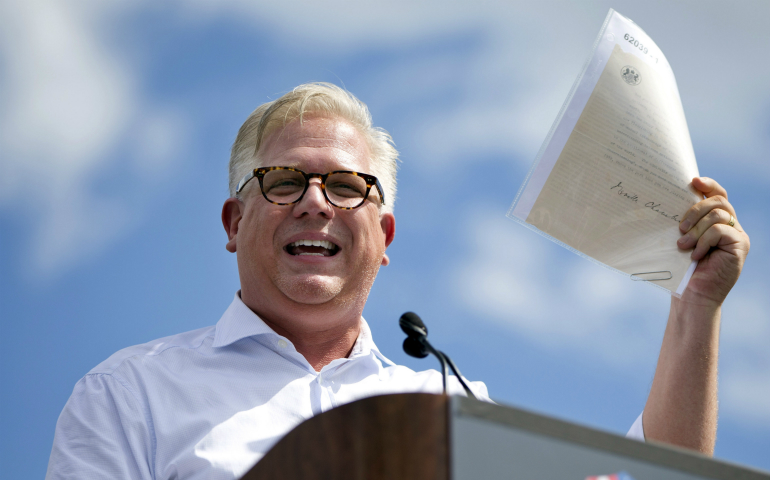 Glenn Beck speaks during a Tea Party rally against the Iran deal on the West Lawn of the Capitol in Washington, D.C., Sept. 9, 2015. (AP Photo/Jacquelyn Martin, file)
Strange times make for strange bedfellows, and there is nothing quite so strange as finding oneself taking comfort in the arms of Glenn Beck.
I had not heard from Glenn for a while, but my memories of the man were not fond. Last I had checked, he was comparing the Affordable Care Act with Nazi-style eugenics and advising Catholics to alert their bishops if they heard a priest endorsing "social" or "economic justice," which he described as "code words."
"Yes," replied Stephen Colbert, "they are code words for helping people."
But, lo, and behold, Glenn has changed.
I first noticed in September, when he penned a thoughtful op-ed in The New York Times about feeling empathy for members of the Black Lives Matter movement.
"These individuals are decent, hardworking, patriotic Americans," he wrote. "We don't agree on everything, certainly not on politics; but are we not more than politics?" Beck went so far as to acknowledge his own culpability in "conflating the individual with the whole" of movements with which he took issue. This may not seem remarkable, but try to imagine Bill O'Reilly, Keith Olbermann, or another talking head or cable news star demonstrating such humility.
I was further impressed by Beck's refusal to endorse Donald Trump for president. Along with prominent Republicans like Senators Ben Sasse and Lindsey Graham and Governor Mitt Romney, Beck's stand was a much-needed reminder that there are moments when principle prevails over self-serving pragmatism.
Following the presidential election, Beck wrote another column, in which he gently asked liberals not to move to Canada. Again, he underlined the need for empathy, while also showing admirable self-awareness in documenting his part in contributing to the divisiveness and rancor of our political discourse.
"Even before Sept. 11, [President George W. Bush] was demonized. Not just his policies or principles, but his decency and humanity," he explained. "The right in turn wrapped everything in the flag. We pushed our oratory to the maximum red-white-and-blue position, and if you didn't understand it, the chants began: 'Move to Canada,' or 'Texas should secede.' "
Given some of the outlandish comments Beck has made over the years, it is easy to scoff as he makes soothing overtures today.
"You've certainly been directly complicit in the mainstreaming of a conspiratorial way of thinking about our politics," Ana Marie Cox from New York Times Magazine reminded him after he contritely enjoined liberals to, "Please be better than I was. Please learn from my mistakes."
"Doesn't it seem a bit disingenuous for you to say, 'Let's not demonize the other side' when for several years, you made a good living doing just that?" TIME's Belinda Luscombe asked him.
To his credit, Beck conceded in his article about Black Lives Matter that he is "a flawed messenger." But if we need our messengers to be perfect, we will be left wanting and waiting. A perfect messenger leaves no room for St. Peter to repent or St. Paul to write his letters.
Our collective revulsion toward hypocrisy is healthy and should be encouraged, whether the deceit is being touted by "our" side or another. One need not be a liberal to see the absurdity in Senate Majority Leader Mitch McConnell warning Democrats not to obstruct President Trump's Supreme Court nominees after Congressional Republicans spent the better part of a year doing just that to President Barack Obama. Democrats who are suddenly concerned that Vladimir Putin might have power over our government would do well to swallow some humble pie for mocking Governor Romney's prescient comments about Russia during the 2012 presidential campaign.
Yet there is a difference between a stubborn intransigence that constantly seeks to redefine standards in one's own favor versus coming to new insights and responding accordingly. Call the former "The McConnell Approach" and the latter "The Way of the Beck."
Our country is facing difficult questions about how to combat "fake news" and deal with a president who demonstrates an astonishing disregard for facts (Exhibit A and Exhibit B). Perhaps one approach would be to focus on the truth of a statement rather than the worthiness of the person who is making it.
There is still plenty of room for one to disagree with Glenn Beck. Despite his newfound warmhearted-ness, much of his rhetoric is still cloaked in conspiracy theories. This, however, should not take away from the important truths he is speaking. We do need to try to listen to each other. We do need to seek to understand others' opinions. We do need to learn to disagree without being disagreeable.
Beck acknowledged that his shortcomings mean his "words will likely fall on many deaf ears." But shouldn't we celebrate when someone with a history of peddling falsehoods veers toward veracity?
"I'm older, I'm wiser," Beck told TIME. "We all should be."
[Brian Harper is a communications specialist for the Midwest Jesuits. His writing has been featured in America magazine, the Milwaukee Journal Sentinel, the National Catholic Reporter, and various other publications. You can find his work at brianharper.net.]
Editor's note: We can send you an email alert every time a Young Voices column is posted to NCRonline.org. Go to this page and follow directions: Email alert sign-up.