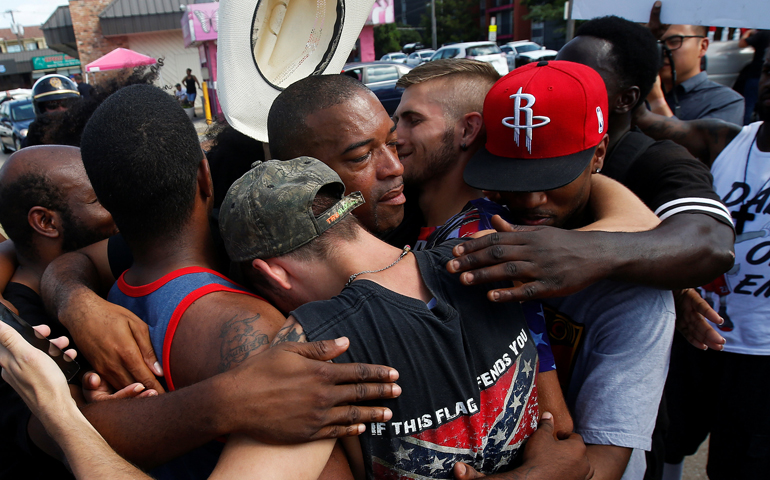 People hug after taking part in a prayer circle July 10 following a Black Lives Matter protest in the wake of multiple police shootings in Dallas. (CNS/Carlo Allegri, Reuters)
Almost every day, I drive past an auto repair shop that has a huge banner covering its street-facing side. It reads, "All Lives Matter / God Bless & Protect Our Police Officers."
On the surface, there's nothing about these two sentences I disagree with at all: I believe that each and every person matters because all are created in the image and likeness of God, and that it is good to pray for the protection of police officers in the line of duty. But each time I pass the banner, I catch myself feeling angry and sad.
The phrase "All Lives Matter" has appeared over the past few years as a direct retort to the Black Lives Matter movement, which itself was launched in response to the repeated killings of unarmed black men, women and children by law enforcement around the country. The movement is laser-focused on this injustice and our collective inability to address it in any meaningful way.
This systemic killing and abuse of power is wrong, the movement asserts, and in the face of this unimaginable injustice, it is essential to proclaim that black lives matter.
"All lives matter," some reply, most often in defense of police officers, who are also the targets of violence. So what's wrong with the wider scope of this phrase?
A few weeks ago, I saw this viral comic strip by Kris Straub floating around the internet.
It reminded me of the way God acts in the Moses and the burning bush story and helped me realize why "All Lives Matter" is so off the mark.
In the beginning of the Book of Exodus, the Israelites are Pharaoh's slaves in Egypt. Moses, shepherding a flock of sheep, comes to Mount Horeb one evening, and God appears to him in the burning bush. "I have observed the misery of my people who are in Egypt; I have heard their cry on account of their taskmasters," God says (3:7). "Indeed, I know their sufferings, and I have come down to deliver them from the Egyptians, and to bring them up out of that land to a good and broad land, a land flowing with milk and honey. …" God tells Moses he will send him to Pharaoh to demand liberation for the Israelites.
Sometimes, the teaching that God loves everyone equally can lead us to turn God into some sort of divine Switzerland -- neutral in every conflict. But it is because God loves everyone equally that he stands up with and for those who are targeted by injustice. God hears the cry of the oppressed and then gets involved. He will "come down" to "bring them up," in the words of the passage. God has a special love for those who are hurting, and so he gets involved on their behalf. In other words, he turns his attention first to the house that's on fire -- which is just what the Black Lives Matter movement is trying to do.
This belief about the nature of God's love inspires a Catholic principle called the preferential option for the poor and vulnerable, which is all about how we prioritize. (The "poor and vulnerable" part of the principle doesn't fit perfectly in a discussion about Black Lives Matter; maybe a more suitable phrasing for what the movement is practicing would be "preferential option for the oppressed.") We don't evaluate how healthy our society is by how well those at the top are doing, but by how those at the bottom are faring. The preferential option calls us to imitate God's special love for the victims of injustice as we're setting up our social structures.
Black Lives Matter activists participate in the preferential option for the oppressed by recognizing the unjust suffering of a specific group of people in a particular time and place, lamenting the injustice, and working for change. And whether they intend to or not, those who say "All Lives Matter" shut down the conversation. They're changing the subject. The phrase could very well be, "No, you're wrong. All lives matter." It fails to acknowledge the reality of the suffering caused by the killing of black men, women, and children by law enforcement.
Further, "All Lives Matter" misses the point because it suggests that saying that black lives matter is the same as saying that only black lives matter. The movement is intentionally narrow, shining a spotlight on one horrific injustice. Of course every person matters, and of course there are so many other injustices that require attention, including violence directed toward police officers. But as Black Lives Matter activist DeRay McKesson said in a recent interview with CNN, you don't go to a breast cancer rally and shout, "Colon cancer matters!"
This strategy reminds me of Jesus's ministry in the Gospels. He also approached injustice with a tight focus, confronting individual injustices one at a time, depending on his context. Blogger Stephen Mattson noted this similarity in a 2015 post: "Instead of saying all lives matter, Jesus said, 'Samaritan lives matter,'" Mattson writes. "Instead of saying all lives matter, Jesus said, "Women's lives matter." Through a series of specific, personal encounters and actions, Jesus built his case that every person is important. But he took on the injustices one at a time.
So, if our aim is to act like Jesus, then it is a good thing to pay attention and respond to individual injustices as we learn about them -- to lend our support to urgent causes like Black Lives Matter and to resist glib responses like "All lives matter" that effectively paper over the problem. Because as long as there are any specific individuals or communities who feel like their lives don't matter, our work to protect the God-given dignity of every person will be incomplete.
[Mike Jordan Laskey is the director of Life & Justice Ministries for the diocese of Camden, N.J. He blogs for the Camden diocese at camdenlifejustice.wordpress.com.]
Editor's note: We can send you an email alert every time a Young Voices column is posted to NCRonline.org. Go to this page and follow directions: Email alert sign-up.