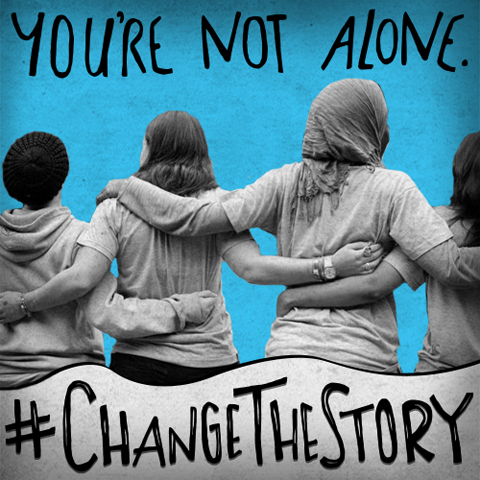 (Photo courtesy Nasser Asif, Interfaith Youth Core)
University of Wisconsin-Superior student Scott McNorton felt a need to respond in December 2015, when presidential hopeful Donald Trump called for a ban on Muslims entering the United States. McNorton's desire to stand in solidarity with the Muslim community was hindered by the fact that he didn't have any personal connections. So he decided to make some -- by taking selfies.
The #SelfiesWithMuslims campaign began when McNorton approached strangers in hijab on his campus and asked them to take a selfie with him. The result is a network of friendships, richer understanding and a celebrated show of solidarity between Catholics and Muslim youth.
Maria Haseeb, a Sunni Muslim, wished for a better understanding of her faith among her fellow students at Merrimack College in North Andover, Mass. Rather than hoping that conversation would arise, Haseeb and her classmates adopted a very direct approach. With bright smiles and a large sign reading "Meet a Muslim" Haseeb and her fellow Muslim students invited questions, dialogue and real human connection.
At a time when ideologues bluster and latent racism rises to the surface of public discourse, these students have decided to give voice to a different way of being. These stories and many others are part of the #ChangeTheStory campaign, an action of the Interfaith Youth Core (IFYC). Started by renowned author and advocate Eboo Patel, IFYC strives to make interfaith collaboration a social norm rather than an anomaly. Their network of more than 400 colleges develops interfaith student leadership towards this end. While students are particularly motivated to combat Islamophobia at present, the mission of IFYC extends beyond the boundaries of Christian-Muslim collaboration.
#ChangeTheStory hinges on the notion that ideas are very powerful, and the dominant ideas around religion and society are poisonous. Rather than describe the problem and rail against the negative voices, young people are encouraged to create a new conversation. Photographs, essays, videos and other pieces of short, shareable media are posted to encourage and inspire. Stories of vulnerability, friendship, understanding and respect from young people nationwide have been gathered together under this banner. #ChangeTheStory answers harsh questions with refreshing, attractive and, oftentimes, lovely responses.
On its website, the United States Conference of Catholic Bishops reminds us that this posture is not new or fringe. A commitment to fellowship, dialogue and respectful relationship is a fundamental part of our Catholic identity. According to the USCCB's statement on dialogue with Muslims, the Second Vatican Council not only urges members to "enter with prudence and charity into discussion and collaboration with members of other religions," but specifically states that "the Church has also a high regard for the Muslims." The statement also points out that Pope John Paul II wrote in Crossing the Threshold of Hope that "believers in Allah are particularly close to us" and that "the religiosity of Muslims deserves our respect."
Pope Francis has admonished the faithful not only to tolerate our Muslim brothers and sisters, but also to view them as partners in repairing a very broken world. Both historical and contemporary leadership call us to embrace the neighbor.
Let us remember that we have had contentious relationships with other religious groups throughout our history. We will certainly one day enjoy a greater kinship with the Muslim community than we do today. When that happens, there may well be a new group that we treat as the "other." The instruction of the church ancestors and the example of our young leaders call us to an entirely new way to engage with the "other" in our midst. May we learn now to change the story, celebrate our differences and our connectedness, so that when the next "other" emerges, we are ready with an open hand … and perhaps ready to take a selfie.
[April Gutierrez is a graduate of Boston College's School of Theology and Ministry and is a campus minister for First-Year Experience at Loyola University Chicago.]
Editor's note: We can send you an email alert every time a Young Voices column is posted to NCRonline.org. Go to this page and follow directions: Email alert sign-up.