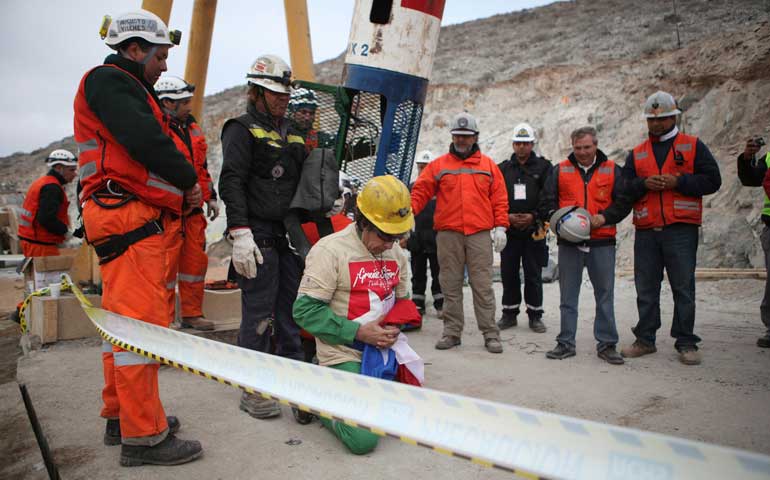 Miner Mario Gómez, 63, the oldest of the 33 trapped miners, prays as he arrives on the surface after being rescued in Copiapó, Chile, Oct. 13, 2010. (CNS/Reuters/Hugo Infante-Government of Chile)
DEEP DOWN DARK: THE UNTOLD STORIES OF 33 MEN BURIED IN A CHILEAN MINE, AND THE MIRACLE THAT SET THEM FREE
By Héctor Tobar
Published by Farrar, Straus and Giroux, $26
On Aug. 5, 2010, the San José copper and gold mine outside Copiapó, Chile, collapsed. In a series of explosions, a complex network of tunnels, miles below the surface, fell in upon itself and sealed itself off, as if quarantined by thousands of feet of rock, from the world above. For 69 days, the world at large held its breath while 33 trapped men stared death in the face and, on each day, with various levels of enthusiasm, told death to "back off. We're not ready for you yet."
Héctor Tobar, novelist and Pulitzer Prize-winning reporter for the Los Angeles Times, has produced a nonfiction classic. Drawing upon interviews with the survivors, their families and the rescuers, plus photographs, Chilean newspapers and legal documents, he presents a profound, sensitive examination of how otherwise ordinary working men respond to a crisis; how mine owners and government officials responsible for the mine's safety react; how the victims' families, including the alienated, must rethink their relationships. Rescue is not always salvation, but rather a door to another room. Success has its own power to destroy.
The 121-year-old mine is a virtual underground city. Its central road (and only exit), called "the Ramp," is carved through stone. It spirals down for 5 miles, a 40-minute drive, past a room called "the Refuge," an emergency shelter or break space where fresh air is pumped in from the surface. Most of the men live in Copiapó, while some commute weekly, traveling 500 miles from Santiago to work seven straight days of 12-hour shifts for a minimum of $1,200 a month. The wage wins them a middle-class lifestyle, but turns them into "beasts of burden," haunted daily by subterranean death.
Tobar tells us that this day, one way or another, each man on the shift goes into the mine for the woman in his life -- a wife, girlfriend, mother or daughter. One, Jimmy Sánchez, 18, is too young to work there legally, but his relatives begged the mine owners to give him the job because his girlfriend is pregnant. Alex Vega, small and handsome, had to say goodbye to his wife without a kiss because she was angry at him, but forgets the reason. Yonni Barrios lives with his mistress, while his wife lives on the next block, and he needs the salary to support them both. One legend compares the mountain to a woman who tries to kill the men because they violate her body.
Just after 1 p.m., a mysterious series of rumbles and smoke climax in a massive explosion; dust fills the passageways and the Ramp collapses behind them, shutting them off from the outside world. Pressure waves squeeze their bodies and plug their ears. As one said, "We were a pack of sheep, and the mountain was about to eat us."
Tobar leads us slowly, day by day, as 33 men bond, quarrel, curse, weep, pray, hope and starve -- for a while on one daily meal of a single cookie, a spoonful of tuna or an ounce of condensed milk mixed with water.
By Aug. 8, they hear the buzz of a faraway drill: Are they looking for us? The drill stops: They have given up!
Their bodies waste away. They each lose 30 pounds and turn gray while their eyes retreat into their skulls. They go shirtless in the heat. Dust encrusts their bare bodies and their ribs protrude. Their loved ones, including the dead, appear in their dreams.
They turn to God. On Aug. 10, the feast of St. Lawrence, patron of miners, they pause to honor themselves and sing the national anthem. One miner, distracted by a mysterious breeze, interprets it as God's presence -- the "34th miner" -- the combined soul of every miner who has ever toiled. Another feels that fate is an angry creature in his rumbling stomach. "How can God be doing this to us?"
For a while, they find solace in daily prayer sessions, where they share secrets and forgive one another for real and imagined affronts. When they survive two weeks without a meal, the tall, balding José Henríquez, the "Pastor," with his bare chest and cutoff shorts, stands up and tells the story of Jonah. Look for God and you will find that he loves you, he tells them.
On the 17th day, the drill breaks through. Word spreads that all are alive. "God exists," says one. Then joy slips into depression when it's calculated that digging the tunnel to extract them will take until December.
The tone changes. Word spreads that a celebrity Chilean billionaire will make them all millionaires. Books and a film will transform them into international heroes. They fight over dividing their riches. The community has broken down. Only half show up for prayer. On Oct. 13, the rescuers break through using imported, high-tech drilling equipment, and each man is hoisted into daylight and into the arms of loved ones.
Tragically, for some, the burden of fame is as destructive as the darkness of the mine, as they slip into mental illness and drugs. But they and we can thank God that Tobar has saved and shared their story in this horrifying and inspiring book.
[Jesuit Fr. Raymond A. Schroth is the literary editor of America.]
A version of this story appeared in the Dec 19, 2014-Jan 1, 2015 print issue under the headline: 33 miners who stared death in the face.