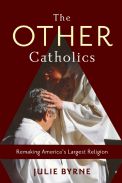 THE OTHER CATHOLICS: REMAKING AMERICA'S LARGEST RELIGION
By Julie Byrne
Published by Columbia University Press, 432 pages, $29.95
Though they live in the shadow of the nation's largest religion, thousands of practicing Catholics in the United States do not affiliate with Rome or the Orthodox churches. Instead, they participate in versions of Catholicism that offer clear alternatives to what they understand to be Roman Catholicism's too-liberal or too-conservative practices. Do these independent Catholic churches constitute viable options for those Catholics who seem increasingly disenchanted with the institutional church?
Julie Byrne, holder of a chair in Catholic Studies at Hofstra University, estimates that these "independent Catholics" may number about a million, or, she notes in other places, perhaps half that. Some of these belong to versions of Catholicism that are far more conservative than the Roman church, but others belong to the much more liberal bodies upon which Byrne focuses The Other Catholics.
The lay members of these churches are difficult to study precisely, though Byrne is pretty confident that about three quarters of them were raised in Catholic households, that half are from the LGBTQ community, and that they move into and out of contact with the formal church regularly.
Byrne focuses her study instead on the seemingly abundant clergy, and she concentrates on one particular independent church, the Church of Antioch — whose entire international membership would make up only about a quarter of a typical suburban U.S. Roman Catholic parish.
Herman Adrian Spruit founded the Catholic Apostolic Church of Antioch in 1958 after exploring a multitude of other theological and mystical experiences. In Byrne's telling, Spruit was peripatetic in almost all aspects of his life. He moved into and out of jobs and unemployment, joined and left a number of religious bodies, married three times sacramentally and once more unofficially. From a distance, he seems to be an unlikely candidate to establish a stable and robust church. And it is never clear how many Americans actually joined it.
Byrne estimates that about 1,600 belonged in a recent year. One telling datum from 2006 is that roughly 150 people attended Christmas Eve and Christmas Day services combined at the archbishop's home church — a former Roman Catholic chapel that the Church of Antioch rented on Sundays. Whatever the actual numbers, the church has been clearly top-heavy, and so Byrne's account stays tightly focused on high-ranking church officials.
Liberal independent Catholic churches are of great interest to progressive Roman Catholics because these non-Roman churches often incorporate practices that Rome has so far forbidden, such as female ordination, open Communion and full embrace of all communicants, including those who have divorced and remarried, gays, lesbians and transgender persons.
Byrne argues that the liberal independent Catholic churches represent "the once-and-future possibilities of Catholicism" and that they sometimes influence the "big communions." If their miniscule sizes mitigate against significance in and of themselves, they might light the way forward for bodies, like the Roman Catholic Church, that do have many adherents.
At a minimum, independents constitute alternative versions of Catholicism that force us to recognize pluralism within the faith. More importantly, Byrne argues, "If you count independents, Catholics were part of progressive religion in the United States earlier, more radically, and in greater numbers than we generally acknowledge."
But Herman Spruit established a church with power concentrated tightly under the archbishop's control, including the power to determine his successor. Spruit appointed his fourth "wife," Meri Spruit, to lead the church in his wake, and she held that position until a former housemate terrorized her so fully that she went into hiding and appointed her own successor, Richard Alston Gundrey. For a short while then, the Church of Antioch had been a matriarchy.
Gundrey decided that his bishops should vote on his successor, and the church broke in two in the acrimonious infighting that resulted. This, too, is common among independent Catholic churches, which rarely last for many decades and whose members seem to come into and out of contact with the churches readily.
But amid all of this volatility, and perhaps because of it, independent Catholic bishops go to great lengths to establish clear lines of succession that reach back to the practices of early Christianity. Byrne devotes a good deal of her story tracing the efforts independent Catholic bishops spent finding willing bishops with clear succession lines to perform their consecrations.
Gundrey was in great demand for this purpose and consecrated dozens of other independent bishops. These bishops in turn have ordained hundreds of Catholic priests, who have performed some number of sacraments for both independent Catholics and Roman Catholics unable or unwilling to get their parish priests to celebrate their weddings (primarily).
Liberal independent Catholic churches constitute an interesting contrast to the Roman Catholic Church. They have abundant clergy with few members, whereas the Roman church has a clergy shortage and millions of members. And many of these members would welcome female priests, open Communion, and full integration of LGBTQ persons.
And yet the liberal Catholic churches don't seem to be able to grow substantial lay membership. Byrne speculates on some likely explanations, especially the Roman Catholic hierarchy's clear condemnation of lay participation in the Church of Antioch's sacramental activities. Or maybe it's just that Roman Catholics have yet to learn of these low-profile alternatives.
Perhaps Byrne's sympathetic and robust presentation will bring the other Catholics into greater focus and generate some of those "future possibilities" for the Roman Catholic Church.
[Timothy Kelly is department chair and professor of history at St. Vincent College in Latrobe, Pennsylvania.]
Advertisement