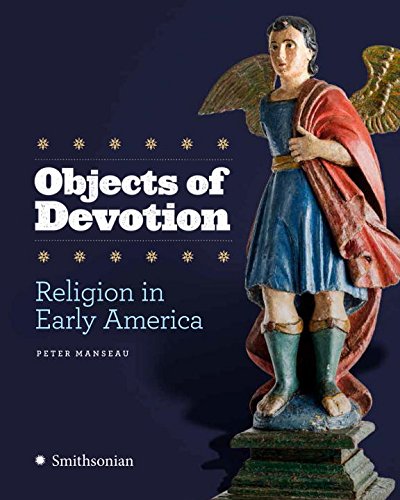 OBJECTS OF DEVOTION: RELIGION IN EARLY AMERICA
By Peter Manseau
Published by Smithsonian Books, 260 pages, $29.95
As a religion doctoral student at Georgetown University, Peter Manseau was struck by the simple iron cross in Georgetown's Dahlgren Chapel. "It's an amazing object," he said.
The object lacked a label, so Manseau, who was curious, did some research. Soon he was reading press coverage from nearly 30 years ago about Jesuit Fr. G. Ronald Murphy, a German professor, literally tripping over it in a university tower. It turns out that the first Catholics to come to the English colonies in Baltimore made the cross in 1634. According to legend, they fashioned it of materials from their ships, the Ark and the Dove.
Inscriptions in Latin and English on the cross testify to that. "It tells its own story, in a way," said Manseau, the Smithsonian National Museum of American History's first curator of American religious history.
Since its rediscovery in 1989, the cross' star has risen considerably. Pope Francis used it during Mass at the Basilica of the National Shrine of the Immaculate Conception on his 2015 visit to Washington. Murphy called that an "immense honor," and added, "The cross was more than likely the one used in the first Catholic Mass on English-speaking American soil, and so represents the freedom of religion upon which this country was built."
Later this June, the cross will be part of American History's exhibition "Religion in Early America," which Manseau curated. It also adorns one of the first pages of the catalog, Objects of Devotion.
"Once forgotten even by archivists, this cross is, in fact, a vital piece of American history," Manseau writes.
In an interview with NCR prior to the show's opening, Manseau said he knew he wanted a significant cross, with a surprising story, for the show. "It just happened to be that there was one here in Washington, and the university was perfectly willing to share it," he said.
The arrival of those settlers was an important moment for U.S. Catholic history, as well as for American religious history more broadly.
"Until then, settlement of the regions that would soon become home to the 13 colonies had been overwhelmingly Protestant," Manseau writes in the book. "These new settlers hoped to create a safe haven for religious difference in an age when theological disputes were often settled with violence."
They would have gotten a good head start at sea. The voyage, in which Catholics and Protestants were packed in tight quarters for four months, was a sort-of anticipation of "interfaith dialogue," Manseau writes.
That relates to the exhibition's three themes: religious diversity, religious freedom and religious growth.
"We think that people will come into the show and be surprised how diverse religion in early America was, and we try to explain that that diversity created the practical need for religious freedom," Manseau told NCR.
The catalog, he said, includes more objects than the exhibition does, but both are arranged by geographic regions: New England, mid-Atlantic, South and "beyond the borders" (which isn't in the show). The objects span from the 1630s until the 1830s. "It tries to tell the story of religion in early America both regionally and also thematically," Manseau said.
Both the catalog and the exhibition contain objects from several religious traditions, including such objects as a manuscript page of the Book of Mormon copied by one of Joseph Smith's scribes and 19th-century stickball sticks, which were associated with the Cherokee game that later became lacrosse. It also features several other important Catholic objects.
A sealed box, wrapped with a red ribbon, contains two crucifixes and a religious medal that Mother Mary Elizabeth Lange wore. The founder of the Oblate Sisters of Providence, Lange was a Haitian immigrant who arrived in Baltimore around 1813. She is currently being considered for sainthood, which is why the items, which were discovered when her body was exhumed, are bound.
"She becomes the first foundress of an African-American women's Catholic order in the United States," Manseau said. She also opened the first U.S. school for African-American free girls.
The entire bound object "tells the story of her life, and then it tells the story of her continued late-20th-century and early-21st-century relevance," he said, "that the life she lived 200 years ago is still being thought about, particularly by African-American Catholics around Baltimore."
The catalog and the show also explore a "sampler" created in 1831 by Mary Pets, a student at one of the Oblate Sisters' schools. Samplers were embroidered works, often with religious texts, that girls learned to make as part of their education.
"Samplers have a long American tradition of being the ways young girls would show that they had learned embroidery, and they were also showing that they were biblically literate," Manseau said. Samplers by African-American girls, like this one, are "really underrepresented," he added.
"Mary's sampler captures a view of the city in which she lived, as well as her views on the value of virtue," according to the catalog. Of the sampler, Pets wrote, "The chiefest beauty of the mind, the noblest ornament of human-kind," which, the catalog notes, is "especially poignant given that she lived in a city in which only some were free."
The Catholic objects, as well as the other artifacts in the exhibit, collectively tell an important story.
"Religion in America from the earliest moments is a matter of negotiation between beliefs that are often in conflict," Manseau said. "It seems that they can't find a way to coexist, and eventually at the end of a long process they manage to coexist."
[Menachem Wecker is co-author of the book Consider No Evil: Two Faith Traditions and the Problem of Academic Freedom in Religious Higher Education. "Religion in Early America" opens at the National Museum of American History in Washington, D.C., on June 28 and will run until June 3, 2018.]
Advertisement