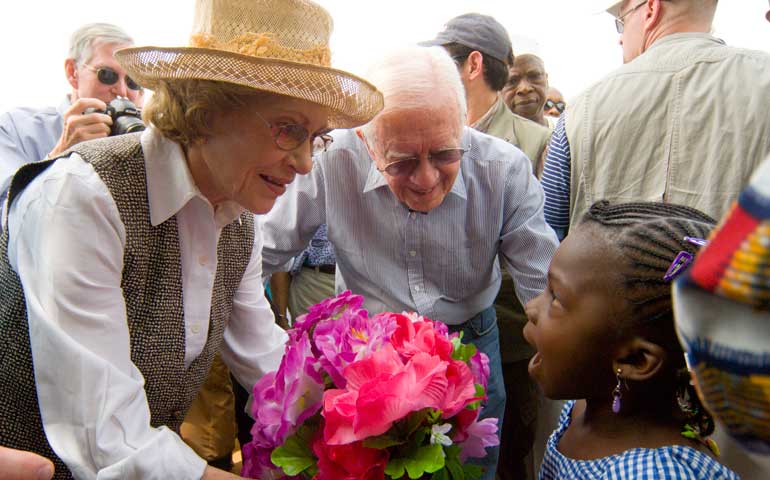 A Nigerian girl welcomes Rosalynn and Jimmy Carter during a 2007 tour of health work in the community of Nasarawa. (The Carter Center/Louise Gubb)
A CALL TO ACTION: WOMEN, RELIGION, VIOLENCE, AND POWER
By Jimmy Carter
Published by Simon & Schuster, $28
If she wasn't before, Rosalynn Carter could now be the envy of women across the planet.
"I'm still getting acquainted with Rosalynn after 68 years of marriage," her husband, former President Jimmy Carter, said recently on "The Colbert Report." He was being interviewed about his latest book, A Call to Action: Women, Religion, Violence, and Power.
Many women are elated by this new book because Carter "gets" what some men don't. He gets that his wife and other women deserve a faithful, loving and engaging partner. He gets that women are equal before God and, as such, are to be treated with dignity in order to reach their full potential in all walks of life -- including as priests. He gets that the Spirit moves within women -- that we have voices to heal each other and our Earth.
Carter's wise and reasoned book is a proclamation of the plight of many women who are violated and suffer in a minefield where male domination, narcissism and violence of all kinds is rampant and, moreover, tolerated.
"All the elements in this book concerning prejudice, discrimination, war, violence, distorted interpretations of religious texts, physical and mental abuse, poverty, and disease fall disproportionately on women and girls," writes Carter in the introduction.
He does not spare us any details of the cruelties inflicted on women: the rape of 3-month-old baby girls, honor killings, genital cutting, femicide (the murder of women), gendercide (selective killing of female fetuses by abortion, neglect or murder), assaults on U.S. campuses and in the military, physical violence perpetrated by boyfriends and husbands, child marriages, enslavement, and the increasing rate of incarceration of vulnerable, nonviolent women because of anti-drug policies.
Carter argues for the U.S. passage of the international version of the Violence Against Women Act to put economic and political pressure on countries known to be abusive toward women.
Carter asserts that our approach in the U.S. to prevent abortion by not teaching young Americans to avoid pregnancy is "counterproductive." Without adequate sex education, the likelihood of American girls' becoming pregnant is higher than in Western Europe.
While funding for this basic information is available, "unfortunately it is quite often tied to a legal prohibition against any mention of contraception, despite the fact that a strong majority of American teenagers are having sex before they are eighteen years old."
His urgent and informed wakeup call is graced with what the late women's rights activist Dominican Sr. Marge Tuite taught us in the 1970s and 1980s. Tuite said, "Make the connections between sexism and racism, sexism and militarism, sexism and nationalism, sexism and capitalism."
While economic disparity continues to grow, Carter is convinced that "the most serious and unaddressed worldwide challenge is the deprivation and abuse of women and girls, largely caused by a false interpretation of carefully selected religious texts and a growing tolerance of violence and warfare, unfortunately set by the United States during my lifetime."
About U.S. warmongering, he writes how our country does not acknowledge the "tremendous loss of life and prolonged suffering" in sovereign nations such as Yemen, Pakistan and Somalia, where remote-control drones are used. He supports the passage of U.N. Resolutions 1325 and 1820, which encourage women to be involved in peace efforts and condemn the use of sexual violence as a tool of war.
Carter, who supports women's ordination and women's equality in all religions, finds it "ironic" that women are welcomed into many professions "but are deprived of the right to serve Jesus Christ in positions of leadership," as they did in the early Christian churches.
Such "sustained religious suppression of women as inferior or unqualified has been a major influence in depriving women of equal status within the worldwide secular community as spelled out in the Universal Declaration of Human Rights."
The former president reminds us that Jesus, breaking the taboos of his time, treated women as equal to men, and that these details are reported in Gospels written by men.
"The true nature of God," Carter writes, "exemplifies a combination of justice, mercy, forgiveness, and love."
As to the question of patriarchy, he cites Paul's First Letter to the Corinthians (11:11-12): "You need to learn, however, that woman is not different from man, and man is not different from woman. Woman may come from man, but man is born of woman. And both come from God."
The 2002 Nobel Peace Prize recipient devotes more than a page in the book to Roy Bourgeois, citing his work in Latin America, his founding of the School of the Americas Watch, and his support of equality for women in the Roman Catholic church. The former president notes the fact that the Roman Catholic church has excommunicated women priests, while pedophile priests have not been subjected to such punishment.
Carter's words are backed up by decades of working directly on these issues. In 1982, he and his wife, Rosalynn, founded the Carter Center in Atlanta. It is a nonprofit organization that promotes nonviolence, human rights, the prevention of disease, and improving mental health care in more than 80 countries.
Carter's prophetic ideas are already being realized by larger movements of women, including the movement for women's equality in the Roman Catholic church. The women's ordination movement is about more than making women priests: It's about transforming church teaching to reflect the equality of women. If the Roman Catholic church declared the full equality of women and women's voices, that teaching would echo throughout the wounded patriarchal cultures of the world.
A Call to Action is a book that weighs heavily on your soul. It doesn't leave you. It ought to be required reading for many, especially religious leaders -- beginning with our brother priests at the Vatican and in the U.S. Conference of Catholic Bishops.
[Janice Sevre-Duszynska is a Roman Catholic Womanpriest, peace and justice activist, and a retired teacher.]
A version of this story appeared in the Dec 5-18, 2014 print issue under the headline: Carter's book takes a prophetic stand for women.