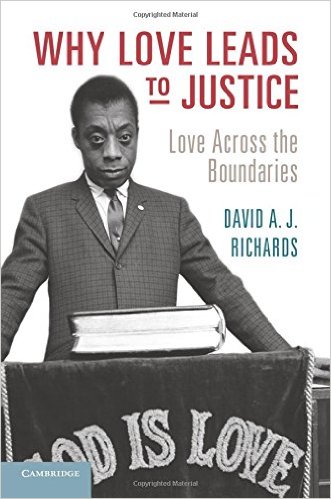 WHY LOVE LEADS TO JUSTICE: LOVE ACROSS THE BOUNDARIES
By David A.J. Richards
Published by Cambridge University Press, 270 pages, $30.99
Being in love and being loved by someone are the heights of human experience, unleashing the erotic part of us in a most profound and powerful way. Love is the crucial good most of us seek, the fire that fuels us, and the God whom many of us worship. We believe in love.
Why, then, do most of us so desperately seek to restrain and restrict love? And what would happen if we stopped policing intimacy through civil laws and cultural taboos, enforcing them as if they are a set of Love Laws? What if we just let love run wild through our lives?
These questions drive David A.J. Richards' book, Why Love Leads to Justice. Curious as to why society's greatest visionaries and most groundbreaking artists often love through boundary-breaking relationships, Richards offers an interdisciplinary exploration about erotic power and ethical resistance to patriarchy.
Patriarchy is fundamental to injustice because, in Richards' words, it "destroys the search for real relationships with other persons, as the individuals they are," and it demands exacting violence against any resisters. It afflicts all people through attendant oppressions, such as homophobia and racism, and it brutalizes the powerless and the privileged alike. Patriarchy is "a threat to love itself."
But in the very love threatened, we find the roots of resistance because "breaking the Love Laws can have an emancipatory ethical significance, empowering ethical voices of resistance." By loving across boundaries, by being beloved and experiencing the power that erotic intimacy has, by knowing love's disarming vulnerability and unknowable mystery, we are led to true freedom.
The book unravels as a narrative of narratives. Richards intertwines the stories of four gay British artists in the 20th century. He details how the loving relationship of composer Benjamin Britten and singer Peter Pears helped their art to flourish, and how novelist Christopher Isherwood and influential poet W.H. Auden found their creative voices through gay relationships.
Richards also writes about two gay black men in the United States. Bayard Rustin, the too-long-forgotten organizer behind the 1963 March on Washington, rooted himself in nonviolent pacifism because he came to know intimate love despite being persecuted. And Richards reflects powerfully on writer James Baldwin, whose treatment of gay love in the 1950s was precedent-setting and who found his voice by being deeply loved by a white man.
There are problems, however, about whose narratives are told and how they are told. Female protagonists, like Eleanor Roosevelt and novelist Marian Evans, whose penname was George Eliot, appear only in peripheral chapters. Richards acknowledges the focus on gay men, but his reasoning about patriarchy being more permissive of lesbian relationships is not compelling enough to warrant this narrow focus. Tighter editing could have eliminated some sections that read as tangential or repetitive when narratives are told.
But Why Love Leads to Justice can, and hopefully will, lead to further reflections that include voices largely absent in Richards' work. He primarily reflects in this work on the Love Laws that police relationships across racial and gender boundaries.
I would excitedly welcome reflections from Richards and from other voices about how loving across boundaries such as economic class, migration status, religious belief, and more has freed people from patriarchal constraints to be creative and to speak with ethically resisting voices.
I have witnessed firsthand this phenomenon in Catholics whose intimate love breaks the Catholic church's own Love Laws. I have met many faithful people who are in queer relationships or second marriages, who practice contraception or accompany a partner transitioning genders, who say they have experienced God's love more robustly through boundary-breaking intimacy.
Through love, these Catholics find a voice to defy the ecclesial patriarchy that bans the ordination of women, condemns same-gender love, and leaves open the wounds of clergy sexual abuse. Too many church leaders cause harm because Catholic programs of formation have stifled education about the erotic.
Outside the church, love propels justice today through the queer voices leading Black Lives Matter, the interfaith couples rejecting Islamophobia, and many others who love across boundaries as they struggle for justice.
Reading Why Love Leads to Justice deeply affirmed my belief in love, specifically the radical power of the erotic. Richards' subjects force us to confront the ways we enforce Love Laws today. Their stories compel us to ask ourselves whether we are truly resisting patriarchy. And, if we aren't, whether this is due to our failure to let love run wildly through our lives.
Yes, love is patient, and love is kind. But if it is not also radically free and resisting injustice, is it really love at all?
[Robert Shine works for New Ways Ministry, a national Catholic ministry advancing LGBT justice, and studies at the Boston College School of Theology and Ministry.]
Advertisement