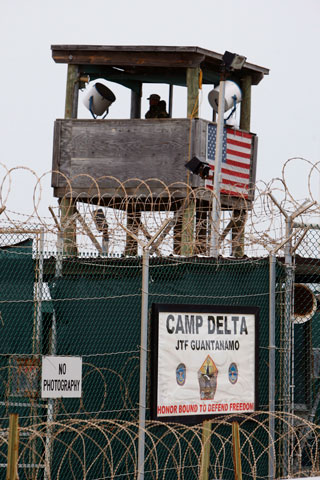 A U.S. soldier stands in a guard tower overlooking Camp Delta U.S. Naval Base in Guantánamo Bay, Cuba, in October 2007. (EPA/Shawn Thew)
GUANTÁNAMO DIARY
By Mohamedou Ould Slahi
Published by Little, Brown and Company, $29
The post-9/11 wars have produced an impressive amount of literature, and there is already a body of work that may have lasting significance. On the American side, and in the respective genres of novels, short stories and poetry, we have Kevin Powers' The Yellow Birds, Phil Klay's Redeployment and Hugh Martin's The Stick Soldiers. Fine works all.
Now comes a work from "the other side" that fits in no easily defined genre (the prison memoir?) and yet tells us much about the nature of the wars of the last 14 years: the declassified diaries Mohamedou Ould Slahi has penned about his imprisonment at Guantánamo Bay and other locales.
Slahi's Guantánamo Diary is one part Homer and two parts Kafka. It is a hallucinatory read that is paradoxically undergirded by religious earnestness. A Mauritanian by birth who lived for a time in Germany, Slahi was one of many young Muslims who fought for the mujahedeen against the Soviet-supported Afghan government in the early 1990s. Slahi was trained by al-Qaeda but, he claims, cut all ties with the group thereafter.
The U.S. government doesn't buy that. After 9/11, American authorities circled around Slahi on suspicions he was involved in a terrorist plot cooked up in Canada. But despite captivity in Jordan, Afghanistan and, since 2002, at Guantánamo Bay, Slahi has never been formally charged with anything. After considering the evidence, a federal judge even ordered Slahi's release. But the U.S. government appealed that decision, and Slahi remains stuck in Guantánamo.
It is hard to tell if this book -- written in rough, imperfect but affecting self-taught English -- will help Slahi's case. By exposing so much, Slahi has certainly not endeared himself to the authorities running Guantánamo. (The Guantánamo section covers the years 2003-2005. The highly redacted book was edited by Larry Siems, a New York-based writer and human rights activist.)
Guantánamo Dairy is a difficult, often searing read, though the terrors it describes are, in true Kafka-esque style, mixed with comic absurdities. Like the Americans writing about the Iraq and Afghan wars, Slahi has a fine eye for detail.
Amid Guantánamo's rough environment of interrogation -- his own "special interrogation plan" was personally approved by then-Secretary of Defense Donald Rumsfeld -- Slahi questions the American fondness for video games, war films, air conditioning (used, by the way, as a tool against prisoners), and the obsessive need to place ear-coverings on transported detainees.
By its very nature, Slahi's work couldn't help but be uneven. The non-Guantánamo sections sag a bit, and the redactions don't help the narrative flow, though they add a weird spookiness to the text that seems almost deliberate.
But these are small matters. In the essentials, Slahi gets right the way imprisonment and interrogation create their own reality of absurd monotony. In one of many pop culture references, Slahi cites the film "Groundhog Day" for depicting a repeated loop of reality.
Has there ever, he writes, "in all of recorded human history been an interrogation that has gone on, day in and day out, for more than six years? There is nothing an interrogator could say to me that would be new; I've heard every variation."
The most obvious horrors Slahi recounts are in describing torture. In detailing its physical terrors, Slahi has done his readers a favor. I doubt anyone who finishes the book will come to the conclusion that torture is justified.
This isn't merely because it violates a sense of human dignity. Torture seems futile because it doesn't work practically, given that those being tortured will end up saying anything, even if it is not true or useful.
One example among many disconcerting acts, which include beatings, isolation and sexual humiliation: the time authorities stuffed Slahi's clothing with ice cubes from his neck all the way down to his ankles. "Whenever the ice melted, they put in new, hard ice cubes. Moreover, every once in a while, one of the guards smashed me, most of the time in the face. The ice served both for the pain and for wiping out the bruises I had from that afternoon. Everything seemed to be perfectly prepared. People from cold regions might not understand the extent of the pain when ice cubes get stuck on your body."
The most arresting and useful aspect of the book may be the mirror Slahi holds up to the United States. Some, if not many, Americans who read Slahi's chronicle will never be convinced of anything he says. They will believe he is hiding something. But Slahi entered Guantánamo with a naive hope that American justice would prevail.
Slahi no longer believes that, of course. He criticizes a government that does one thing and yet "preaches against dictatorship and 'fights' for human rights."
Still, Slahi can be generous, even gracious. He believes there are few people who actually enjoy torturing others, Americans included. "Many of the soldiers were doing the job reluctantly, and were very happy when they were ordered to stop," Slahi said.
Some admitted to having bad consciences about what they and others had done. One soldier told Slahi, "I know what we are doing is not healthy for our country."
Generally, Slahi writes, "human beings make use of torture when they get chaotic and confused. And Americans certainly got chaotic, vengeful and confused after the September 11, 2001 terrorist attacks."
But that doesn't let the United States off the hook. For Slahi, the bottom line is that the "rest of the world thinks of Americans as a bunch of revengeful barbarians."
By his own admission, that may sound harsh: Slahi doesn't believe the average American is a "revengeful barbarian." But, he argues, "the U.S. bet its last penny on violence as the magic solution for every problem, and so the country is losing friends every day and doesn't seem to give a damn about it."
Let's hope that is not the final word about the last 14 years. But let's also not ignore Slahi's observations or his experiences, chronicled in a strange but impressive prison memoir for our time.
[Chris Herlinger is a contributor to NCR and its Global Sisters Report and writes frequently on international issues.]
A version of this story appeared in the July 3-16, 2015 print issue under the headline: Years of terrors.