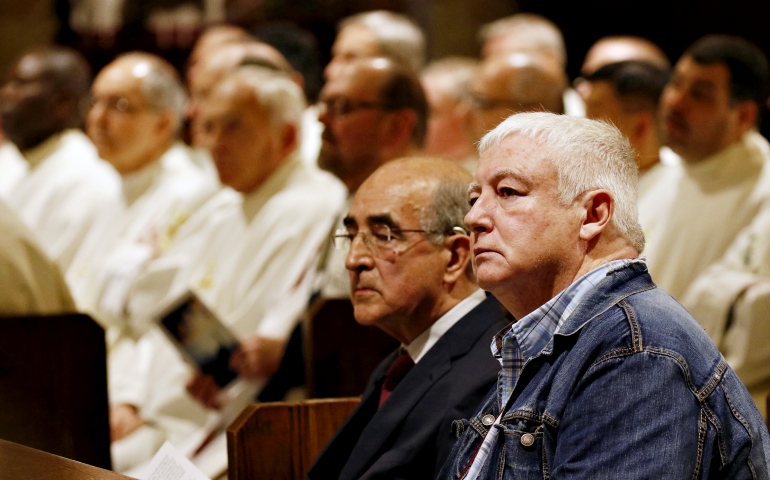 Michael Gilbride, right, a survivor of clergy sex abuse, listens to the first reading during a Mass of Hope and Healing for victims of sex abuse April 26 at St. Anselm Church in Brooklyn, New York. (CNS/Gregory A. Shemitz)
Brooklyn, N.Y. — June 23, 2017
Bishop Nicholas DiMarzio announced June 22 that the Brooklyn Diocese will compensate victims of sex abuse by clergy and church workers via a program modeled on one in the neighboring New York Archdiocese.
The Independent Reconciliation and Compensation Program will allow survivors of sexual abuse by priests or deacons of the diocese to seek financial compensation.
"I am well aware that no amount of money will ever heal the scars of abuse," but the compensation program is "a concrete expression of our contrition and our desire to make amends," DiMarzio said in a video statement.
The Brooklyn Diocese's program will be administered by compensation experts Kenneth Feinberg and Camille Biros, both of whom worked on a program compensating the families of victims of the 9/11 attacks in New York. Feinberg and Biros are administering the archdiocesan program.
According to the diocese, Feinberg and Biros will have total independence in determining compensation for survivors. Claimants will not be bound by confidentiality rules and will be free to be as public as they wish about their experiences. Funds will come from a diocesan loan.
The Brooklyn Diocese comprises 186 parishes in the New York City boroughs of Brooklyn and Queens, with an estimated 1.5 million Catholics.
In his video statement, DiMarzio said the new program supplements previous diocesan efforts, including paying the cost of therapy and support groups for victims. The diocese sponsors an annual Mass of healing for sex abuse victims.
Diocesan spokesperson Carolyn Erstad said the program grew out of discussions with abuse victims who praised the New York Archdiocese's program, which was announced in October of last year.
The Brooklyn Diocese's program was announced soon after it became clear that the New York state legislature was adjourning without considering legislation that would relax the statute of limitations claims on sex abuse cases, a more than decadelong political battle.
Catholic Whistleblowers, a New York-based group formed by church sex abuse victims and their supporters, has expressed support for the archdiocesan program while lobbying for extending the statute of limitations on sex abuse crimes.
The Brooklyn Diocese requests that those who want to file a claim under the program contact the Independent Reconciliation and Compensation Program at www.BrooklynDiocese-IRCP.com or call toll free 855-796-3463.
[Peter Feuerherd is a correspondent for NCR's Field Hospital series on parish life and is a professor of journalism at St. John's University, New York.]