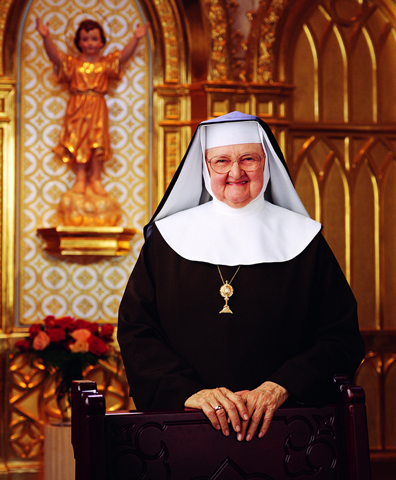 Mother Angelica, in an undated photo ((CNS/courtesy EWTN)
A high point of my Jesuit novitiate in 1957 was our novice master announcing that Pope John XXIII had just called the Second Vatican Council, but it was almost 10 years of studying theology at Woodstock, Md., before the impact of this hit me. One day a recently ordained student, at a small liturgy, placed the sacred host in my hands. My understanding of the presence of Christ in both the Body of Christ, the congregation, and in my hands took on new life.
In June 1967, the altars in parishes were to be turned around and the congregation would no longer watch the celebrant from behind, hunched over the host at the consecration but now lifting it up as they faced one another. My home parish altar still had not been moved, but for my first Mass, when Jesuit Fr. Thurston Davis, my Fordham University dean and then America editor, would preach, my mother bought a new wooden altar to welcome the new Vatican II liturgy.
Twenty-seven years later, in 1994, while I was at Georgetown University researching my biography of journalist Eric Sevareid, I blocked off two weeks to write for the National Catholic Reporter. I watched nothing on my small-screen television but the Eternal Word Television Network, embodied in its 1981 founder, Mother Mary Angelica of the Annunciation, of the Poor Clares of Perpetual Adoration's Our Lady of the Angels Monastery in Irondale, Ala., and later, in the 1990s, founder and abbess of the Shrine of the Most Blessed Sacrament in Hanceville. She was "news" because her EWTN was, for better or worse, the largest Catholic network in the world, and she was the face of the church.
My 4,000-word NCR essay concluded that she was a product of an American culture that wanted nuns to be fun, even though her anger was boiling beneath the surface. She was loved by a populace which, through no fault of its own, was religiously ill-informed, but fed a meal of reported miracles and apparitions, watered-down theology, neglect of social issues, and a Bible where "history" neglected scholarship: Here is the spot on the Jordan where Joshua's troops crossed and the walls came tumbling down. I wondered whether this was the best that the American church could do.
Death of an icon
Mother Angelica died at 92 on March 27 and was buried on April 1 in a spectacular funeral, followed on EWTN by an enormous ceremony in St. Peter's Square celebrating the cult of divine mercy which had long been a centerpiece of the network's spirituality.
Throughout the week, Mother Angelica dominated the screen with replays of some of her best and worst performances, plus testimonies from Catholic conservatives like Bill Donohue, who considered her a role model; Richard Neuhaus who said she "embodied the sacramentality of the present moment"; and Fr. George Rutler, who considered her a "mother," but shunned the now popular word "passing" to as if to deny the reality of death. As if Mother Angelica had never "passed," the video clips showed her dancing wildly (for her) to a Mexican band with a huge sombrero bouncing on her head, plus scenes from two of her infamous clashes with the hierarchy.
Other scenes demonstrate her real skills. She sits in a small studio with a live audience and a Bible on her lap and chats about a selected verse till interrupted by a call-in. The woman's brother is mentally ill and homebound. Her mother cannot handle it. What to do? Mother replies that the cross is always hard. God is not going to take it away.
In an earlier clip, the young Mother Angelica is a stand-up comedian. As the audience howls, she does an imitation of the 90-year-old Abraham being informed by the angel that he and Sarah are going to have a son. The joke is that Abraham, played by Mother Angelica, is virtually senile and just keeps nodding, nodding his head as if falling asleep. The irony, of course, is that Mother Angelica is also talking about her own cross, a long life of suffering from childhood to the strokes of 2001 till her death.
Mother Angelica was born Rita Rizzo in 1923. Because her parents were divorced, the nuns at school scorned her. She "hated them." In 1929, she made her theatrical debut singing "Danny Boy," imitating the voice and style of Al Jolson. She barely survived public high school, though she was drum majorette in senior year.
Her mother had a breakdown in 1934. When her uncle referred to her mother as a "lazy woman," she picked up a bread knife and hurled it at him. A warning, she realized she was capable of killing someone. Her father left his sick wife and daughter to fend for themselves. In 1961 the mother joined her daughter's monastery.
To dig deeper, I turned to Raymond Arroyo's reverent but revealing Mother Angelica: The Remarkable Story of a Nun, Her Nerve, and a Network of Miracles (Doubleday 2004). The church and the world have changed radically both since my NCR story in 1994 and since Mother Angelica's retirement. While her image lived on the screen, religious orders of nuns endured Vatican investigations and survived with new vigor and respect, women theologians enriched universities, and Pope Francis has challenged believers and unbelievers on issues like the environment, justice and married love, enriching the image of the church.
Three clashes
On Aug. 13, 1993, EWTN broadcast the events of the World Youth Day in Denver, Colo., which Pope John Paul II was scheduled to attend. He did not, but a cardinal substituted for him presiding over the Way of the Cross. As the pageant, starring a Cincinnati-based mime troupe, approached its climax and the white robed figure representing Jesus was lifted up on the cross, viewers were stunned. "Jesus" was a woman.
Furious, Mother Angelica wept and prayed all night on how to answer; for her this was all part of plot to argue for women priests. The bishops' conference issued an explanation that "mime is never a historical representation. Anyone, even a child, could have played any of the roles."
That meant nothing to her. She indicted not just the mimes but all her imagined "liberals," addressing them directly: "I'm tired, I'm tired of being pushed in corners. I'm tired of your inclusive language that refuses to admit the Son of God is a man! I'm tired of your tricks. I'm tired of your deceit. I'm tired of you … making a crack, and then the first thing you know there's a hole, and all of us fall into it. ... I am so tired of you, liberal church in America. ... You're sick. ... You have nothing to offer. You do nothing but destroy," she said seething. And much more.
Then Milwaukee Archbishop Rembert Weakland declared, "It was one of the most disgraceful, un-Christian, offensive, and divisive diatribes I have ever heard." Mother replied that Weakland should "put his head in the back toilet."
Her other symbolic response was to redesign her community's religious habit, reinstituting a black veil and wimple with headgear enclosing the face, covering the neck and ears and a thick white band covered the forehead, blocking off the hairline, making one nun say it was as if she were "in a box." Of course this was the purpose -- intellectually boxed in, unable to see to the left or the right. Inside the cloister, as superior, she decreed that the nuns would no longer watch TV or read newspapers. She would tell them what they needed to know.
In November 1997, interviewing an Opus Dei priest, she said the "cardinal of California is teaching that it's bread and wine before the Eucharist and after the Eucharist. I am afraid my obedience in that diocese would be absolutely zero." She added that everyone in that diocese should agree with her.
Cardinal Roger Mahony, the author, in Rome for a synod of bishops, went wild and demanded that she "assure your viewers that the cardinal archbishop of Los Angeles does fully believe in the Real Presence." She apologized but took back nothing, then critiqued the document Gather Faithfully Together. She claimed the only explanation of transubstantiation was a "very small footnote," and she "doesn't read footnotes."
That's nonsense. I have read Mahony's document. It is 31 pages explaining every aspect of the Mass, and has no footnotes. He writes, "Above all, they can talk about the way the Holy Spirit is invoked to transform these gifts and themselves. And so they are talking about the presence of Christ in the simple gifts of bread and wine, and in the mystery that is this Church." He quotes St. Augustine quoting Corinthians: "You are the Body of Christ, and his members." Rather than snap back and forth, a real TV station would have had the cardinal and nun sit down with a reporter and a theologian, all of whom would have read all 31 pages, and offered the TV viewers a real education on Real Presence.
The last little fight was in 1999 with Birmingham Bishop David Foley, who had previously offered Mass facing the altar in the monastery, but now asserted his authority to say Mass facing the people. Mother Angelica balked. Foley consulted the Conference of Bishops twice, and finally decreed that all Masses would henceforth be celebrated at a free standing altar facing the people. After a back and forth with Rome also split on supporting her or Foley, Foley prevailed. Mother declined to attend the ceremony and soon withdrew from EWTN except for two live shows a week.
Within a year another stroke would withdraw her into 15 years of lonely suffering which she would transform into prayer.
The last Mass
The spectacular funeral pulled its congregation back into pre-Vatican II darkness. As the choir sang, mostly in Latin, three bishops plus about four priests as major concelebrants, plus an endless line of priests a few steps back, plus long lines of men in cassocks and surplices, celebrated the Mass in Latin, facing the altar, backs to the people and distributed the Eucharist on the tongue to those who knelt down at the altar rail or waited outside. No layperson received from the cup. Whether they intended it or not, they identified themselves and their beliefs not with the church of 2016 but of 1957.
Whether EWTN wants to be considered real journalism or the mouthpiece of the National Catholic Register -- which it owns -- and the Knights of Columbus who support them, a sort of Catholic FOX News, remains to be seen. Its Friday night news broadcast covered 15 topics, none in depth. Earlier in the week, Steubenville University presented a conversation among four men on the works of mercy. On "visiting prisons," one suggested praying for the souls in Purgatory, since that is like a prison. No mention of prison reform, death penalty or prison brutality.
In another program on the Creed, Redemptorist Fr. Pablo Straub said "descended into hell" means informing Adam, Eve, Abel, Jacob and his 12 sons and Moses, etc., that they were free to go to heaven. Karl Rahner, on the other hand, writes "descent into hell is simply Christ being dead."
Couldn't the bishops, the Catholic universities with strong media, theology and social justice programs, and foundations put their heads together and come up with programming that deals with the challenges Pope Francis has offered on the environment, justice and peace and appeals to the mind and soul rather than to nostalgia and intellectual isolation?
As Edward R. Murrow, patron saint of broadcast journalism, told TV news directors in 1958: "This instrument can teach, it can illuminate; yes, it can even inspire. But it can do so only to the extent that humans are determined to use it to those ends. Otherwise it is merely lights and wires in a box."
[Jesuit Fr. Raymond A. Schroth, biographer of Jesuit Fr. Robert Drinan, is literary editor of America.]