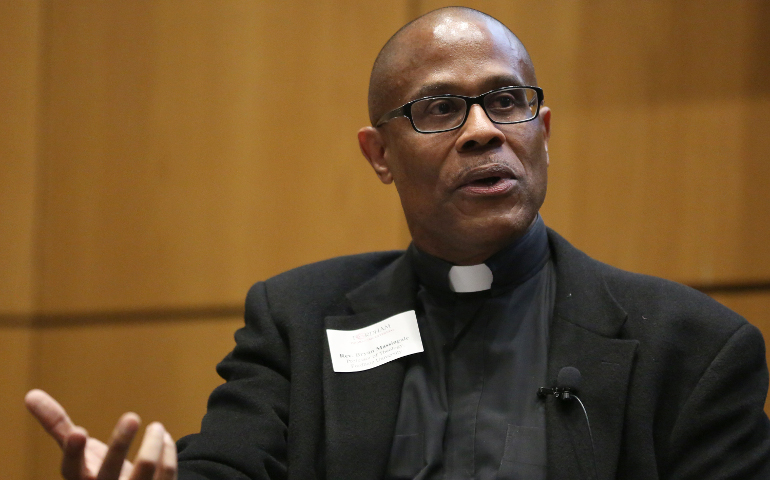 Fr. Bryan Massingale, a theology professor at Fordham University in New York City, speaks during a Jan. 26 panel discussion in New York. (CNS / Bruce Gilbert, Fordham University)
Washington — February 2, 2017
Catholic colleges and universities must do more to be truly welcoming to diverse students, revamping curriculums and creating environments that are inclusive, sensitive to race and gender issues and reflective of the whole human family.
That was the message delivered at the annual meeting of the Association of Catholic Colleges and Universities Jan. 28-30 in Washington by a variety of speakers focused on the theme of inclusion and diversity.
The meeting took place as President Donald Trump's orders to suspend admission of all refugees for 120 days and bar admission of citizens from seven Muslim-majority countries from entering the United States for 90 days sparked protests across the country. The ACCU issued a statement Jan. 29 expressing its "strong opposition" to the moves "in solidarity with other Catholic and higher education organizations that recognize the moral obligation of our country to assist migrants, particularly those who are fleeing any kind of persecution."
Citing the history of Catholic higher education's founding to serve the children of immigrants who were at the time excluded from universities, the association reaffirmed "the commitment of our institutions to creating inclusive, welcoming campus environments that embrace people of all faiths and cultures."
Creating that environment is even more necessary in the wake of the "so-called Trump effect" on racial justice and equality, said Fr. Bryan Massingale, professor of theology at Fordham University and author of Racial Injustice and the Catholic Church. In this "moment of stark clarity" Massingale called for the creation of a "powerful, robust vision" that would enable Catholic colleges to present "who we are and what we believe."
It's key to realize that "what we're dealing with now is the reality of actual policies," he said. "We need to both respond to and interrogate in light of our commitment to God."
There are "real fears" on college campuses regarding Trump's immigration policies, he said. Students of color, especially African-American students, are fearful over the rancorous climate created during the election and Trump's statements in 2014 opposing the settlement in the case of five men wrongly convicted in the 1989 rape of a woman in Central Park and the implication that "even though they had been exonerated, they should still be in prison because there's something bad about them," Massingale said.
Tracing the rise of the Black Lives Matter movement in the wake of the acquittal of George Zimmerman in the death of black teenager Trayvon Martin and a series of killings of blacks, particularly black men, by police, he said it is vital "to understand the urgency in which your students are feeling this moment in history."
Recalling the killings of 53 men and women in a gay Orlando, Fla., nightclub last July, Julie Hanlon Rubio said that conversations with people across the county had convinced her that Catholic colleges had failed to show appropriate compassion in the wake of that tragedy.
When it comes to the LGBTQ community, "we can't quite find the words," said Rubio, a professor of Christian ethics at St. Louis University. (Rubio is the author of five books, including Hope for Common Ground: Mediating the Personal and the Political in a Divided Church and a board member of National Catholic Reporter.)
"We have to find the theological resources that give us the ground to stand on so that we can appropriately claim the ground that is out there," she added. Rubio advocated for calling students and others by the names that they wish to be called. Educators ought to be, she said, "less worried about the trouble we might get in by inclusion and more worried about the suffering they are experiencing."
At a lively workshop following the plenary, "Serving the LGBTQ community," Rubio walked participants through a timeline of Catholic thinking on topics like what it means to be made in the image of God while offering theological tools for discussing gender and offering hospitality in the context of diversity and inclusion. Urging her listeners to be sensitive to the experiences of their LGBTQ students, Rubio stressed the importance of listening.
In a question-and-answer period following the session, conference members discussed how to minister effectively when students may want advocacy, the status of conversations with bishops about LGBTQ concerns, and even the potential need for a "safe space" for theologians who grapple with these topics.
Setting the tone from the top about the importance of inclusion and diversity, listening and promptly responding to needs and concerns of students is vital, said university presidents and diversity officers in a panel discussion on lessons learned. Focusing on values and mission is also key, they said.
Less than four months after he'd become president of St. Louis University, Fred Pestello faced a protest occupation of the clock tower on campus following the death of a son of a long-term university employee who was killed in a police-involved shooting in October. Under pressure to quickly and forcefully end the protest, Pestello turned to a crisis communicator who instead urged him to focus on the university's values and mission.
That changed the tension and the tone of the communications being issued, he said. The questions then became "What would Christ do? What would St. Ignatius do? What would Pope Francis do?," Pestello said. The occupation ended peacefully and has led to greater understanding and progress, Pestello said, "because we focused on our values."
[Gail DeGeorge is the editor of Global Sisters Report. Her email address is gdegeorge@ncronline.org. Elizabeth Eisenstadt Evans is a religion columnist for Lancaster Newspapers, Inc., as well as a freelance writer.]