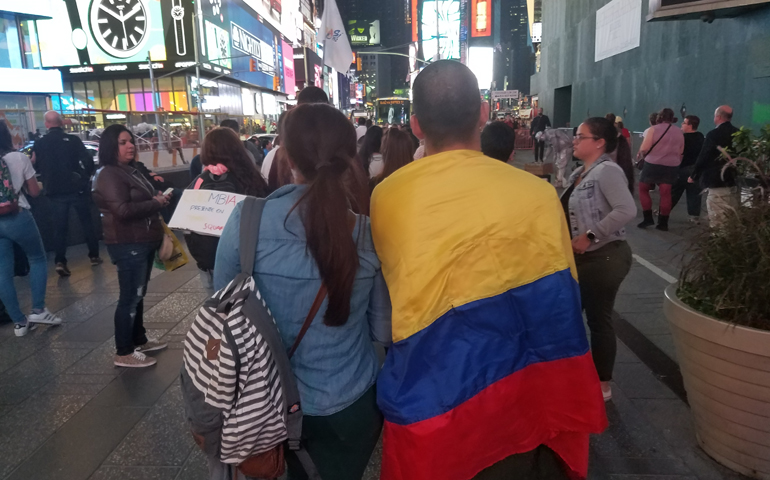 Some of those celebrating the Colombian peace agreement in Times Square draped the Colombian flag in celebration. (GSR/Chris Herlinger)
Five days before Colombian President Juan Manuel Santos accepted the Nobel Peace Prize Oct. 7, his country narrowly rejected a peace accord -- one that would have ended a 52-year civil war that has claimed more than 250,000 lives and displaced nearly six million people.
The Nobel committee granted this year's award to a president who had failed to secure peace, in hopes that he will eventually succeed in his four-year negotiations with the Revolutionary Armed Forces of Colombia, also known by the Spanish acronym FARC. With .4 percent deciding the outcome, a mere 37 percent of the electorate had cast ballots Oct. 2 on the 297-page deal, its opposition mainly finding the agreement too generous to the rebels.
"It comes down to some kind of discussion of amnesty vs. accountability, and it's very hard to strike that right balance," said Gerard Powers, director of Catholic peacebuilding studies at Notre Dame's Kroc Institute. "People of good will disagree what that right balance is in any given situation, so it's not surprising there's a lot of disagreement in places like Colombia."
Disagreement throughout the country, however, was fairly evenly distributed. In rural areas, which were most affected by the armed conflict and are more impoverished, the "yes" vote won overwhelmingly. But in bigger cities -- such as Medellín and Bucaramanga -- the consensus was in the deal's opposition, its movement led by former president, Álvaro Uribe. The final count showed 50.2 percent to 49.8.
On Sept. 26, days before the national referendum, Santos held a celebratory signing of the accord in Cartagena, Colombia, alongside FARC commander Rodrigo Londono, known as "Timochenko," and numerous foreign dignitaries, including U.S. Secretary of State John Kerry.*

Colombian President Juan Manuel Santos and FARC commander Timochenko, Sept. 26 in Bogota. (CNS/John Vizcaino, Reuters)
Mark Schneider, senior vice president and special adviser on Latin America for International Crisis Group, attended the signing, and said it was "clearly a hopeful, optimistic, and forward-looking moment," the atmosphere likely encouraged by the polls that forecasted a comfortable victory.
Retrospect points to several factors for its failing: that Santos made a mistake in hosting a premature celebration, uninspiring the electorate from the urgency to vote; that an overly-confident government didn't postpone the referendum, despite concerns that a pending hurricane would keep voters at home; and, most notably, that the government did not communicate effectively what the accord contained, while Uribe continuously broadcasted reasons for its opposition.
"Most people voted for what they heard from somebody else," said Orlando Arango, a Colombian resident of Queens, N.Y., and member of the Independent Movement of Absolute Renovation party. Arango is originally from Medellín.
"We felt devastated that, after 52 years of war, most Colombians preferred to keep on the same path instead of embracing the peace agreement," he told NCR.
"Who won? Nobody. Who lost? The government, the country, the regions where the war took place for years. ... Now there is more uncertainty in the country."
When peace looks like impunity
When Schneider rode taxis while in Cartagena, small talk with cab drivers revealed their frustrations with the deal, primarily that FARC rebels, to their understanding, would receive too many benefits and still get to keep money made through ransoms and drugs. Schneider, whose organization contributed several reports on transitional justice to aid Colombia, would clarify the prosecutorial process and what would happen to the money.
Those who had engaged in rebellion but had not committed serious violations would get amnesty for their political crime of rebellion. Those involved in serious crimes would go through criminal prosecution, and for two to five years be under "restricted liberty." Those most responsible for serious crimes would also go through criminal prosecution, agree to provide reparations where possible, and have severely restricted liberty for five to eight years.
As for the money, Schneider would explain, judges would ask the FARC rebels if they had knowledge of hidden illicit funds. Either they tell the truth, providing information leading to bank accounts that the government would seize, or they pretend to know nothing. If they lie, and the government has already obtained intelligence from other sources (which the attorney general now appears to have), the individual loses all the benefits and alternative sentences, potentially facing an automatic 15-20 years in prison.
Rebels have also pledged to combat -- not just halt -- drug trafficking.
"The taxi drivers were not aware of that, and I don't think the government did as good a job as it should have in indicating what were the penalties involved, and how this agreement compared to other agreements around the world," he said.
Though the legal intricacies may have been lost on voters, they found the benefits FARC guerrillas would receive largely disconcerting.
FARC could reform into a political movement and run for office. As per the deal, they would initially receive 10 seats in congress: five senate seats out of 102, and five representatives out of 166. Those seats, however, are only guaranteed for two years, after which FARC would have to run for re-election to keep them. For perspective, Schneider points to similar situations in Angola or Nepal, where compromises permitted rebels roughly a third of their assemblies.
Another controversial part of the deal was the economic reintegration program for combatants and militia supporters. Some of them would be given a stipend for 18 months to two years; others, access to education, land and agricultural training, or participation in technical assistance programs (for example, to start a small business). FARC victims, too, would receive such benefits.
"You agree to give up your weapons, to stop an arms struggle against the state, and as a result, we recognize that that deserves some kind of response," Schneider said. "That's the rationale for going forward. ... It means you don't have human rights abuses, killings, massacres, etc. -- all that stops. That's the whole point. The war ends, and you have peace."
But those who made it to the ballot boxes proved unsatisfied. Santos used his executive power to extend the bilateral ceasefire until Oct. 31, and will continue renegotiating until then.
The model of peacemaking
Though one man has come out of this a Nobel laureate, the Catholic church in Colombia was highly influential in negotiations, particularly in its social ministry to "build peace from the ground up," said Msgr. Héctor Fabio Henao, director of Cáritas Colombia.
---
Related: "Colombian president wins Nobel Peace Prize for efforts to end civil war" (Oct. 7, 2016)
---
They monitored ceasefire, helping convince rebels to participate. They helped convince rebels to free hostages. They helped victims, in the restitution of their rights through a number of programs, and in giving them a seat at the negotiation table. They informed communities of the deal's progress, supporting them to process applications if eligible.
That the state proved to be "on the side of the victims has been of enormous importance, and is what best identifies our position," Henao told NCR.
"Colombia is one of the best examples of Catholic peace builders in the world," said Powers of the Kroc Institute, which worked with Henao and the Colombian Catholic community (including bishops, Catholic universities, Catholic peace organizations, religious orders, and more, he said).
"It's because the church before has worked on so many different issues that relate to the conflict of the peace process -- from human rights advocacy, to trauma healing, to mediating local conflicts, to its work on resettling displaced people, and all the emergency response work it does."
Or, "strategic peacebuilding."
Powers attributes this success to the Colombian church's mastery of pastoral engagement, the most vital aspect of peacebuilding that is often overshadowed by the more prevalent yet abstract debate of just war vs. nonviolence.
Both sides of that discussion, he said, "ought to be able to agree on the need for the church to better map and analyze the amazing peace work the church is doing around the world and understand where the gaps are and how the church can do a better job" utilizing its vast resources.
"If we spend too much time debating, one more time, whether Jesus was a pacifist or not -- it's an important question, but it's not a question in terms of Colombia or Congo, where the church is deeply engaged in building peace."
"The issue is how can the church in Colombia ... reintegrate these FARC combatants back into communities that they've terrorized for a generation or more. That has nothing to do with just war and pacifism, and everything to do with pastoral engagement."
How the church will demonstrate that engagement in the next phases is its newest challenge, Henao said, acknowledging that different territories were affected by FARC differently and thus hold different interpretations of what a compromise should look like.
"At the same time, [to remain] encouraged," he said of another challenge, "so that those who are at the negotiation table continue every effort to make peace a reality."
"We [the church] are ambassadors of reconciliation, instruments of the work that only God can do."
*This sentence was altered from an earlier version of this article in order to remove an incorrect identification.
[Soli Salgado is a Global Sisters Report staff writer. Her email address is ssalgado@ncronline.org. GSR international correspondent Chris Herlinger contributed to this report.]