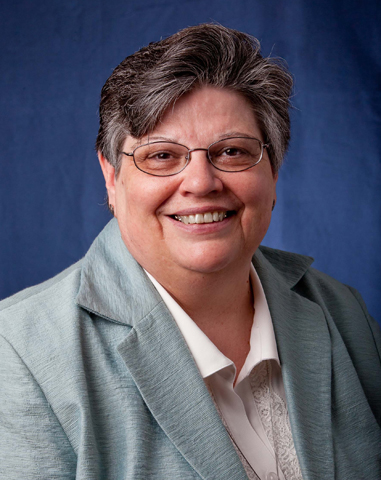 Presentation Sr. Stephanie Still, pictured in an undated photo. (CNS/courtesy Sisters of the Presentation)
Congregations of religious men and women recently received payments totaling $25 million to help cover shortfalls in retirement funding.
The 390 religious communities across the United States received the money via the National Religious Retirement Office thanks to the annual Retirement Fund for Religious appeal in December. The most recent collection, in December 2016, raised nearly $30.7 million — the second year in a row the appeal has brought in more than $30 million.
"We are overwhelmed by the generous support for senior religious and their communities," said Presentation of the Blessed Virgin Mary Sr. Stephanie Still, NRRO executive director. "We are equally moved by our donors' ongoing gratitude for the ministry of religious, past and present."
This round of funding is known as Direct Care Assistance and goes directly to congregations without enough money to care for their older members. Other money from the collection goes to educational programming, services and resources that enable religious communities to evaluate and prepare for long-term retirement needs. Some of those efforts are funded by a grant from the Conrad N. Hilton Foundation, which also funds Global Sisters Report.
"Those programs are important, and it's a whole other element I'm not sure people know about," Still said. "Since 2009 we've helped 136 religious institutes with planning."
For decades, Catholic sisters, brothers and priests in religious orders were paid only small stipends and did not receive retirement benefits. An actuarial study found that as of Dec. 31, 2014, there was a nearly $3.2 billion shortfall between retirement assets and the amount needed to care for aging religious. By 2034, that shortfall is projected to grow to nearly $10 billion.
"The phenomenal success of the national parish appeal for retired religious women and men is a testament to the deep reservoir of respect and affection we all share for those who formed and educated us. But it is also a good example of what we can do when we put our talents to work to problem solve," said Francis Butler, who was president of Foundations and Donors Interested in Catholic Activities from 1980 to 2012. Butler also serves as a board member of the National Catholic Reporter. FADICA was instrumental in the U.S. Conference of Catholic Bishops' launch of the Retirement Fund for Religious in 1988.
"The beginnings of this effort to solve the retirement crisis for American religious is one of the finest examples of laity, clergy and religious bringing out the best in each other while striving to insure just practices within our church life," Butler said.
Since its founding, the Retirement Fund for Religious has raised more than $800 million, according to NRRO figures.
The National Religious Retirement Office, which coordinates the annual appeal and distributes the proceeds, is sponsored by the Conference of Major Superiors of Men, the Council of Major Superiors of Women Religious, the Leadership Conference of Women Religious and the United States bishops' conference.
[Dan Stockman is national correspondent for Global Sisters Report. Follow him on Twitter @DanStockman or on Facebook.]