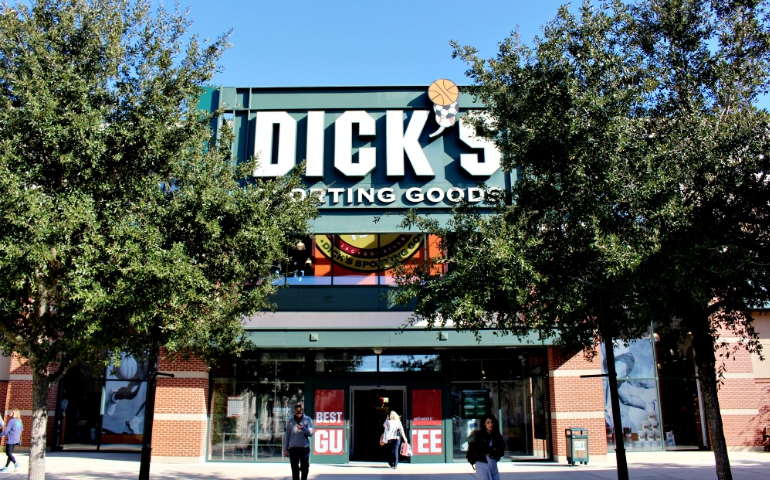 A Dick's Sporting Goods store is seen at St. Johns Town Center in Jacksonville, Florida, in December 2017. (Wikimedia Commons/Michael Rivera)
A group of sisters that pushes for corporate responsibility played an apparent role in the Feb. 28 announcement by Dick's Sporting Goods that it would stop selling assault rifles and raise the minimum purchase age for firearms to 21.
Mercy Investment Services, the investment arm of the Sisters of Mercy, said its officials met with Dick's Sporting Goods senior management in January to discuss the retailer's policies and responsibilities as a corporate citizen. Mercy Investment Services handles the Sisters of Mercy's investments and, like many sister-run investment groups, works for corporate responsibility.
The meeting came after a shareholder resolution asking the corporation to reevaluate its firearm policies was filed in December, CNBC reported. Other filers included the Congregation of St. Joseph, the Episcopal Church, and other members of the Interfaith Center on Corporate Responsibility. Similar shareholder resolutions have also been filed with firearm manufacturers Sturm, Ruger & Co. and American Outdoor Brands, the network said, but have not received a response.
With the Feb. 28 announcement, Dick's will no longer sell assault rifles at any of its stores, including its 35 subsidiary Field & Stream stores, which continued to sell them after Dick's stores stopped in the wake of the Sandy Hook Elementary School shooting in 2012. It will no longer sell firearms to anyone under the age of 21 and will no longer sell high-capacity magazines.