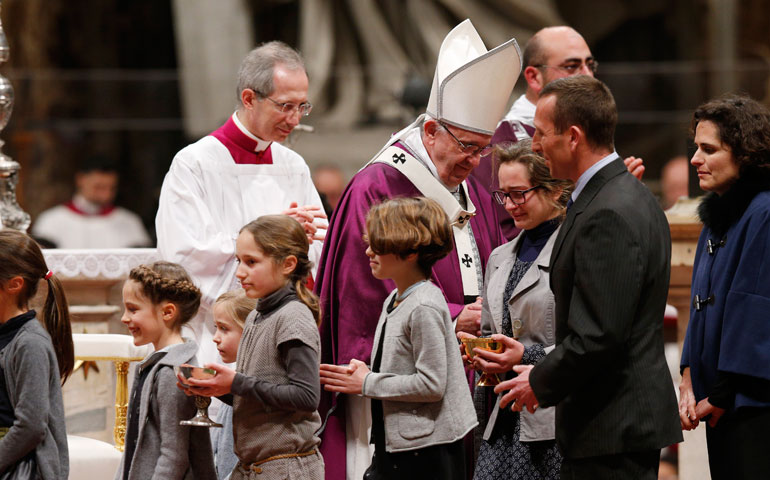 Pope Francis accepts offertory gifts from a family during Ash Wednesday Mass in St. Peter's Basilica at the Vatican Feb. 10. (CNS/Paul Haring)
Vatican City — March 10, 2016
Within a few weeks, Pope Francis is expected to release a new document on Catholic family life that may touch upon controversial topics like divorce and remarriage and same-sex marriage.

Francis stirred up much debate and anticipation by calling back-to-back Synods of Bishops in 2014 and 2015 on the topic of family life. Preparation for those worldwide meetings of bishops included diocesan consultations with lay and ordained experts and, in some places, open surveys of the faithful about the state of family life.

At the close of the October 2015 synod in Rome, some 270 bishops issued a lengthy document, meant to advise Francis. That document notably recommended a significant softening of the church's practice toward those who have divorced and remarried.

Now, with most signs pointing to the end of March, the pope is expected to issue an apostolic exhortation on the synod. It should sum up the debates and decisions of the closely watched synod meetings, but, as with anything from the predictably unpredictable Argentine pope, it is unknown what direction Francis will take in his writing.

He could simply restate what the bishops said in October in their 94-paragraph final document, adding details here or there, but not touching on controversial topics too closely.

Or he could do what he did with the discussions from the 2012 synod on new evangelization, tossing aside the synod fathers' concerns to write his own manifesto, 2013's Evangelii Gaudium ("The Joy of the Gospel").

One of the participants of last year's synod said that while he does not expect the exhortation to be a "bombshell" document, that "doesn't mean it has to be bland or beside the point."

"I expect the papal document to be a typical Bergoglio combination of challenge and encouragement," said Archbishop Mark Coleridge of Brisbane, Australia, using Francis' family name. "This pope has a strange ability to say things which can be quite searing but end up being heartening."

Coleridge, who attended the 2015 synod as one of two prelates elected by the Australian bishops, said he hoped Francis could both encourage people who are married or contemplating marriage while "unmasking some of the lies and half-truths that have gathered around marriage and the family in more recent times."

"If the pope can get the mix of encouragement and challenge right, he'll be the unifier that Peter is meant to be, leading us beyond ideological dogfights and confirming us in the faith," Coleridge said.

His reference to "ideological dogfights" refers to many of the debates that took place during the four-week synod last year, when bishops were known to discuss such issues as divorce and remarriage, the use of contraception, and same-sex marriage.

Some of the most controversial conversations centered on church practice toward Catholics who divorce and remarry without obtaining annulments of their first marriages. Current church practice prohibits such persons from receiving Communion.

The final document of that Oct. 4-25 meeting seemed to move decision-making for how divorced Catholics participate in the church to private conversations between individuals and pastors in dioceses around the world.

Suggesting use of what is called the "internal forum," the document said priests can help remarried Catholics "in becoming conscious of their situation before God" and then deciding how to move forward.

"The conversation with the priest, in internal forum, contributes to the formation of a correct decision on what is blocking the possibility of a fuller participation in the life of the church and on steps that might foster it and make it grow," stated the document.

Richard Gaillardetz, a prominent U.S. theologian, said he hoped Francis would put more "meat on those bones" of the final document's mention of use of the internal forum.

"I think at least some of the bishops and a good many theologians like myself would like to see its scope expanded to those couples who would grant the sacramental status of their first marriage [and] lament the existential death of that first relationship," said Gaillardetz, Boston College's Joseph Professor of Catholic Systematic Theology.

"These persons want to acknowledge the presence and activity of the Spirit in their new marital situation and wish to avail themselves of the spiritual nourishment and healing of the church's full sacramental life," he said.

The 2015 synod was also noted for the focus given to family life concerns across the continent of Africa. Many African prelates attending the meeting spoke eloquently about difficult situations of violence or poverty faced by local churches there.

One priest observer from Africa said he hoped the exhortation would "develop a framework" for aligning marriage and family life on the continent more closely to church teaching, but that it would not "succumb to the temptation of facilely baptizing all things African."

"It needs to have a critical edge, because there is much in marriage and family life that cries out for reconsideration and redemption," said Jesuit Fr. Agbonkhianmeghe Orobator. He specifically mentioned gender-based violence, polygamy, and child marriage as issues in Africa.

"I hope the exhortation pays attention to the complex and complicated contexts of Africa and underscores the critical importance of investing in conditions and means that empower people to make better witnesses of the Gospel of the family and effective practitioners of familial spirituality," said Orobator, a moral theologian and principal of Hekima University College in Nairobi, Kenya.

Another issue Francis may discuss in the exhortation is his call for a church that is more "synodal," or where there is better decentralization of governance.

In a speech at the 2015 synod, marking the 50th anniversary of synod meetings, Francis called for a church where everyone -- from the pope on down -- listens to one another and works together to discern God's will.

Quoting from Evangelii Gaudium, the pope said there was a "need to proceed with a healthy decentralization" of church structures.

Coleridge expressed hope that the coming exhortation might expand on the pope's understanding of collegiality and synodality, notably, "what the pope meant ... when he spoke of 'a healthy decentralization,' leaving some decisions to the bishops or their conferences in these most culturally conditioned of areas."

Italian church historian Massimo Faggioli said one sign to look for on the pope's commitment to decentralization is whether he quotes in his exhortation only from the 2015 synod's final document, or also from the debates held over the weeks of meetings at both years' synods.

"If Francis considers and quotes also the debates, then it is important because the synodal process is taken seriously," said Faggioli, associate professor at the University of St. Thomas in St. Paul, Minn.

Gaillardetz also expressed hope that Francis' exhortation would address lesbian, gay, bisexual and transgender people positively.

The theologian mentioned that the report from the 2015 synod was not as open toward gay people as an interim report published from the 2014 synod, which had a section titled "Welcoming Homosexual Persons."

"I hope the pope will recover the gains we saw in the [2014] synod and affirm the graced character of many committed, stable same-sex relationships," he said.

Overall, Gaillardetz said, he hopes the pope will "follow his pastoral instincts, which generally lead him to meet people where they are."

"Modern Catholic teaching has had far too much said on marriage and family that traffics in highly romanticized language often tragically far removed from ordinary human existence," Gaillardetz said.

During a press conference on the papal flight back to Rome after his visit to Mexico in February, Francis said he hoped to have the exhortation published before Easter, March 27.
[Joshua J. McElwee is NCR Vatican correspondent. His email address is jmcelwee@ncronline.org. Follow him on Twitter: @joshjmac.]
A version of this story appeared in the Mar 11-24, 2016 print issue under the headline: Document awaited from predictably unpredictable pope.