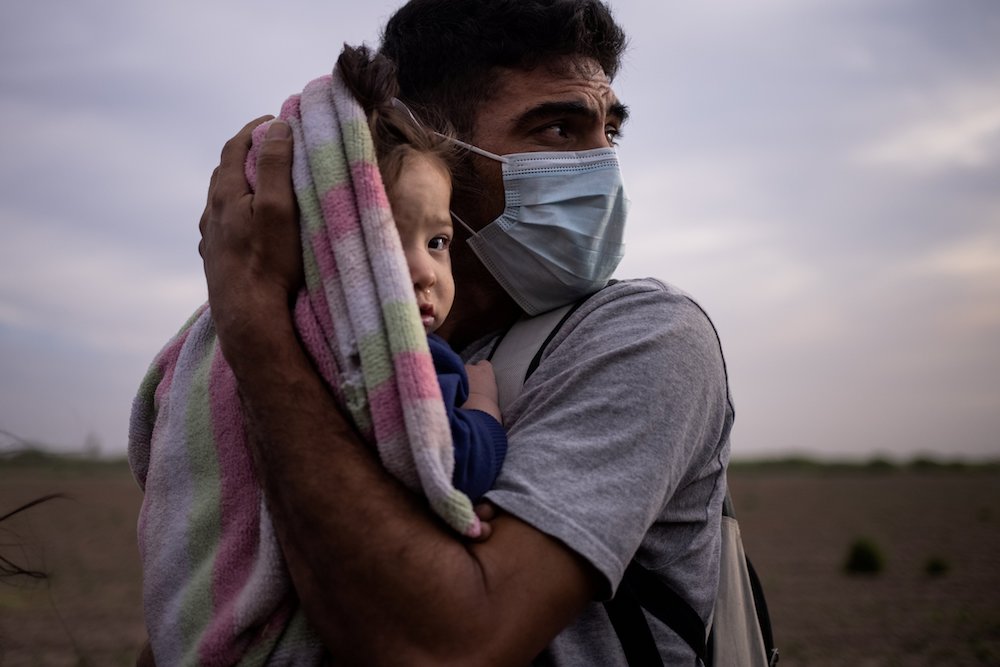 A migrant from Honduras cradles his daughter from the early morning cold and wind after crossing the Rio Grande into La Joya, Texas. Climate change is an underlying cause of migration from Central America and other regions of the world. (CNS photo/Adrees Latif, Reuters)
Editor's Note: EarthBeat Weekly is your weekly newsletter about faith and climate change. Below is the April 16 edition. To receive EarthBeat Weekly in your inbox, sign up here.
Children born today will bear the full brunt of our profligate fossil fuel burning by the end of the century — and Earth Day, coming up next week on April 22, is a good time to remember that.
Greta Thunberg may have become the global symbol of young people's climate activism, but there are plenty of examples in various places. One is Tucson, Arizona, where students from Salpointe Catholic High School raised their concerns April 14 at a virtual meeting with the city's Catholic mayor, Regina Romero, and Bishop Edward Weisenburger.
Noting that the "new normal" for weather in Arizona includes wild temperature swings — from a high of 80 degrees Fahrenheit to a low of 30 F within 24 hours — Felipe Garcia, a sophomore at Salpointe, said, "A future in which we do not have the resources to thrive scares me."
Salpointe Junior Isabella Clanfield added that she belongs to her school's Earth Club because she is "worried and stressed" about the state of the planet.
"Sadly, many people my age feel like the weight of the world is on our shoulders," she added. "We have grown up seeing these drastic changes, like extinction and wildfires, become the norm. We feel powerless. We have grown up in a world that we know can do better."
Both Weisenburger and Romero pointed out that the science about climate change is clear — what's lacking is the moral urgency, which Pope Francis has highlighted in documents such as "Laudato Si', on Care for our Common Home" and "Querida Amazonia," as well as in countless meetings and informal remarks.
Romero highlighted the health effects of climate change, noting that the most vulnerable people — "the poor communities of color, women, children, seniors" — are already feeling the impacts. And climate change is forcing people from their homes in Central America and other parts of the world, she said, creating climate migrants.
Her responsibility as mayor and as a Catholic, she added, is to ensure that the most vulnerable are protected. "And so it is imperative that we don't go back to the systems that brought us here."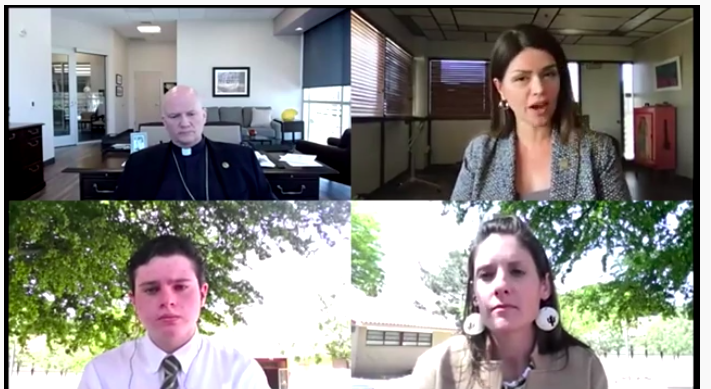 Mayor Regina Romero of Tucson, Arizona, at upper right, responds to a question from Salpointe Catholic High School sophomore Felipe Garcia, at lower left, as Tucson Bishop Edward Weisenburger and Ellen Fisher, Salpointe Laudato S' Committee co-chair, listen. (EarthBeat screenshot)
Weisenburger told the students that while the climate science is clear about the perils of a warming planet, stating facts has not been enough to spur decisive action, so people of faith must speak up — and act — on ethical grounds.
"We've got to be motivated by love — by our religious beliefs," he said. "And then we need to make those sometimes hard choices, choices that reflect who we really are as children of God."
A few years ago, Salpointe's Laudato Si' Committee helped create a Laudato Si'-based curriculum for students in all grades, and the school has taken other steps — such as installing LED lighting and solar panels, harvesting water and recycling — to "build that culture inside every student," Kay Sullivan, the school's president, said.
I asked Weisenburger a question I sometimes hear from EarthBeat readers — what can parishioners do if their bishops or pastors are not as passionate about environmental issues as he is? Both he and Romero advocated taking action as individuals or families, and working with others in the community. The important thing, they said, is to take action, based on the values of faith.
If you'd like to see the entire conversation, you can watch it here. Does it inspire your parish, school or faith group to have a similar dialogue with local church and political leaders? If so, please write us at earthbeat@ncronline.org and tell us about it.
---
Here's what else is new on EarthBeat:
And here's some of what's new in other climate news:
---
Upcoming events:
Last week I asked what readers are doing to mark Earth Day in their parishes or faith communities, and Caroline Nellis of Tri-State Interfaith Creation Care told me about the conference her group is planning for April 24, featuring a former Indiana first lady and GreenFaith's Muslim outreach coordinator.
The second Earth Week of the coronavirus pandemic will feature a wide range of mostly virtual activities, including a bilingual Earth Week Mass celebrated by San Diego Bishop Robert McElroy on April 17, a Vatican-sponsored biodiversity webinar featuring Cardinal Peter Turkson and primatologist Jane Goodall on April 20, and virtual conversations about the links between climate change and investment, ethics and migration.
And today kicks off Interfaith Power & Light's Faith Climate Action Week, with prayer, gardens, movies and more.
You can find details about these and other activities on the EarthBeat Events page. You can also go to that page to submit an event sponsored by your parish, faith group or organization.
---
Closing beat:
Earth Day will mark the start of a 21-day Catholic Environmental Justice Challenge, which invites participants to develop a deeper connection with the place where they live through reflection on issues related to the land, water and air. The challenge, which will end with Laudato Si' Week in May, is organized by the Ignatian Solidarity Network, Catholic Climate Covenant, Global Catholic Climate Movement, Jesuit Office of Justice and Ecology and Sisters of Mercy.
If you like EarthBeat Weekly, please share it with a friend. Feel free to pass along the link to EarthBeat Weekly on our website. Or if you prefer, you can sign up here to receive the newsletter in your inbox every Friday. Thank you for reading EarthBeat!