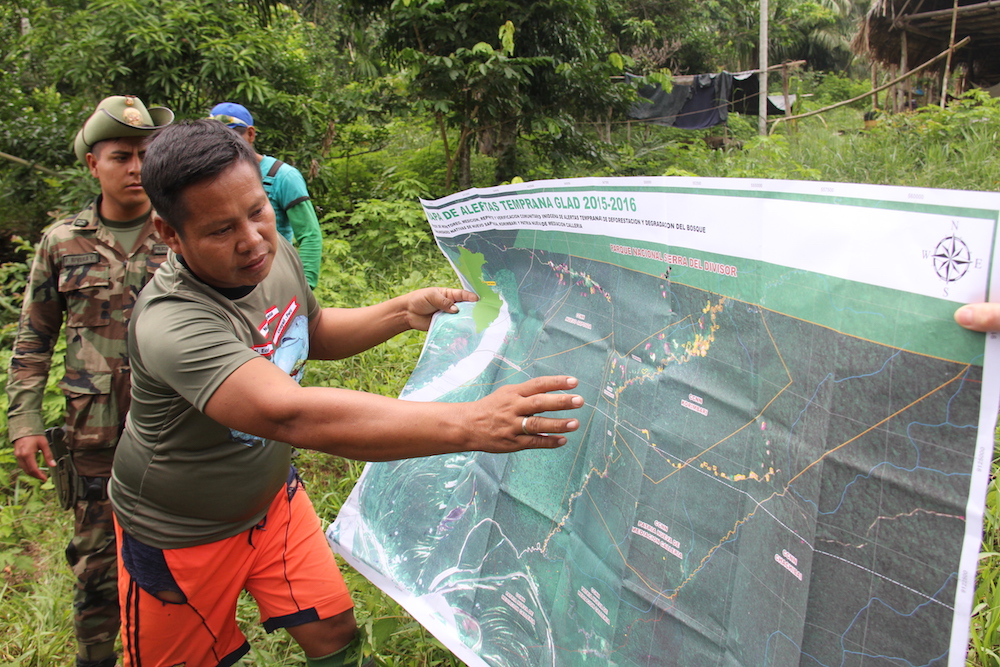 A community leader in Peru's Ucayali region indicates on a map the area where outsiders cleared land to plant coca, the main ingredient in cocaine. (Barbara Fraser)
Editor's Note: EarthBeat Weekly is your weekly newsletter about faith and climate change. Below is the March 19 edition. To receive EarthBeat Weekly in your inbox, sign up here.
Early in the novel coronavirus pandemic, I heard a Peruvian archaeologist describe moments in the history of Peru, where I've lived for three decades, when the aftermath of epidemics gave outsiders the opportunity to take over swathes of land, particularly in the Amazon Basin.
I thought it would be difficult for that to happen now, since many Indigenous communities have title to their land and others have titling under way.
But I was wrong.
Amazonian communities, many of them Indigenous, are facing increased threats from organized crime as countries prove unable — or unwilling — to battle illegal activity along with the pandemic.
In the past month, three leaders of Amazonian Indigenous communities in Peru — one a woman who was a founder of her village, one a young man in his 20s — have been brutally murdered, apparently because they stood in the way of drug traffickers. That brings to seven the number of community leaders killed during the pandemic for opposing illegal activities on their lands.
Peru is one of three countries —neighboring Colombia and Bolivia are the others — that produce the coca leaves that feed the world's cocaine addiction. Coca is a reliable cash crop, yielding several harvests a year, but it is also a magnet for violence.
Leaders of Indigenous communities in Peru's Ucayali region have complained in recent months of a lack of protection against drug traffickers, and a Peruvian newspaper reported that 46 clandestine landing strips for drug-running planes have been hacked out of the tropical forest in the region, which is about the size of Massachusetts. Thirteen were in Indigenous territories.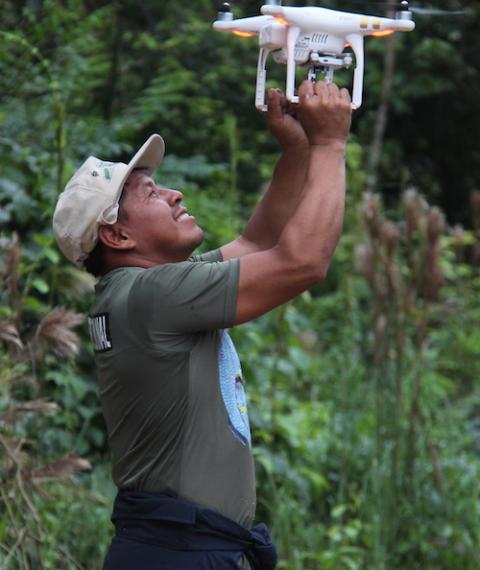 A man catches a drone that was used to locate coca fields in his community's territory in the Peruvian Amazon. (Barbara Fraser)
The eight bishops in Amazonian Peru issued a statement March 18 calling for the government to finish titling Indigenous communities (it takes just a year for a company to get a forestry concession, while the titling process for communities takes decades, they note), end discrimination against Indigenous people, and address the corruption that allows illegal activities to go unpunished.
"The government's efforts have been totally insufficient to protect [Indigenous peoples] and guarantee legal rights to their territories," the bishops wrote.
"We see the advance of land grabbing, invasion of communal territories and expansion of drug trafficking and single-crop plantations, especially for palm oil, in various parts of the Amazon," they added. "All of this amid increasing corruption of public officials and discriminatory treatment of Indigenous people who defend and demand title to their territories."
The result, they said, has been the murder of Indigenous leaders and the plundering of their lands.
The Peruvian bishops' statement came shortly after Brazil's bishops joined with scientists and others in that country to speak out against the Brazilian government's inept handling of the coronavirus pandemic under President Jair Bolsonaro, who has denied that COVID-19 constitutes a crisis.
In both countries — which together account for more than two-thirds of Amazonian forests — the pandemic has weakened government institutions and diverted attention from law enforcement. Organized crime groups trading in timber, gold and drugs are taking advantage of the vacuum. Deforestation is up; protection for Indigenous communities, which is not a priority at the best of times, has plummeted.
Pope Francis spoke out about the dangers facing Amazonian Indigenous peoples during his visit to Peru in January 2018. And he wrote eloquently of the region's importance to the world in the papal exhortation that followed the 2019 Synod for the Amazon. But those lessons appear to be fading.
Viewed from the U.S., this problem may seem remote, especially amid the immediate crisis of the pandemic, but our planet's ecosystems are all interconnected, and we humans are part of them. If tropical forest countries come out of the pandemic less able — or less willing, or both — to keep their forests standing and to protect the people who in turn depend on and protect the forests, we will all suffer the consequences.
---
Here's what else is new on EarthBeat this week:
Here's some of what's new in other climate news:
---
Upcoming events:
Daniel DiLeo, director of the Justice and Peace Studies Program at Creighton University, will present a virtual lecture on "Climate Change and Catholicism: Climate Justice as Essential to Catholic Mission" at 7 p.m. Eastern Time March 22. The lecture, sponsored by Clarke University, will be followed by a reflection by Archbishop Michael Jackels of Dubuque, Iowa.
You can find more information about this and other upcoming events on the EarthBeat Events page.
---
Closing beat:
Earth Day is just a month away, and this year the world will be watching as leaders from around the globe join President Joe Biden for a climate summit in Washington, D.C. The U.S. is expected to announce its new greenhouse gas emission-reduction commitments as part of a year devoted to making up lost ground on climate.
As always, though, Earth Day will be a time for local action. How is your parish, faith group or community organization planning to celebrate the day devoted to our common home? Drop us a line at earthbeat@ncronline.org to tell us your plans and share the resources you've found most helpful.
If you like EarthBeat Weekly, please spread the word! Feel free to pass along the link to EarthBeat Weekly on our website. Or if you prefer, you can sign up here to receive the newsletter in your inbox every Friday. Thank you for reading EarthBeat!