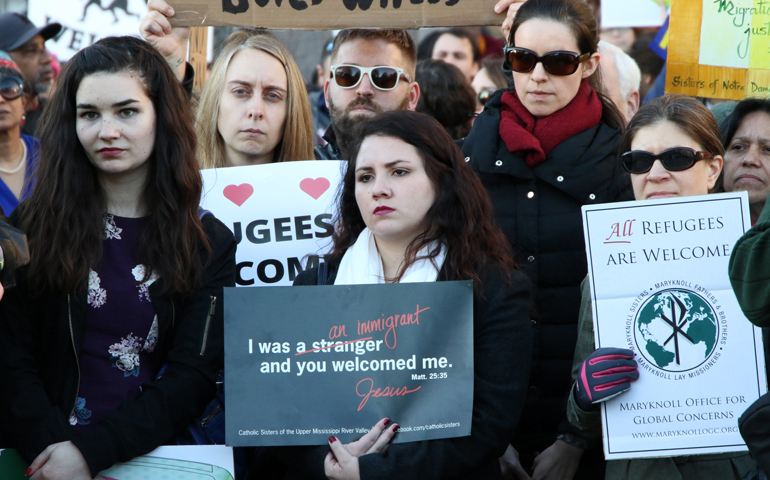 People protest against President Donald Trump's immigration policies during a demonstration near the White House in Washington Jan. 25. (CNS/Gregory A. Shemitz)
President Donald Trump is forcing us — Americans, conservatives, liberals, people of all parties and no party, believers, unbelievers — to consider ourselves in ways and at levels unprecedented in modern U.S. politics.
The irony is almost unfathomable that the man who appears incapable of a self-effacing thought should be causing such a pandemic of national introspection.
How did this happen? Why? Do words matter? Is there a meaningful difference between spreading easily provable falsehoods and lying? Are our politics bound at all anymore by convention and tradition? How dangerous is this unpredictable man newly inaugurated to the most powerful office on Earth? We have had questions such as these in the past, but never as many at one time and never as unsettling to the degree they are today.
As unusual as the recent election are the unprecedented displays of opposition that surfaced immediately after Trump's election and as his administration's policies emerged. Millions showed up in cities large and small throughout the country for planned demonstrations the day after Trump's inauguration.
---
Related: Global Sisters Report's coverage of the Women's March on Washington and other similar marches on Jan. 21
---
Even more impressive was the sight of thousands who materialized at airports within hours following the president's executive orders banning immigration from seven majority Muslim countries.
Candidate Trump knew how to tap into a seething anger among a segment of the American public, using it to his advantage as he bullied and insulted his way to nomination. But something deeper in the American soul is being stirred now that he is president, a profound discomfort for many at acquiescing to a view of the world that is at once rigidly dualistic and rife with ideas about security that seem derived from an earlier century. That stirring is creating a confrontation between Trump's dystopian, combative worldview and an understanding that the American character is at its best when the people's pragmatism is heavily influenced by a generosity of spirit and when fear of the other yields to more fundamental insights regarding our common humanity.
If there is a silver lining in any of the frenetic activity of Trump's first days as president, it is that he has inspired, as he never intended nor probably foresaw, a coalescing of opposition activism missing from Hillary Clinton's failed campaign.
A danger lurks, however, even in the growing consensus that something is seriously amiss. The intellectual framework that undergirds the program of candidate-Trump-turned-president is not only inherently xenophobic in world outlook, it is also unreservedly divisive regarding domestic issues and riddled with racist cant, intolerance and sweeping, incorrect representations of the lived reality of African-Americans, Latino immigrants, Muslims and others. It requires no conspiracy theories to be deeply concerned that Steve Bannon now has the opportunity, as Trump's chief strategist, to regularly whisper into the president's ear. Bannon is one of the era's premier conspiracy theorists who, as head of Breitbart News, provided a home for the white supremacists who call themselves the "alt-right." He was recently made a charter member of the country's most important security group.
The growing opposition, if it is to be sustained and meaningful, has to include the concerns of people of color within this country, especially African-Americans, descendants of the involuntary immigrants who knew the culture's original sin of dehumanizing exclusion.
We are heartened by the immediate response of the broad religious representation of groups condemning orders on immigration Trump issued at the end of his first full week in office. Especially notable for Catholics were the statements released by Chicago Cardinal Blase Cupich, who declared that the "weekend proved to be a dark moment in U.S. history," and by San Diego Bishop Robert McElroy, who described the orders as "just such a shameful abandonment for the United States" and "the introduction into law of campaign sloganeering rooted in xenophobia and religious prejudice."
Continued Cupich: "These actions impose a sweeping and immediate halt on migrants and refugees from several countries, people who are suffering, fleeing for their lives. Their design and implementation have been rushed, chaotic, cruel and oblivious to the realities that will produce enduring security for the United States."
The orders on immigration were the capstone to the administration's first week in office, one of chaotic imposition of executive orders, leaving people depending on the Affordable Care Act, for instance, threatened with loss of health care with no alternative in sight. It saw Republican legislators behind closed doors wondering if the administration was leading them into a political trap with the quick rush to dismantle Obamacare.
It also raised anew discussion about the efficacy of torture and whether it would be permanently banned as a tactic used on prisoners of war. And it also saw the rearranging of the president's Security Council to include Bannon, a rank political operative.
There was an especially tense moment, as federal agencies at airports were attempting to decipher the extent of the president's immigration ban and how it were to be interpreted, when there was a real possibility that the country was headed toward a constitutional crisis. There was more than a hint that the administration might ignore court orders staying portions of the executive orders. Then he fired the acting attorney general.
Not a bad first week if the goal is constant disruption, unpredictability and deflection of the important issues at hand.
This manner of governance can't be left to itself. Key, however, is to realize that the same kind of primordial response to a perceived threat that we saw in the international arena the last weekend in January will follow on the domestic side of things. Trump has not changed in the transition from candidate to officeholder as many, even in his own party, openly hoped. What we know is that his view of things, a kind of reptilian response that sees only threat or domination, only winning or losing, is incapable of comprehending or considering anything between those extremes.
He is a political unknowable, an empty vessel into which has been poured a toxic combination of hatred and despair, frustration with a dysfunctional political system and the poison of easy answers. The coalition that is building to combat his venomous approaches to the country and the world at large must reach out to all and especially to the poor, the disenfranchised, those threatened because of skin color or religious affiliation and those who dare to speak up in opposition.
Catholics have a profound and long tradition of social justice teachings, insights that flesh out the demands of the Beatitudes, that keep us focused on what to do and how to respond amid the chaos of any moment. The teaching counters the worldview built on the need to demonize the other and create enemies; it replaces the clenched fist poking the air from the inaugural stand with an open palm of welcome and an embrace. We know how to do this.
A version of this story appeared in the Feb 10-23, 2017 print issue under the headline: The opposition grows.