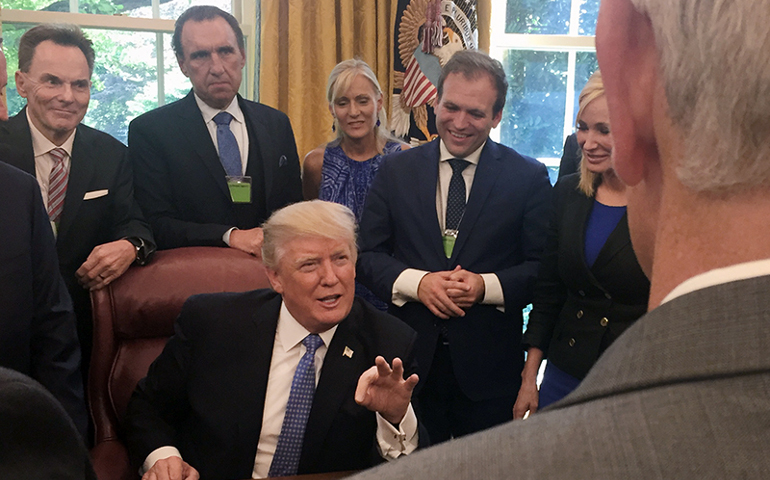 Ronnie Floyd, from left, Rodney Howard-Browne, Adonica Howard-Browne, Johnnie Moore, and Paula White stand behind President Trump as he talks with evangelical supporters in the Oval Office at the White House. (Photo courtesy of Johnnie Moore)
President Donald Trump's announcement on Twitter that he was banning transgender people from serving in the military seemed spontaneous and reportedly caught some administration officials and congressional leaders by surprise.
But evangelical Christian leaders who informally advise the president discussed reversing the year-old policy at the White House two weeks ago, according to a tweet by David Brody of CBN (Christian Broadcasting Network) News.
A number of those leaders, including some who had been on Trump's evangelical advisory board during the campaign, attended a daylong meeting at the Eisenhower Executive Office Building next to the White House on July 10. Photos shared widely on Twitter showed them laying hands on the president in prayer afterward in the Oval Office.
Those in attendance did not reveal what they had discussed at the meeting or with the president, except to say the unfolding Russia investigation was not a topic. It was not clear from Brody's tweet if this is the meeting he was referring to.
Brody also tweeted that Trump's evangelical advisors had sent the president a letter this week asking him to reverse the policy on transgender people serving in the military.
And he added his praise for the president's decision, tweeting, "The transgender announcement by @POTUS is more proof that @realDonaldTrump has become a dream come true for conservative evangelicals."
The Trump White House continually has turned a spotlight on the Christian Broadcasting Network, with former Press Secretary Sean Spicer appearing on its new online show "Faith Nation," and the president himself sitting down to an interview with "The 700 Club" host Pat Robertson in recent weeks.
The announcement of the ban on Wednesday drew both cheers and condemnation from leaders of all faiths.
The New York Times and other outlets reported it came in response to a fight on Capitol Hill over whether taxpayer money should pay for gender transition and hormone therapy for transgender people in the military.