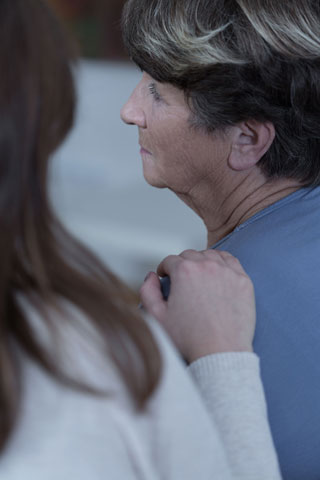 It's not about individuals; it's about a community. (Dreamstime/Katarzyna Bialasiewicz)
I was a 20-year-old, filled with idealism and hubris, when I wrote an essay for U.S. Catholic magazine that was published in January 1971, under the headline: "Let's Get Rid of Funeral Homes."
Jessica Mitford's 1963 book The American Way of Death, about abuses within the funeral home industry, was still a bestseller. I'd read it or at least enough of it to take high umbrage at the ignorance of funeral practices. My essay began: "The way we Americans are burying our dead is an exercise in vanity and pomposity. It is based on the unchristian principle of somehow providing creature comforts for a body whose only future is maggots and worms."
Ah, the ham-handed certainty of the young. What did I know about grieving?
I was so wrong.
Certainly, the commercialism of funerals can be taken overboard. But I'm so much less judgmental today about how people spend their money in saying goodbye to a loved one than I was back then.
Even more, I was blind then to the role that wakes play in coping with such a loss. Wakes, I wrote, are essentially a waste of time: "The wake tends only to put off the inevitable sorrow, rather than make it any easier."
Well, no.
It's a lot more complicated than that, as I've learned from experience. A lot less cut-and-dried. It's not about money; it's about emotions. And it's not about individuals; it's about a community.
In the near half century since I wrote that piece for U.S. Catholic, I have come to understand that a wake is a version of a funeral Mass and that a funeral home is a church by another name.
This hit home to me first in 1995 when my mother died. She was 69 and had 14 children, of whom I am the oldest. As she and Dad had decided earlier, she donated her body to science. On the day she died in the condo they shared in a suburb of Chicago, with nearly all of their children and many grandchildren present, her body was carried out by gentle, somber men from the funeral home that a family friend owned. And we never saw it again.
Two years later, our Dad received her ashes, and the family held a ceremony at the local cemetery where the ashes were buried in a family plot.
Of course, at the time of her death, we had a funeral Mass. The church was packed with hundreds of people who were friends of our parents or friends of us children. Before and after the Mass, people touched base quickly with family members to extend their condolences. Some went to the luncheon the family hosted. It all happened so fast. It was over in a couple hours.
My understanding is that a wake wasn't held because it wasn't needed, since Mom's body had been shipped off to some medical school. There was no need to spend the money on a wake. And, with parents who grew up during the Depression, our family had always lived our lives watching our spending.
We were feeling such pain, all of us, at the loss of Mom that I didn't want to stir things up by asking Dad if we could have a wake.
But I felt enough of a need that my wife, Cathy, and I, and our kids, David and Sarah, borrowed from the tradition of our Jewish friends and sat shiva for two nights. We let it be known among our friends that we would be at home for two nights when people could come to express to us their condolences. In other words, it was like the old-time Irish Catholic wake, only there was no body in the back room, and we didn't get quite as rowdy as people sometimes did at those home wakes.
Which isn't to say we didn't have a good number of laughs. There was lots of good food that people brought. The key thing, of course, was that, as a community, we and our friends came together to face the sorrow of our loss. Few of those who visited us during these two nights knew my mom, but they knew me -- so, in a way, they did know Mom.
We are, after all, part of the same fabric of life, a fabric woven by each of our individual threads.
The same thing happened a few years later when, at the age of 81, Dad died. Like Mom had, he donated his body to science. We had a funeral Mass, but no wake. Dad didn't want one. Cathy and I and our kids sat shiva.
Shiva was, again, a life-giving and life-affirming experience. I was touched, and my family was touched, by the concern and care of our friends.
Then, just a few days before this past Thanksgiving, my brother David Michael died suddenly at the age of 64.
He was born just 14 months after me, and we were the two oldest brothers for our other two brothers and 10 sisters. He was called David Michael to distinguish him from our father, who was David Joseph. The family has three other Davids, including my son, another David Joseph.
David Michael was the first of us siblings to die, and his death left a rip in the fabric of our family.
We know that, over time, that rip will be repaired, but the fabric will never be whole again. We will always miss David Michael. Yet, we also know that he is still with us since, throughout his life, he helped nurture and shape us, and we shared so much together.
For complex reasons, David Michael was very much anti-religion. He gave strict instructions to have his body cremated. He allowed a wake to be held, but required that no prayers be said there. He did not want anything to do with a funeral Mass.
So we had what could be seen as a completely secular wake.
Nonetheless, from my perspective as a believing Catholic, the gathering was filled with blessings, even if no mention of God was made. (Actually, in my eulogy, I did mention that I had this image of God welcoming David Michael with open arms and a big hug, but noted that my brother would probably come back as a ghost to haunt me if I talked any more about it.)
Even without the words or trappings of faith, the funeral home was a kind of a church. It was the place where the community of our family and the community of all our friends and relatives came together to celebrate David Michael and to share the sorrow, loss and pain of his death.
The wake itself was a sort of funeral Mass. Instead of the consecration and the Bible readings and the prayers, our scripture was our memories of David Michael, and our ritual was our reaching out to each other -- to hug, to give support, to listen, to express our confused and agonized feelings.
This was a rich and comforting experience for all of us, mourners and those who came to share our mourning, no matter what our system of faith or our denial of any belief.
There was, said my sister Mary Beth (born 11 months after David Michael), a sense of warmth and support. Like love, this coming together of a community had no rules: "Cry, laugh, smile, hug, pray -- just be there for each other. Just feeling the love of one another made me feel like David Michael was beside me. Listening to my family speak and tell stories gave me the peace I needed to say goodbye."
As a believing Catholic, I felt God in that room for those six hours of the wake. "Wherever two or more are gathered." Not everyone was there in God's name, but they shared in the blessing, the grace, of our being together.
And then we had to go on with our lives.
For all of us, but especially for his family, we go forward knowing that he is no longer with us as someone we can call up on the phone or see at family parties. Yet, in a real way, he's still with us, down into the marrow of our bones.
And the grace and blessing of his wake is continuing as we continue to lean on each other and support each other, as we continue to share our sorrow and recall our joys.
That 20-year-old who, nearly half a century ago, railed against funeral homes and wakes didn't know what he was talking about. But, please, don't judge him too harshly.
He has learned since then how rich and comforting and beautiful and spiritual the gathering together of the community of family and friends is in the face of sorrow and loss.
Even if it isn't officially called "church."
[Patrick T. Reardon is the author of five books, including Daily Meditations (with Scripture) for Busy Dads.]
A version of this story appeared in the July 1-14, 2016 print issue under the headline: Finding comfort in community.