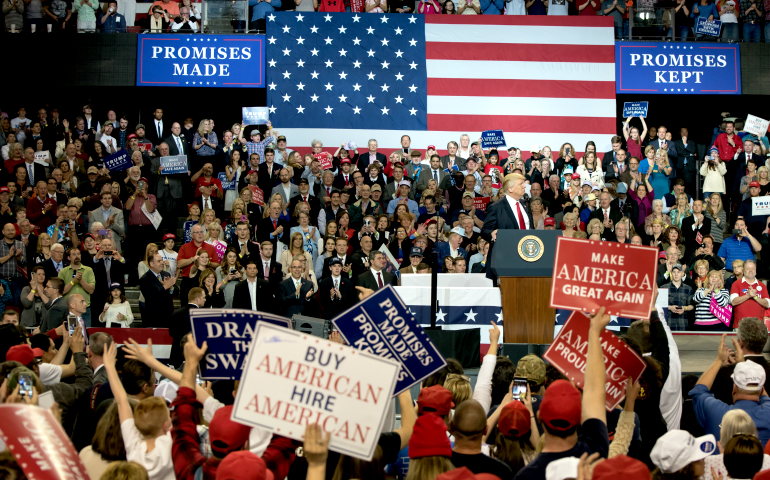 President Donald Trump addresses supporters at a rally inside Freedom Hall in Louisville, Kentucky, on March 20. (Dreamstime/Joe Tabb)
Donald Trump and Hillary Clinton may be polar opposites in terms of policy, politics and temperament, but a May 1 panel discussion placed them briefly on the same patch of common ground, a place where a foreboding politics of gloom prevails.
The event, "Catholics and Politics in the Age of Trump," sponsored by Commonweal magazine, was, in some respects, a public enactment by professionals of the living room anxieties experienced in many households today. If the participants had difficulty locating hope in the politics of the moment, the historian among them found a spark or two of it in similarly grim circumstances the country survived nearly 100 years ago.
Conservative author and New York magazine essayist Andrew Sullivan, last to weigh in during the event at the Georgetown University Conference Center, funneled for both sides a distilled essence of their critiques. "The good news," he said at one point, "is that the old Republican, brain-dead consensus collapsed — and it's amazing that it took this one absurd, hideous human being to do it," referring to now-President Trump.
Of Clinton, former senator and secretary of state, he said, "I don't think you can ignore the unique awfulness of Hillary Clinton as a candidate, as a politician and, to many people, as a human being. She doesn't compare to Trump in that respect but there were a lot of Obama voters who voted for Trump — 32 percent — because they hated Hillary Clinton."
If there is in his analysis — and there was no rush to push back on that take for most of the evening — little to look forward to on the political landscape, hope was rescued a bit by Leslie Woodcock Tentler, a historian at the Catholic University of America who sees in the current era strong echoes of the 1920s. That was a period, she said, when the mostly Catholic immigrant population from Southern and Eastern Europe was both expanding and considered non-white by the dominant population; when the Ku Klux Klan was resurgent, particularly in the North; and when Catholics were widely regarded with suspicion and were the targets of the kinds of religious and racial epithets hurled today at Muslims.
While people were hurt in that moment and longer-term damage was done by anti-immigration legislation responding to the nation's fears, "the poisonous politics of the 1920s did not last," Tentler said.
The Klan "imploded by 1925 and by 1928 the Democrats had nominated a Catholic for president," she said. "He may have lost, but he got significantly more votes than the Democratic candidates in 1920 and 1924."
For John Gehring, Catholic program director at Faith in Public Life and a contributor to Commonweal, the danger of this era for Catholics is not as oddities in the culture but rather in the embrace of Trump by white Catholics, including many Catholic leaders, and by the wider Christian community.
The categories normally used to evaluate a politician — left-right, blue state-red state — break down when analyzing Trump, he said. "So my objection to this administration doesn't necessarily begin with just a progressive policy critique. It begins with a traditional understanding of human dignity and the common good. It begins with an understanding of what the beatitudes mean in public life,"' he said, referring to a section of the Christian Scriptures, "what the Hebrew prophets teach us, what we might think of as a politics of Matthew 25 — the least, the last and the lost — and how we'll be judged by that."
Such standards would be difficult for anyone to match, he said, "but Trump seems to flout those elements as recklessly as he tweets every morning. We have to grapple with the cold reality that a majority of white Catholics played a very decisive role in putting this man in office. That points to a deeper theological crisis at the heart of white Christianity."
Sullivan thinks that a major difference between today and the early 1920s is both a "vast discomfort with the very fast-changing demography of America" and the fact that giving expression to the discomfort "is forbidden."
Likewise, he said, "it's forbidden to really acknowledge that the white working class, or the working class in general, are not just facing economic problems, they're facing economic apocalypse."
While for many in Washington, questions generated by automation, technology and collapsing industries are considered interesting from a technical point of view, "clearly for a lot of people out there, it is a very pressing need. They see no future for themselves, they see no future for their communities, and they saw, in the elites of both parties, no one talking to them."
Into the breach stepped Trump, "and the first thing we have to understand is that he was answering questions that we have not properly asked and to which the elites of both parties never had answers. He provided completely lunatic solutions to these things, impractical solutions to these things. But it mattered more to people that he seemed at least to be talking about the reality they were living. So that was a Democratic deficit."
His hope, he said, is that in three months Trump has demonstrated that "he can't actually do anything," even though Republicans have a majority in both houses of Congress and their choice in Judge Neil Gorsuch on the Supreme Court. The failure, believes Sullivan, is due partly to Trump's "incompetence and also partly because what he wants to do is what most people don't want to happen, when push comes to shove."
At the same time, Sullivan said, "his support is incredibly robust. We've witnessed three months of what I think is just an unbelievably incompetent, hideous mess, and he's still at 42, 43 percent" approval.
Mounting a defense of Clinton, Tentler said, "Let me just make a plea for women here," arguing that it is difficult to be "a female in a public position. It is particularly hard to be an aging female in a public position." Tentler said she thought "Clinton would have governed better than she campaigned."
Sullivan, chuckling, replied, "Well, that's not saying much."
The discussion was introduced by Commonweal editor Paul Baumann, and moderated by associate editor Matthew Sitman.
[Tom Roberts is NCR editor at large. His email address is troberts@ncronline.org.]