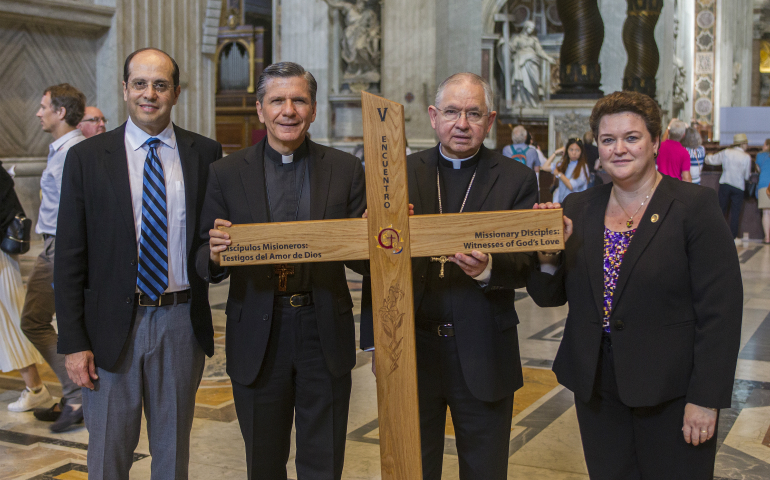 Leaders in ministry to U.S. Hispanic Catholics stand in St. Peter's Basilica at the Vatican in 2016 with the Encuentro cross: Alejandro Aguilera-Titus, national coordinator of V Encuentro; Archbishop Gustavo Garcia-Siller, Archbishop Jose H. Gomez and Mar Munoz-Visoso, executive director of the U.S. bishops' Secretariat of Cultural Diversity in the Church. (CNS/Robert Duncan)
With the V Encuentro underway, those in charge of spearheading the needs vocalized by U.S. Hispanic Catholics convened to discuss progress and obstacles already made evident.
The V Encuentro is a four-year process that begins with conversations at the parish level (currently going on throughout the country; in English the word means meeting or encounter) and, after flowing through the diocesan and regional levels, culminates on a national stage in 2018.
Once the conversations and deliberations have ended, following next year's national Encuentro in Dallas, the Pastoral de Conjunto — a group of 10 national organizations involved in Hispanic ministry — will be the ones to "take charge and make sure that whatever plans that come out of [the V Encuentro] are promoted, supported, sponsored and carried out," said Elisabeth Román, president of the National Catholic Council for Hispanic Ministry.
Their gathering in Cullman, Alabama, held March 20-22, therefore, had to tackle important organizational questions surrounding the progress of the ambitious goals. The V Encuentro intends to involve 1 million Latino Catholics directly, touch another 7 million Catholics indirectly, and inspire 20,000 new Hispanic leaders to inherit the ministry.
"We needed to talk about where we are in this process and what we want to get out of it, because this is a process to listen to the voices of the Hispanic church," Román said.
"And not just Hispanics; the invitation to participate in Encuentro is for everyone, but it is to focus on Hispanic ministry as the needs continue to grow. So we're taking the voices from the pews on up to the bishops at next year's Encuentro, and once those voices get there, what happens afterward?
"We have to make sure that what needs to be done in terms of ministry and pastoral care gets done."
Estela Villagrán Manancero, director of the Office of Latino Ministry for the St. Paul-Minneapolis Archdiocese, and president of the National Catholic Association of Diocesan Directors for Hispanic Ministry, said this meeting was essentially a "consultation with Encuentro," as the groups identified areas for collaboration and assigned roles each organization will take on following the process.
While Encuentros at the parish level continue through June, the Pastoral de Conjunto analyzed best practices and obstacles. Who's left out? What goals are proving wishful? Is there any confusion in the roll-out?
Though acknowledging that not all parishes are involved or even aware of the process, Román said she's encouraged by the enthusiasm she sees in her own Chicago Archdiocese, which joined the V Encuentro late but already has almost 30 parishes participating.
"Everyone who participates becomes missionary disciples, and that's our goal," she said. "That's why the V Encuentro has been supported from the pope on down, because it is a process to create missionary disciples and to deal with the reality of Hispanics in the church and our needs."
With young Latinos claiming a majority of Catholics under the age of 18, bringing them into the fold of the church and allowing them a platform is imperative with regard to the future of the church. That in mind, Román said the Pastoral de Conjunto plans to support La RED, a national organization devoted to Hispanic youth ministry, with their 25th anniversary this winter.
"Many times we say we need to work with young people, but then they don't get resources or support," Román said. "That was one of the most important things to come out of our gathering, 'Is our journey to walk together with young people?' — and the urgency of doing so. Otherwise, we're not going to have a church, and we're not going to have leaders."
A key goal of the process is to inspire 20,000 new intercultural leaders in the church, a goal that Robert Hurteau, president of the Federation of Pastoral Institute, finds ambitious. His organization works with leadership formation in ministry, and they know "what it takes to put together an adequate program to train people."
Pointing to a recent study by Boston College regarding Hispanic ministry in parishes, Hurteau emphasizes the urgency behind this need, as a "wave of retirement" is coming in the next 10 years within Hispanic ministry; those who have devoted 20-40 years of their lives, he said, are reaching the ends of their careers.
"It's a bit trickier to keep the conversation going productively with our bishops and our pastoral leaders," Hurteau said. "Can we be serious about identifying and recruiting? Can we be serious, to be honest, about employing the people who will replace the people soon up for retirement?"
Formation programs, he said, are not going to be enough unless a lot of long-term thinking is put toward finding the right people in ministry.
The goal of V Encuentro, Hurteau added, is "not to get people trained and do Hispanic ministry, but to get people to be trained in intercultural ministry. How can Hispanic leaders become leaders in the church? Not just over here in this activity among the Hispanic Catholic community and how they organize ministry among themselves."
That the V Encuentro is meant to be an inclusive process focused on Hispanic ministry, however, has not been clear: materials used for the process, heavy with terms such as "Latino" or "Hispanic," Villagrán Manancero said, creates the impression that it's exclusive to Hispanics, discouraging English-speaking communities from participating. She also said that they must take into account the fact that many second-generation Hispanics don't speak Spanish, either. (In her St. Paul and Minneapolis Archdiocese, she said, a couple of parishes are hosting the Encuentros in both languages.)
One group that appeared to feel left behind in the planning process is the Association of Hispanic Priests, as well as deacons, Román said. Consciously including them in the conversations and planning is a vital correction since Encuentros begin in the parishes, she stressed.
"Some of the priests might be saying, but we don't have any Latinos around here," Villagrán Manancero said. "And the idea is, they might not come to your Mass, but they are in your neighborhood, so look around and be aware.
"Even if we cannot go any farther with some parishes, the idea of them realizing and being aware that we are everywhere or that there are Latinos around them and they have to welcome us — that is definitely a positive thing."
But it's still only beginning, Villagrán Manancero said, and while the organizers didn't expect every single parish to be on board, there's a strong sense of "gaining momentum. Everyone is talking about Encuentro."
Since January and through June, parishes throughout the U.S. have been participating in the V Encuentro at its most grassroots level, organizing conversations that will then be relayed to the diocesan, regional and national level by summer of 2018. Though guidelines have been distributed to 5,000 parishes throughout 175 dioceses, if you'd like to present the information to your parish, you can find resources at vEncuentro.org.
"I realize in some parts of the country nothing is said or done, and I understand the activity could be uneven," Hurteau said. "But where it is going on, people are genuinely interested and hopeful that the conversations of Encuentro will lead to a better sense in the church of what the Hispanic Catholic community needs and how it can grow."
[Soli Salgado is a staff writer for Global Sisters Report. Follow her on Twitter @soli_salgado.]