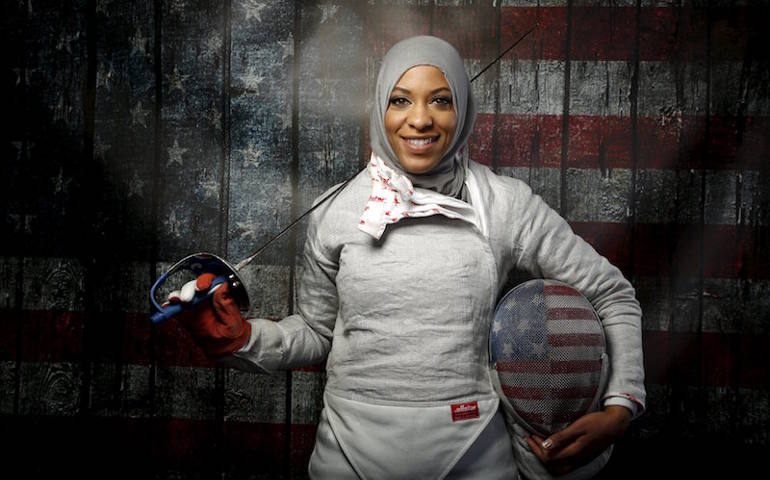 U.S. Olympic team fencer Ibtihaj Muhammad poses for a portrait at the U.S. Olympic Committee media summit in Beverly Hills, Calif., March 9, 2016. (Photo courtesy REUTERS/Lucy Nicholson)
Clothes have a special meaning for 30-year-old fencer Ibtihaj Muhammad.
On Monday, she made history as the first American Olympian to compete in a hijab, winning her first fencing match. In the round of 16, she lost to Cecilia Berder of France. She is also expected to compete in the women's sabre team competition, which begins Saturday.
But as a young Muslim girl in New Jersey, she was often teased and harassed for the sweatpants and long-sleeved shirts she wore beneath her volleyball, track and tennis uniforms.
That changed when her mother saw a group of fencers, covered from head to toe as they practiced in the high school cafeteria. "When you get to high school, you're doing it," Muhammad's mother told the eighth-grader.
Beneath her headgear, her hijab would barely get a second look.
"With fencing, it was this unique opportunity for me to look like my teammates," Muhammad, who made Time magazine's 2016 list of the world's 100 most influential people, told The Players' Tribune last month.
"I didn't have to alter my uniform. For the first time in my life, at 13 years old, I really felt a part of the team," she said.
Muhammad was a member of the 2014 world champion fencing team and is ranked seventh internationally in saber and second in the U.S. But she hasn't forgotten the days of wearing shorts over sweatpants.
Two years ago, she founded the modest fashion label Louella, whose flowing tunics and elegant long-sleeved maxi dresses save Muslim women from having to "buy four different items to layer for one outfit."
Though fencing has historically been a white sport, Muhammad said it allows her to be seen as an athlete above all else.
"You're seen for your skill set and not for your outward appearance -- not for your skin, not for your religion, not for your gender," she told the Player's Tribune, echoing how Muslim women have spoken of the hijab for centuries. "And that's always been really empowering for me."
Still, she is acutely aware that her skin, religion and gender offer America a radically different vision of what elite athletics can look like.
"My experiences in this sport are for that 12-year-old kid being told they don't belong because they are black or because they're Muslim," Muhammad said. "I want to be that image for minority youth."
That's why she has never shied away from speaking up for the black and Muslim American communities. She offered a quick riposte to Republican presidential candidate Donald Trump's proposed ban on Muslim immigration, saying that such hateful rhetoric could hurt Muslim women who "wear their religion."
And in March, she called out South by Southwest when a volunteer at the conference demanded she remove her hijab to receive her ID badge -- even when she explained she wore it for religious reasons.
"When a lot of people think of an Olympic athlete or an American Olympic athlete, they probably don't picture someone who looks like me," Muhammad said. "I realize the importance of being the first Muslim woman to compete for Team USA, and I totally embrace that. I love that I can be that image of change."
To the disappointment of her supporters, Muhammad narrowly missed the chance to carry the U.S. flag at the opening ceremony in Rio. But for her Muslim American fans, nothing can taint the victory she's already won.