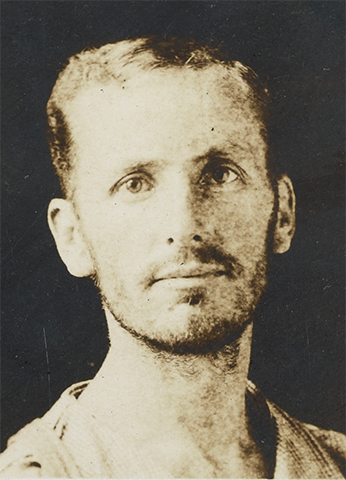 A photo of Ben Salmon from his case file at St. Elizabeths Hospital for the Insane in Washington, D.C. (National Archives and Records Administration)
In less than one year, we will observe the 100th anniversary of the United States' decision to enter the Great War, later referred to as World War I. Our government leaders said that it would be the "war to end all wars." To Catholic church leaders, it was a "just war." Few Catholics had the courage to dispute this claim.
Ben Salmon, a devout Catholic of Denver, did. Salmon, weakened in body by years of physical punishment in U.S. federal prisons, left behind four children. His only still-living child is outspoken in defense of her father, whom she hardly knew. She was 7 when he died.
Maryknoll Sr. Elizabeth Salmon, 91, lives at the Maryknoll Sisters Center in New York. She has had a vibrant, joyous life, including fond memories of her dad. Her father refused to cooperate in any way with the killing machine of war. He was known as an absolutist by some, a slacker by most.
Sr. Elizabeth was born Geraldine Salmon. As a young woman, she had only a hint that her father was a famous person during the Great War of 1914-18. When she was a teenager in a Denver Catholic school in 1940, a friend slipped her a copy of the Catholic Worker. Her classmate pointed to a photo and story about Ben Salmon. Geraldine had only a few seconds to scan the article when a sister took it from her and refused to give it back.
At home, Geraldine asked her mother about the article and was told that all that was in the past and not to be concerned with any of it. In retrospect, Sr. Elizabeth believes her mother was protecting her from those upset with her father's refusal to support the U.S. government.
In high school, Geraldine played several musical instruments. In her first year of college, she was asked to play in Joy Calder's All Girls Band. Geraldine and her sister, Margaret, soon were on the road, doing gigs in cities around the United States and eventually with the USO, playing for troops in World War II. They even sat in with Tommy Dorsey and his band.
After the war, the USO tour booked the All Girls Band around Asia -- Japan, China, Philippines and Korea. In Korea in 1948, Geraldine found she wanted more in life. She had met Maryknoll sisters in Japan and was so impressed, she decided to join the order.
In 1952, after professing her vows, Elizabeth went to lower Manhattan, N.Y., to try to find the article about her father at the Catholic Worker House. She asked a person at the desk if a copy of the Catholic Worker newspaper with a 1940 story about Ben Salmon was available. She sat, spellbound, reading about her father. She was amazed and proud of him. She is still proud, but perplexed. Why did she not get the true story?
Sr. Elizabeth learned that her father had refused to cooperate with the U.S. government when he was given a questionnaire to determine his draft status for induction into the Army in 1917. Salmon opposed the war as immoral, as an abuse of political power, and he firmly opposed the Catholic-held theory of just war. The war was not in conformity with his belief in the nonviolent Christ. Salmon saw no morality or justice in killing -- only power and greed.
Salmon told the media and the government, "The Germans are my brothers. I will not train to kill them."
He was arrested, tried in a military court and convicted of treason, even though he was not in the military. Sentenced first to death and then to a reduced sentence of 25 years of hard labor, Salmon was forced to leave his wife and widowed mother in Denver.
The front-page story of The Denver Post on May 20, 1918, read: "Salmon refuses to leave in draft." On the same page is a story noting: "Cheering crowds bid farewell to 437 men in draft."
Other editions of The Denver Post referred to Salmon as "a man with a yellow streak down his spine as broad as a country highway." The Denver Knights of Columbus ejected him as one of their members.
Salmon was sent to seven different federal prisons during his journey of mistreatment. Often paraded in chains and kept in tight solitary confinement quarters, including over a sewer with crawling rats, he refused to cave in to offers for military jobs. His physical condition deteriorated as he went on a hunger strike to protest his conditions. For 135 days, prison staff shoved a pipe down his throat, pouring in liquids to keep him alive. The military feared bad publicity and did not want him to die.
In prison, he asked for a priest and confession. He was refused. He asked for Communion and was refused. He was a traitor to his country and did not deserve the sacraments.
Baltimore Cardinal James Gibbons, the most esteemed Catholic leader of the time, encouraged Catholic young men to take up arms and fight the enemies in Europe. New York Cardinal John Farley said in 1918, "Criticism of the government irritates me. I consider it little short of treason. … Every citizen of this nation, no matter what his private opinion, or his political leanings, should support the president and his advisers to the limit of his ability."
World War I ended Nov. 11, 1918. By 1920, Salmon was in a Fort Douglas, Utah, federal prison. From prison, he wrote a letter to Newton Baker, U.S. secretary of war.
"I have been illegally imprisoned because I refused to kill or help to kill," Salmon wrote. "Because I am opposed to militarism -- wholesale murder -- you have tortured me in diverse ways for twenty-six months. … I have missed my meals for four days, and I will continue to starve until released by a discharge from prison or by death."
Salmon went on to lecture Baker that the war had produced "17,000 new millionaires in America, but these citizens suffered the influx of gold on behalf of the dear soldiers who were being paid $50 a month to spill their blood on foreign soil."
He ended his letter: "My life, my family, everything is now in the hands of God. His will be done."
The government decided Salmon's determination to follow his faith, mind and heart to not cooperate with his government was a sign of mental illness. Catholics did not oppose war once war was declared. Salmon was considered insane.
He was transported by train (with four guards alongside his frail body) from Utah to Washington, D.C., and placed in a Catholic hospital for the insane, St. Elizabeths.
However, life at St. Elizabeths was not harsh. Salmon requested and received a typewriter. He wrote his story in 260 single-space pages.
In 1920, the American Civil Liberties Union was inaugurated in Washington, D.C. Through the work of the ACLU and Fr. John Ryan, a professor at The Catholic University of America, the secretary of war was pressured to release Salmon. On Thanksgiving Day, 1920, he was freed.
In 1964, Gordon Zahn informed the world of the courage and faith of Austrian war resister Franz Jägerstätter in the book In Solitary Witness. Jägerstätter, executed by the Nazis in 1943, had striking similarities to Salmon. Jägerstätter opposed the Nazi authorities who had overtaken Austria in World War II. He was considered a coward and traitor by his fellow citizens. Yet, Pope Benedict XVI put Jägerstätter on the track to sainthood when he approved his beatification in 2007.
One of Zahn's students at Boston University so admired the courage of Jägerstätter that he asked if there were similar stories in the United States. Zahn told his student, Torin Finney, to research Salmon. Finney's research became the book Unsung Hero of the Great War: The Life and Witness of Ben Salmon (Paulist Press 1989).
Sr. Elizabeth believes her father may have had some influence in the recent discussion of just war at the Vatican (NCR, May 6-19).
"My father knew the truth of the New Testament and the Sermon on the Mount," she said. "My father believed and was willing to die for his belief that no war is just. He knew the lie of war had devoured our culture, including Christianity, during World War I. What would my father say about our endless wars? Would he say all this killing is just? What would he say about the billionaires who continue to reap blood money from weapons-making?
"My father was a brave and good person. I only wish he lived longer for me to really get to know him. I believe he's a saint."
A movement is developing in the Denver archdiocese to promote Salmon for beatification. Theologian Michael Baxter, a professor at Regis University; Fr. Tom McCormick; and a number of other Denver Catholics are supporting the call for beatification.
[Jack Gilroy's plays and novels focus on young men and women who resist war. You can read more at www.franzjagerstatter.com.]