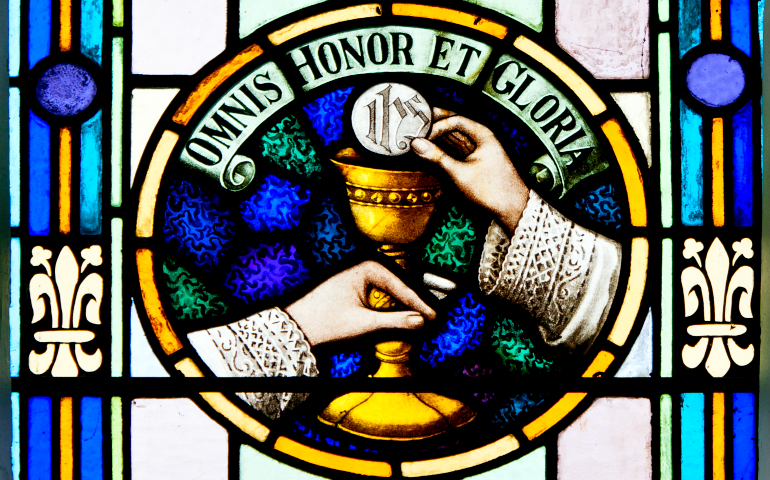 A stained glass window in a church in County Kerry, Ireland, shows a priest's hands during the Eucharistic Prayer. Irish priests' ever-increasing workload is threatening to turn this demoralized and declining group into "sacrament-dispensing machines," says Fr. Brendan Hoban. (Wikimedia Commons/Andreas F. Borchert)
Dublin — December 1, 2016
Irish priests' ever-increasing workload is threatening to turn this aging, demoralized and declining group into "sacrament-dispensing machines" who find pastoral work less and less satisfying, a co-founder of Ireland's Association of Catholic Priests has warned.
In his address to the association's annual general meeting in Athlone Nov. 16, Fr. Brendan Hoban highlighted how suicide is on the rise among Irish priests, a group he said was also increasingly prone to depression.
With the vast majority of Irish priests now age 70 or over, elderly diocesan priests are living increasingly isolated and lonely lives and are constantly "reminded that we no longer really matter, that at best we're now little more than a ceremonial presence on the sidelines of life," he said.
The 68-year-old parish priest said that though "we feel we've done our best to carry the good news," an "avalanche of criticism in the media" meant they were "ritually presented as bad news people, controlling, oppressing, limiting, obsessing."
More than 150 of the 1,000 priest members that the Association of Catholic Priests (ACP) represents heard Hoban explain how the "implosion of our church" in the wake of the abuse scandals had made them realize that they were, in author Fr. Donald Cozzens' words, "the last priests in Ireland."
Stark statistics were cited, such as the plight of "two very prestigious dioceses in Ireland, Dublin and Killala," both of which have just one diocesan priest under 40 years of age. In 20 years' time, both dioceses will have one or maybe a few priests under age 60 to cover 199 parishes in Dublin and 22 rural parishes spread over a distance in Killala.
Acknowledging that diocesan priesthood in Ireland is "a lost tribe," Hoban said priests need to find a voice and the courage to name their truth.
"As the last priests in Ireland, we have a right to consideration, acknowledgement, support, encouragement and, above all, respect," Hoban continued. "Priests who have served the church for so long deserve no less and it's time to start a reasonable conversation about this."
Recalling the years after he was ordained in 1973, he said the churches were full, there were plenty of priests, supportive parishioners, and the church was "a confident, respected and influential presence in Irish society."
Today, among this cohort of aging clergy, there is "a growing sense almost of desperation when we realize how little care, esteem or affection may be in our lives," he noted.
He also highlighted how many priests are struggling at a pastoral level with issues beyond their training and competence, such as how to minister to parents of same-sex couples who may be upset or confused, how to respond to an invitation to a same-sex marriage of parishioners, and what does pastoral care mean in these situations?
Hoban, who has authored books such as Where Do We Go From Here?: The Crisis in Irish Catholicism, warned that the level of distrust between priests and bishops in Ireland is such that a build-up of resentment and anger is increasingly obvious in some dioceses where some bishops are using their positions to "force their personal authority on priests."
The Association of Catholic Priests is now six years in existence and it has made a number of attempts to engage with the Irish bishops. Last May, the first official meeting between representatives of the bishops and the association's leadership took place. While Bishop Ray Browne of Kerry recently wrote to the association about the issues raised during the meeting, according to censured priest Fr. Tony Flannery, the letter was "clearly a 'sugar-coated' push-off for the ACP," as the bishops indicated that they would continue to talk to the chairpersons of priests' councils, but not to the association.
Flannery also criticized Browne's letter for reducing "the care of priests" to a matter of "safeguarding."
"Can they not see that the situation of Irish priests is drastic and urgent?" Flannery asked.
His view is backed by Hoban, who claims that the burden on Irish priests is complicated by bishops willing to manipulate their elderly clergy into postponing retirement beyond 75.
The distrust between rank-and-file priests and the leadership of the Irish church is "exacerbated," according to Hoban, by the selection policies pursued by the present nuncio, Archbishop Charles Brown, which have resulted in "unhappy" and sometimes "bizarre" choices of bishop.
The policy of bishops automatically reporting any anonymous accusations of child abuse against priests to the police authorities was roundly condemned by the leader of the priests' association, who said the practice would be "unconscionable" and much resisted if applied to teachers, lawyers, police or any other professional group.
"The reputation and peace of mind of priests, it now seems, can be damaged forever by someone with a grievance, a sheet of paper and a ... stamp," Hoban warned.
In an interview with national television in Ireland broadcast following the association meeting, Brown, the apostolic nuncio to Ireland, spoke about the extent of the falling away of belief among the Irish people.
He admitted to Gay Byrne, host of the television program "The Meaning of Life," that the "fall off in vocations — especially to the priesthood — is a huge challenge."
However, he said the number of priests working today in Ireland is "almost sufficient for our needs," although many of these priests, he acknowledged, were in their 70s.
"So, in 10 years we are going to be looking at a completely different situation here," he said, adding that "it is a big practical problem."
But he also underlined that globally, since the year 2000, the number of priests around the world is getting bigger every year. "We have more and more and more every year. In Ireland or in France — no. But overall, yes. So, I think we have to recognize one element in this question will be non-Irish priests coming to work in Ireland."
On the issue of mandatory celibacy, Brown, who is a native of New York, defended the church's understanding of a celibate priesthood.
However, another member of the association leadership, Redemptorist Fr. Gerry O'Connor, told NCR that he believed that a strategy such as that proposed by Brown of importing priests is likely to be "counterproductive and lead to further alienation of church members who are holding on by the fingernails."
Describing mission as integral to church life, he said the association is disturbed by the appointment of overseas priests without any mission preparation or orientation about Irish society, the Irish church and Irish culture.
"Priests from overseas is potentially a partial solution, but without appropriate training, preparation, learning and reflection, it will bring more problems than solutions," the Dublin-based priest said. It would "bandage church wounds rather than heal them," and was "another act of a church not listening to its members and supporters."
"That the bishops and the nuncio don't want to engage in a structured way with the ACP is symbolic of a church adrift, a church stuck, a church in denial, a church with 26 kingdoms, an Irish church on a parallel path to that which Pope Francis speaks about, an Irish church attached and addicted to an ecclesial vision that is at variance to what Pope Francis is trying to build," he continued.
He said the association would work toward a national synod for the Irish church. O'Connor also explained that during the general meeting, members had committed themselves to developing lay ministry; welcoming back to ministry married priests; opening up priesthood to married men; and the female diaconate.
"These are all practical and achievable solutions to the current crisis and workload," he said.
While the sense of isolation is not as acute among religious priests as among diocesan priests, according to O'Connor, "religious are as confused and demoralized as diocesan priests about how to be priest in the modern world, and feel the scorn and ridicule of an entrenched secular outlook that pervades modern-day Ireland."
"Depression is very much part of the lived life in religious communities," he said. "The absence of a next generation of religious in most congregations means hope and energy are missing, and there is a gap in theology and ecclesiology between many newer recruits and the older generation, with the older generation sensing that the church will move to the past rather than embrace courageously an uncertain future."
[Sarah Mac Donald is a freelance journalist based in Dublin.]