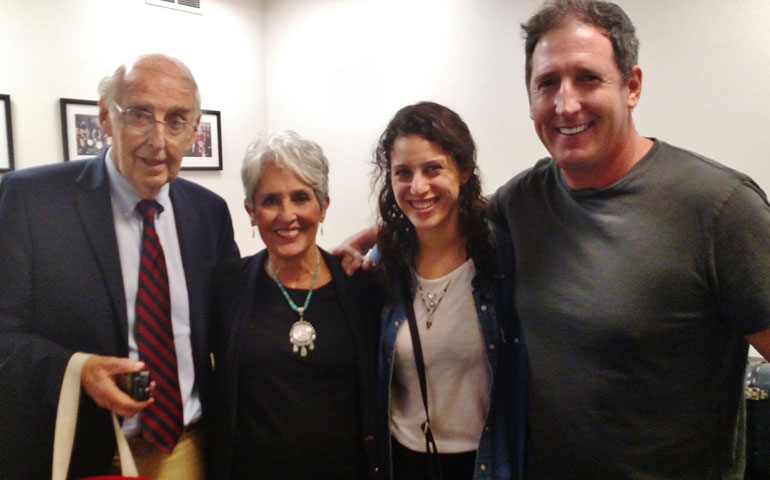 From left, Colman McCarthy with Joan Baez, Celia Goldfarb and Eddie McCarthy
"Good to be back at the epicenter," called out Joan Baez to a packed audience at a Washington theater a few blocks east of the White House Oct. 16. The gentle wisecrack drew appreciative laughter, much as her singing would evoke gratitude for the next two hours, much as her lifelong commitment to pacifism and nonviolence earned her in a singular place in the American peace movement.
This was about the 20th time Joan and her office manager, Nancy Lutzow, invited me to one of her concerts. Our friendship began in the late 1970s when the capital was a stopover on her returning home to Northern California from concerts in places like Chile, Argentina, North Vietnam, Turkey and other blighted lands where primitivist dictators were caging political prisoners. Joan, a genuine reliable source, supplied me with documentation about their cases. My columns in The Washington Post all but wrote themselves.
In 1986, on her way to visit her son Gabriel at a Boston prep school, Joan stayed in my home before and after speaking to my peace studies class at American University. She also gave a free outdoor concert on the grassy campus quad, packed with students and leaving no room for even the squirrels. A year or so later, Joan comped 30 of my high school students and me for an evening at Constitution Hall and backstage get-together after.
A precedent was set: guest passes for the concerts and visits after. At the recent Washington show, I came with Celia Goldfarb, a senior in my class at Bethesda-Chevy High School in suburban Maryland; her mother, Aviva, a writer of cookbooks and the CEO of The Six O'Clock Scramble, a company that helps overscheduled families enjoy dinners together; and my son Eddie, an athlete who runs the Hamptons Baseball Camp on eastern Long Island.
In her mid-70s, Joan was on the top of her game. In a voice as pure as ever, she sang "Joe Hill" and dedicated it to the Standing Rock Sioux tribe and the drive to protect its sacred land from pipeline desecration. Recalling that her father, Albert Baez, immigrated from Mexico, she offered Woody Guthrie's classic: "Deportees." Hailing The Innocence Project, which was tabling in the lobby, she sang her own "Billy Rose" — "raze the prisons, raze the prisons to the ground."
"As part of the generation of the Justin Biebers, Ariana Grandes and One Directions world," Celia told me, "I've had more than my share of repetitive and meaningless lyrics and manufactured passion. When invited to hear and meet Joan, a star of my mother and grandmother's generation, I didn't know what to expect. But whatever my expectations may have been, they were surely set too low. Not only was her music marvelous, it was so clear that her heart was in it. She believed in what she sang, and often sang on behalf of those whose voices were suppressed."
For Aviva, the evening was "a magical experience."
"Sitting next to 17-year-old Celia, rocking back and forth with her to Joan's inspiring music, and singing along, I was filled with joy and hope and gratitude, even though I arrived at the concert battling exhaustion from a travel- and traffic-filled weekend," she said. "The power of the music, especially when surrounded by a crowd of peaceful and joyful people, was remarkable. To be there with my teen daughter felt like a rare gift. Meeting Joan backstage after the concert was a powerful way to end an uplifting evening. Afterward I downloaded several of Joan's songs to my phone so I can … relive a memorable evening whenever I need a lift."
For Eddie, growing up in a city awash in politics, the concert was a reminder that "Joan has always been a risk-taker and resolute in her beliefs for social justice. Her genius is that the quality of her music backs up her political and moral stands."
Where and when did it start? Baghdad, of all places -- in 1951 when Joan was 10. Her father, a Quaker, taught physics for a year at the University of Baghdad.
"Perhaps that was where my passion for social justice was born," she wrote in her glistening memoir, And a Voice to Sing With. "The day we landed, in the heat and the strange new smells, we were horrified to see an old beggar being driven out of the airport gates by policeman using sticks and shouting in crude and guttural language. In Baghdad, I saw animals beaten to death, people rooting for food in our family garbage pails, and legless children dragging themselves along the streets on cardboard, covered with flies feasting on open sores, begging for money."
For Joan, the energy of that memory keeps driving her, gratefully so for the rest of us.
[Colman McCarthy teaches seven classes on nonviolence at five Washington-area schools.]
A version of this story appeared in the Dec 16-29, 2016 print issue under the headline: Joan Baez earns her singular place in the peace movement.