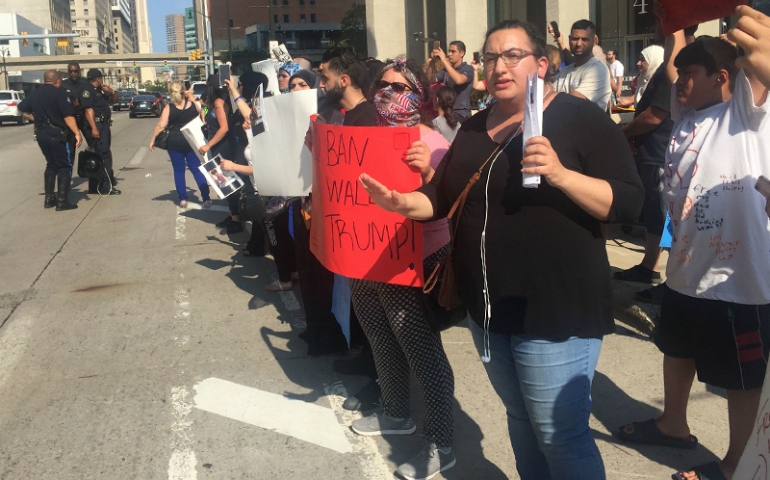 Protesters in front of the McNamara Federal Building in Detroit, Michigan, chant "Stop deportations, bring our families home" on June 14, 2017. (Courtesy of the Detroit Free Press/Allie Gross)
A federal judge ruled Thursday that the 114 Iraqi immigrants facing deportation can stay in the U.S. for at least two more weeks as he sorts out whether the court has jurisdiction. Supporters say the immigrants would face persecution in Iraq since many of them are Christians.
The judge's decision was cheered by the ACLU of Michigan and attorneys for the Iraqi immigrants.
U.S. District Judge Mark Goldsmith said in a written opinion released Thursday: "The stay shall expire 14 days from today, unless otherwise ordered by the Court"
Goldsmith did not make a final determination in the lawsuit, which was filed against U.S. Immigration and Customs Enforcement by attorneys on behalf of Iraqi nationals arrested June 11.
Goldsmith said "the Court is unsure whether it has subject-matter jurisdiction."
The ruling was hailed as a victory by Clarence Dass, an attorney representing more than 20 of the Iraqis detained.
"We are ecstatic," Dass said. "When your life is on the line, each day is a victory. And in this case, 14 days. We now have the breathing room to ensure that every individual detained has the proper motions filed and, ultimately, a chance to be heard. The work continues."
The June 11 arrests by ICE sparked protests in Detroit by supporters who say the Iraqis would face persecution in Iraq since many of them are Christians. Almost 200 Iraqi nationals with criminal records have been arrested recently nationwide by federal immigration agents.
ICE has defended the arrests, saying the Iraqis arrested all had criminal backgrounds and final orders of deportation from an immigration judge.
Attorneys for the Iraqis have been filing appeals for the detainees in immigration and local county courts.
"We are thankful and relieved that our clients will not be immediately be sent to Iraq, where they face grave danger of persecution, torture or death," said Michael Steinberg, legal director for the American Civil Liberties Union of Michigan. "It would be unconstitutional and unconscionable to deport these individuals without giving them an opportunity to demonstrate the harm that awaits them in Iraq."