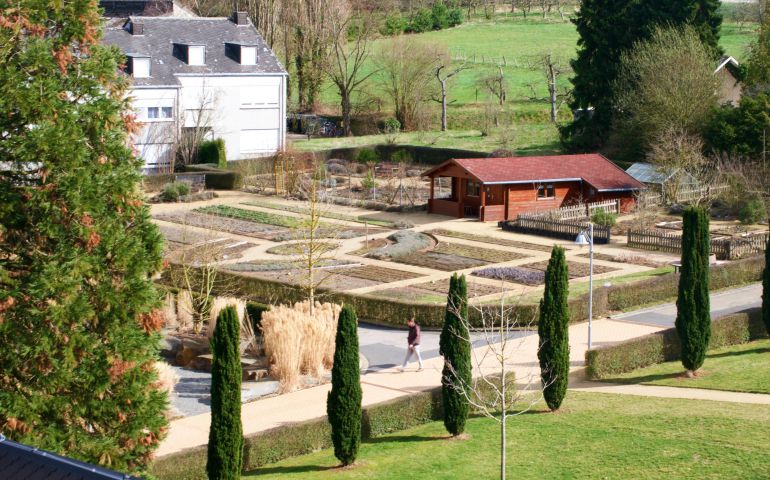 A visitor walks through the gardens at Kloster Arenberg in Koblenz, Germany. (Georgia Perry)
Koblenz, Germany — May 16, 2019
On any given day at Kloster Arenberg in Koblenz, Germany, there will be more staff members on site than sisters — 80 staff to 50 sisters, to be exact.
There will also likely be more visitors. That's because since 2000, the Sisters of St. Catherine of Siena have oriented their convent as a wellness destination, welcoming seekers of all stripes to their property for various forms of holistic recreation. These days, Kloster Arenberg can host approximately 80 guests at a time and more than 5,000 visitors annually.
Throughout the year, the monastery hosts a variety of four-day retreats, which cost between 450 and 960 euros ($505-$1,076). The retreats have different focuses: Some teach skills like icon-painting or meditative writing, while others are seminars on topics such as dreams and imagination or a "resource-oriented biography seminar for women in the middle of life," reads Kloster Arenberg's website. The costs include room and board. Guests who want to attend but don't have the financial means are encouraged to email Kloster Arenberg directly to discuss options.
Wellness tourism is a $639 billion industry globally, and it is forecasted to reach $919 billion by 2022, according to the Global Wellness Institute. While the United States is by far the world leader in wellness tourism, driving over one-third of world revenues ($226 billion), Germany is the second-most-popular country, seeing $65.7 billion in revenues annually. Germany is known for "climatic health resorts": destinations whose climate is determined to be therapeutically effective, especially for people with respiratory diseases.
Sr. Ursula Hertewich, who works as a spiritual guide for guests at Kloster Arenberg, offering one-on-one spiritual counseling appointments, said "wellness," a term that brings to mind concerns about access and privilege, is a word the press has attached to what they're doing in Koblenz, not one they chose for themselves.